2019 Kawasaki Teryx EPS Walk-around
Wheels and Deals Fredericton, with Seth VaHorne Canada's Huggable Car and Power Sports Dealer
Seth Van Horn here from Wheels & Deals Power Sports and today we're going to do a walk around of the 2019 Kawasaki Teryx EPS. The first thing we notice about the Teryx is the certified RPS or Rollover Protection System. Not all manufacturers have a Certified Rollover Protection System, but the Kawasaki is designed to protect the riders in the unlikely event of a rollover. As we move into the cockpit of the Teryx, you will see how comfortable the riding experience will be with the stadium-style, high back bucket seats with an adjustable driver's seat and tilt steering to accommodate any sized driver. The Teryx's electronic power steering will ensure the rider has a responsive and effortless ride all day long. The dash features centrally located controls with a digital readout and variable drive modes available, like two-wheel drive, four-wheel drive, and four-wheel drive differential lock.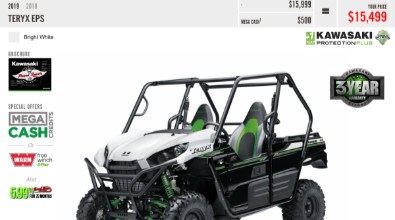 As we move to the front of the Teryx, we notice the stylish contours on the hood which are protected by the factory-installed front bumper. All Teryx's come equipped with 6-ply Maxxis Bighorn 2.0 tires, so you won't have to shell out more money for a tire upgrade to handle the rough terrain the side-by-side is designed for. Another feature that sets the Teryx apart from the crowd is the massive sealed storage compartments behind the seats, which boast an industry leading 182 liters of storage.
And if that isn't enough, the Teryx comes with a 600 pound gas-assisted dump box. With the dump box up we can get a good look at the premium FOX Podium 2.0 piggyback gas-charged shocks, and the independent A-Arms that ensure superior traction and comfort over uneven terrain.The Teryx also comes standard with a two inch receiver and has a massive 1300 pound towing capacity. The last feature that sets apart the Kawasaki is the high-performance sealed wet breaking system, which is virtually maintenance free, and ensures responsive breaking in all conditions. All of this is powered by a liquid-cooled 783 cc V-twin engine and backed by, once again, the industry-leading three year Kawasaki strong warranty.I hope you enjoyed this walk around of the 2019 Kawasaki Teryx EPS. For more information, come visit me at 402 St. Mary Street in Fredericton, New Brunswick or give me - Seth Van Horn a call. 506-238-3955.