Attractive inside and out with plenty of popular features. Our little ute also has lots of space and lots of innovations.
Your Jim Gilberts Wheels and Deals baby Bronco has an upright seating position and a nice amount of rear-seat legroom, then it's roofline rises in the rear, providing additional headroom plus enough cargo volume area to fit two mountain bikes. LED lights are built into the inside of the rear gate for overhead lighting. The rear gate also features a glass hatch and a built-in bottle opener. "Why not" lol.
Our Bronco Sport also features an 8.0-inch touchscreen that supports Ford's Sync 3 software and comes standard with Apple CarPlay and Android Auto. Our baby ute also comes with a host of driver assistance packages that includes standard automated emergency braking, blind-spot monitoring, and rear cross-traffic alert.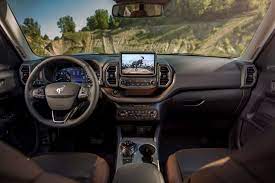 Check out our Helpful financing
and marvel as you enjoy your Jim Gilberts Wheels and Deals Experience…Canada's Huggable Car Dealer..