All right, let's start with a couple facts about this vehicle, and they're not facts you can Google online. When I go camping, there is an unusual amount of Subarus on camp sites, whether they've towed a lightweight trailer, or in the tenting sites, there's just more Subarus in that campground than there is out on the roads.
:
So Subaru's marketing certainly appeals to someone like me, it appeals to a certain type of buyer, but are there vehicles any better than a regular SUV for doing some of those outdoorsy things? Well, I think there're some answers... Sometimes there's a reason to answer yes, and sometimes maybe not so much. Now, first of all, many
Subarus
, they have what's called a boxer engine. So a boxer engine is, instead of having pistons going up and down in the engine like a four cylinder inline four cylinder would have, they have pistons going in and out. What that does, is it makes for a lower center of gravity. Now the recipe for this vehicle has always been it's a wagon raised up, more than it's an SUV. Now, of course, nobody can say wagon anymore in the car industry because your car won't sell, but let's be honest, this has always looked like and has started from a wagon originally.
:
So that engine that goes in and out instead of up and down, allows for a lower center of gravity. And the marketing from that wagon type thing was, you still have that car-like feel to the SUV style drive, because again, that heavy component has a lower center gravity. Now, because it's a boxer engine, and just so you know, boxer engines are also what Porsche uses in many of their sports cars, it's not an uncommon design for some vehicles, but it's very uncommon for most vehicles. But that boxer engine allows you to have what they call symmetrical all-wheel drive. Now, to be fair, symmetrical all-wheel drive has this amazing marketing cache, because they were really one of the first ones to brand name their all-wheel drive system, and tell you it's better than everyone else's. And at times, it has been.
:
But I think to be fair, the all wheel drive system in most vehicles has kind of caught up to this, as far as the way the average driver is going to be able to react. The reason they were able to brand it and nobody could copy them, is because of that boxer engine allows you to have symmetry through the system. Now that does do something for the suspension of this car. You are able to have longer arms on the suspension to give you a little bit better wheel travel. I don't really know if they still do that compared to every vehicle, but certainly compared to some vehicles, you have a little extra wheel travel, so when you go off road or certainly off the paved roads, you do have a very controlled supple ride, and part of that has to do with you're not coming as close to bottom wheel suspension in this type of SUV, than you will be in others.
:
So again, symmetrical
all wheel drive
, sure it's a brand name, sure it has some benefits, but what it really allows is for a different suspension setup, or a little bit different suspension design than some vehicles, and it gives it a good ride. And I think that appeals. Now, let's look at a couple other little practical things that make this car a little bit better for outdoorsy people than some of the other typical crossovers out there.
:
So let's start with these cross rails up here. This is not just styling. Some people may think this is bulky and maybe even ugly, but there's a reason that Subaru has these weird looking cross rails, and it's because in this roof rack system, the cross rails are actually built into these side rails, and they can be folded out across the vehicle.
: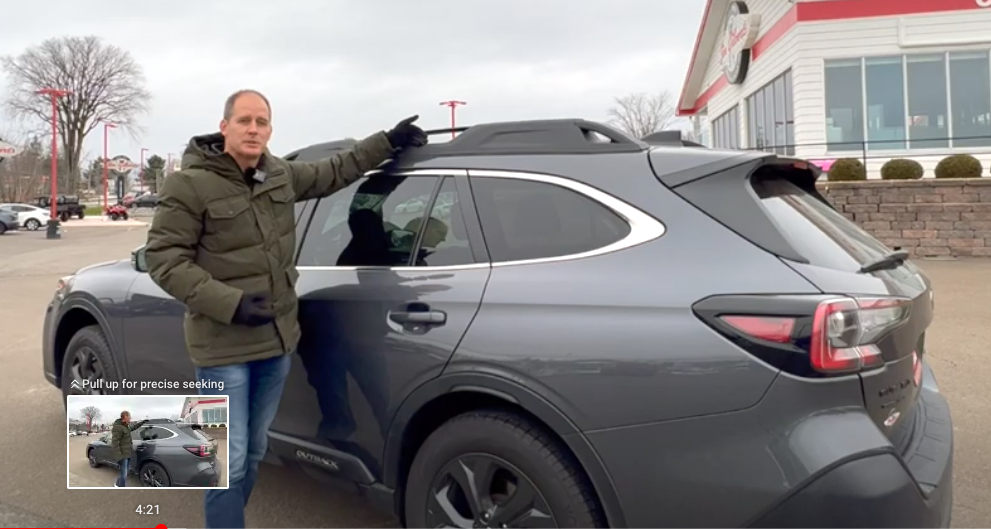 So when you're not carrying your canoe, your kayak, your mountain bikes, your skis and everything else on this vehicle, you could put them back in line with the vehicle, which helps with the aerodynamics, keeps the wind noise down, keeps everything good, but when you are carrying all that stuff, you just slide them across. You're not storing your cross rails in your garage, they're locked to your car, which means you can lock your gear to your cross rails and have some level of security. And you also can lock everything back here, because if you wanted to, you could unscrew these bars, they're technically replaceable, but you can lock things in back here and it becomes even harder to steal. So really smart roof rails, probably the smartest roof rails in the class, and maybe even in the industry, for outdoorsy type people. And let's look at the trunk, there's a couple things there I like as well.
:
When we talk about the trunk of this vehicle, we have to remember that, again, this is more of a wagon. Some crossovers have a short backend, which makes for a tall opening but not a long floor. The wagon gives you that long floor of something like a sedan, but also the height there. You've got the 60/40 split. It could be 40/20/40 like some people do, but I'm going to give them a pass on that. And a lot of people are going to buy this mat from Subaru, just to give you that outdoorsy feel and keep everything secure. That's all good. Couple things that I like in theory, but don't like in actuality is they have a lot of little clips here. And I don't know if you can hear with my microphone real close, there's a bit of a plasticky feel to these. I'm sure these are strong, but they don't feel strong to me, and there's several of them.
: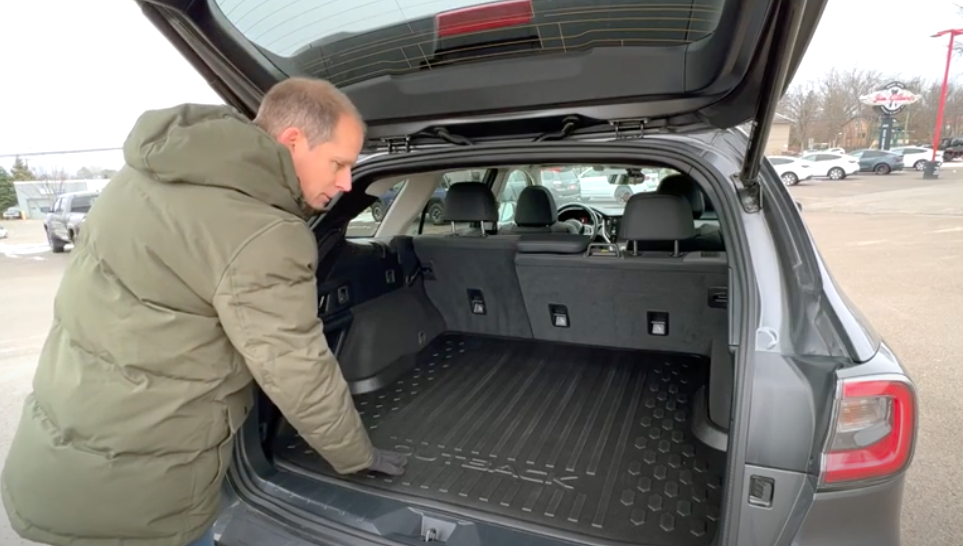 So you can tie down things, you can hook down things, you can use sort of different mats to fold down things. And because this is a long floor, you've got to handle right here at the back, you can use that to fold down the seats. If you do fold down the seats, you have immense storage back here. If you don't fold down the seats, you still have very, very good storage. Subaru does that well. And if you're traveling, camping, whatever, this has a lot of practicality and gives you a lot of space.
:
Taking a look at the right side of the trunk, there's another little feature in here that I really like. So first of all, 12 volt port, you can see that in pretty much every vehicle in the class. That allows you to power that cooler or other small things that you've got in the back if you wanted to. But this little bungee area, this is again Subaru smart. You can see that it can kind of hold your stuff in there, but in a lot of cases, that's kind of a permanent thing, or you take out the net. This one is set up to be pushed down on both sides to create that open space, and you can pull it back up.
:
So just like your roof racks, you don't have to take it out of the car and risk losing it, you just keep it in the car and it's usable in a lot of different ways. And that's kind of Subaru's thing. A lot of little details have been thought about for how do we use the cargo area, how will our users use this, how will our buyers use this? And just little examples of things they do that make sense.
: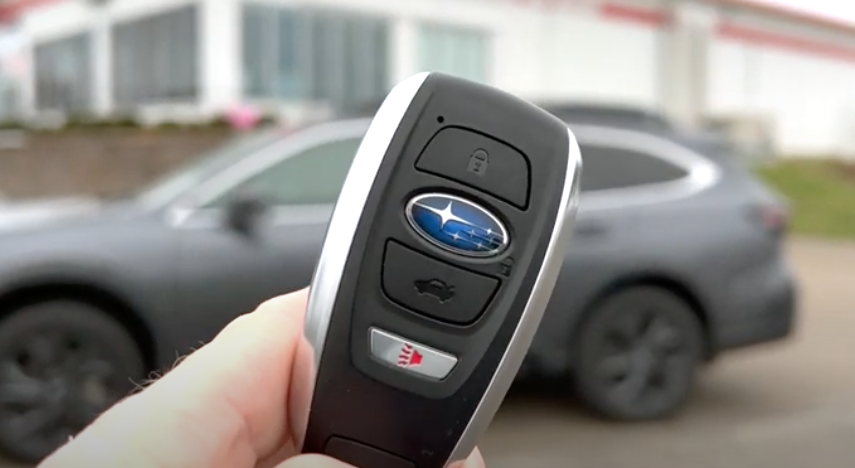 Couple other little things I like about the trunk. First of all, I'm about six feet tall. In shoes, I'm hair even taller than that, and I've got clearance here under the tailgate, which is good. And there's two buttons up here. This is a powered tailgate. A lot of SUVs have one button somewhere to close the trunk, and then because you've got keyless entry, and I'm going to show you the key in a second, you technically have to walk around to some door handle to press the button on the door handle to lock the door, or you have to pull the key out of your pocket. With a keyless entry, you should never have to pull the key out of your pocket, so you have this button which shuts the trunk, and this one which locks and shuts the trunk. Locks the car, shuts the trunk, so you just lock the trunk, walk away and you're all good.
: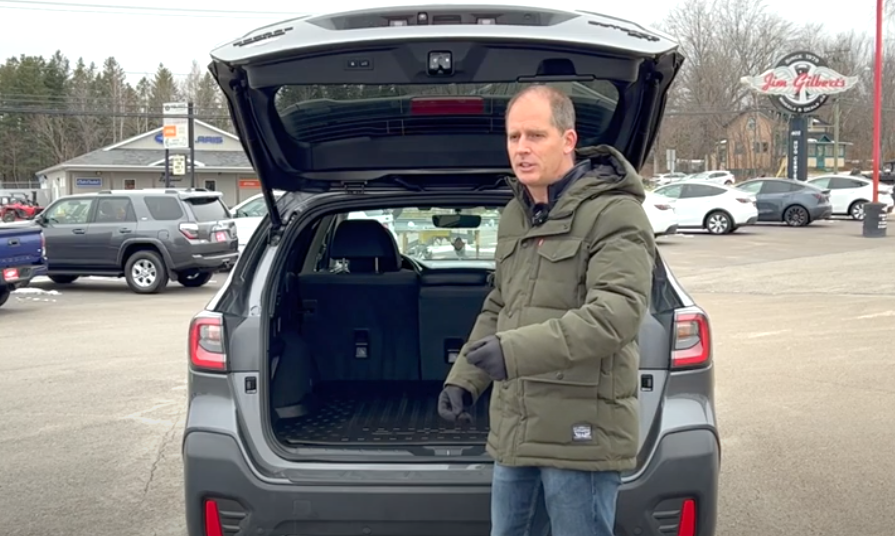 Now I'm just going to shut it because I need it open for later. But while we're back here, we're going to take a look at a couple things. The lights on this 2021 model, pretty cool. But the other thing Subaru does is, all of this lower plastic on a lot of Subarus is not body color. And if you are venturing off road and brushing against grasses that may have some thorns or some gentle sticks or that kind of thing, those can leave micro scratches in the paint. Whereas on this plastic here, this is a nice durable plastic.
:
Now you do have a backup camera, it's required by law, this car also has a front camera, which is kind of nice, and then you have the back up beepers here as well. And that's built into this plasticky type frame. And then again, with the hitch down here, you can tow with this car, but you also have a proper two inch hitch, which fits the majority of bike racks. So again, you're not dealing with an accessory hitch, then you have to upsize to fit into the typical bike racks that you have. So cargo up there, cargo down here, some towing capability and a lot of durability, Subaru's doing really well here and maybe I do like it for a reason, but let's check inside.
:
All right, as we hop in the vehicle, I'm going to hop in the rear seats first, but the first thing I want to do is show you the keys just so we make sure we get it on camera here. There's what your key looks like on the modern Subaru. Very simple, very classic, kind of fits in your pocket, not as small as I'd like. I like smaller keys that fit in your pocket without really feeling anything there, but pretty good. Just basic key, and that's what you've got. Now I'm going to hop in the rear seats first, because again, I think this is a vehicle where rear seats matter.
: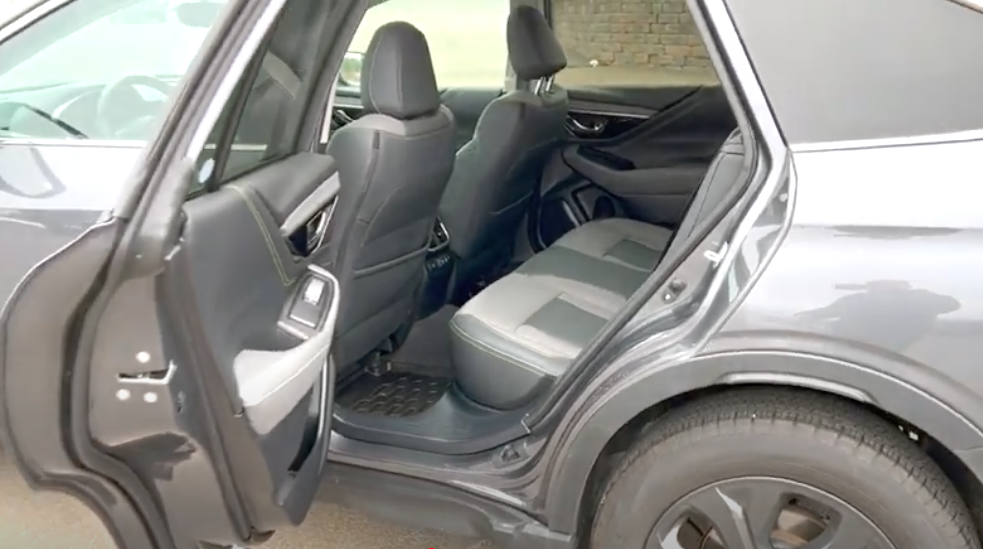 Overall, this trim line and this package is something that actually very much appeals to me as well. It's got the right amount of luxuries and durability, so I'm not always a fan of leather for an outdoor car, but again, leather always makes sense as well. Because you've got enough storage space, you're probably not dragging a cooler across the rear seats. You can throw it in the trunk, and you do have nice leather. And this one here has a kind of nice... Almost a Kawasaki green to it. And being here at
Jim Gilbert's Wheels and Deals
where they are Canada's number one Kawasaki dealer, kind of cool. And I like it, overall. So let's jump in the back. We're going to go wide screen here, just to show you a couple little things that I really like.
:
All right, so wide angle view can kind of skew the view a little bit. In front of my knees, I've got tons of room. And again, this seat is back pretty far. I could probably move it a little forward. You have a pocket here, which is nice, you have a pocket here, which is nice. A lot of vehicles only put one on the right hand side, that's just kind of silly nowadays. You've got vents back here, that's also good. There's probably also vents underneath the seat like just about every car now, so you do have the vents sort of where you want them. You have heated rear seats. That's very, very good. Two levels of seat heating in the rear seats, and you also have a sort of rubbery type control to cover the USB ports. Now, two things are good about this. One, you have USB ports down here. Two, you've got a little bit of a plug on them, because in a car that goes outdoors, you don't want a lot of dust and dirt sitting in those USB outlets or you just end up with problems.
:
Over on the door side here, again, we're in the backseat still. You've got, let's just zoom back in again, the auto up down, or at least auto down for sure. Auto down, auto up and down, rear window here. So again, they think of the passengers, they think of the space. Let me just zoom around to the other outside, flip the camera around, and let me show you what we've got.
: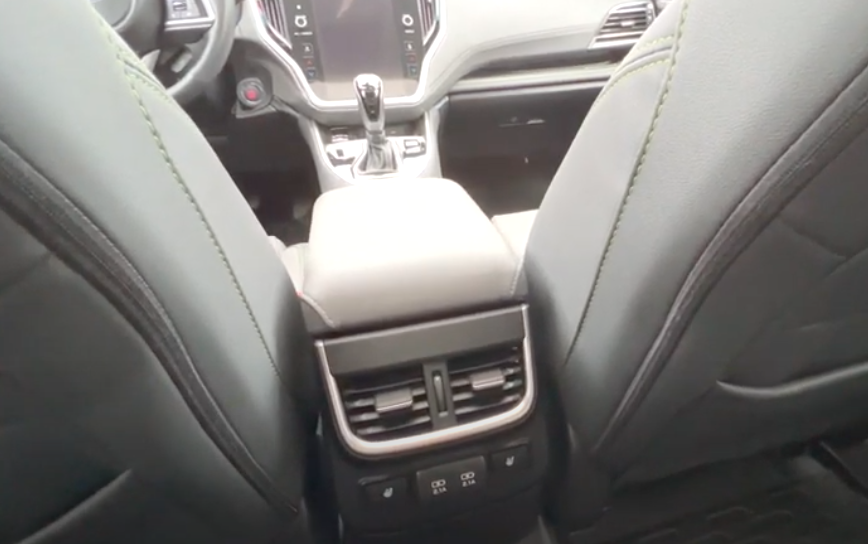 As far as sitting in the vehicle, I'm sitting here with my winter jacket on, it's cold outside, and I've got tons of headroom, and I have this seat fairly far upright. It can be tilted back, I can create more room, more comfort, but back seat space in the Outback is excellent. And once again, I'm finding myself justifying the fact that this is a really good car for someone like myself, and someone like my family, and maybe I'm not just buying into the marketing, but out front's going to determine it all. Technology matters to me, and let's talk about what the technology in this car.
:
All right, taking a look at the driver's environment here. A couple things I really like, powered seats, that's really good, power lumbar, that's really good as well. I've got a bit of a funny back, and lumbar is good. The other thing that's pretty good about this is the side bolstering. This is a car, even though it's raised up a little bit, gives you a little extra ground clearance, that corner's pretty well. And you've got a little bit of side bolstering to hold you in place. I like that quite a bit. Now, let's jump in here. Jumping in, foot on the brake, press the start stop button, and the car comes to life. First thing I'm going to do is turn on my heated steering wheel, which is done by pulling it towards me. A little dim light there, but you can see that it's on. Steering wheel heater on the steering wheel kind of makes sense to me.
: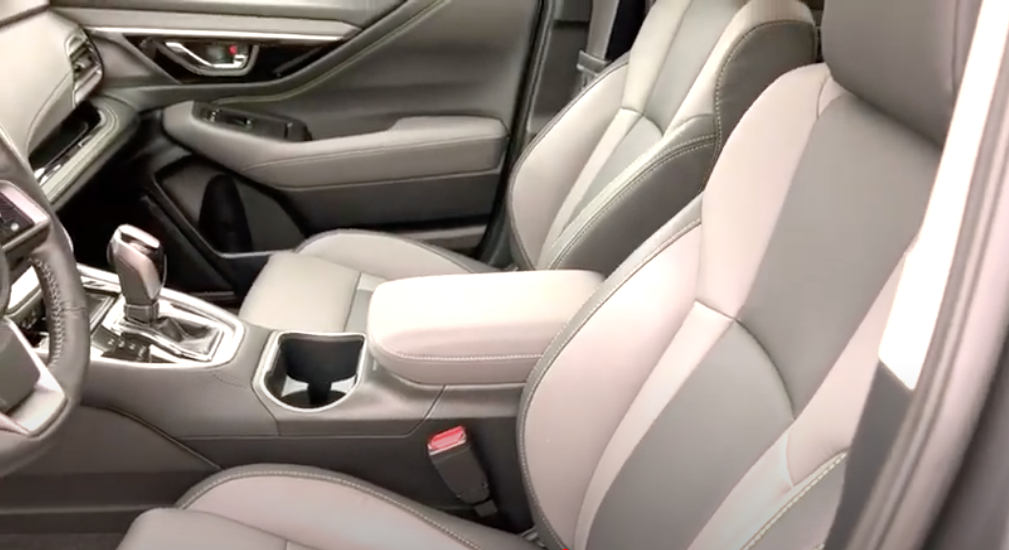 Let's go wide angle and take a general look around here. So this is a tilt and telescopic steering wheel, and to be honest, I adjusted it for my comfort, not for the video, so let's just put that back in where it goes. So it's pushed a little further away. Overall, a pretty good view inside. That's one thing Subaru has always done well, is when you talk about safety and Subarus, they go together in a lot of ways, but they've just started with old school safety. Visibility out of a Subaru is always excellent. Compared to the class, it's very, very good. And I think that's something worth mentioning that you got to give them credit for.
: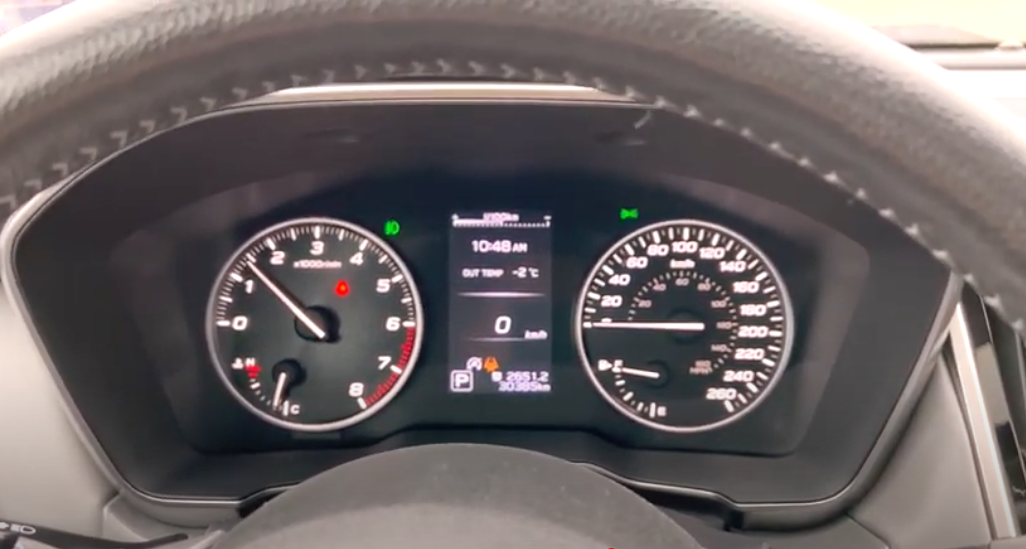 Down here in the gauge cluster, kind of the same stuff as you'd find in a lot of different vehicles. A lot of the information up top, liters per hundred kilometers, you got some bar graphs in there, you got a digital speedometer if you want, let's just zoom in a little further. So lots of things that you expect, nothing too fancy there. Now, Subaru is known for their safety, and there is one safety feature that drives me absolutely nuts in this car, and it is right over there. That tells me my seatbelt is not done up. And like many cars, when you start to drive slow speeds, which I'll be honest, I did around the parking lot today, it starts beeping at you. But if you go too long without your seatbelt on, this thing really starts beeping at you. And I know I should be buckled up at all times, but driving around in a campground, sometimes I don't. And you will be buckling up in this car, trust me. You can't handle the amount of beeps that it does.
:
All right, so that's fine, that's safety, but let's look at one other safety feature. This vehicle... Oh, hey everybody, there I am. This vehicle has a little bump up there, and a little bump up here. Most modern vehicles have a thing behind the mirror with a single camera forward. This one has what they call Subaru eyesight. It has two cameras looking forward, and that does a lot of the features like your lane keeping, your safety, all those kinds of things to see in front of you. So it's a different system that is shared by many other manufacturers, or adapted by many other manufacturers, and that allows them to do some really cool things. So you've got the lane keeping, you've got the smart cruise control, those kinds of things. All the things that you would kind of expect in this class of car, but it does it differently.
: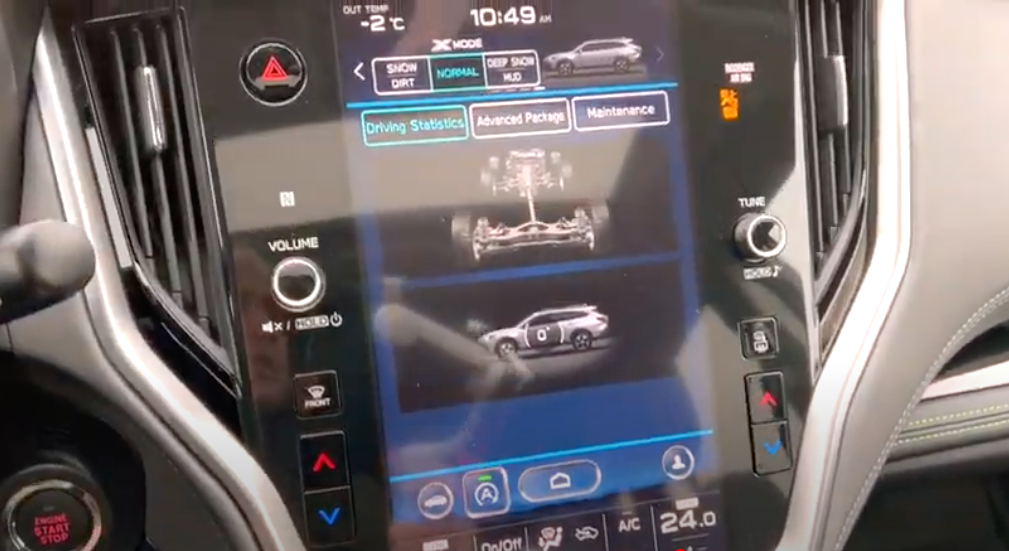 And if you go into the car info here, first of all, I should point out this screen. Again, you'll see some glare on your screen, not a big deal, in real life with two eyes looking at this instead of one eye of the camera, you see a lot less glare. But this screen is impressive. It's a portrait style screen instead of a landscape style screen, and it gives you a lot of information. So driving statistics, if you're going off road, you can see how far up or down those hills you're going. Now my
Jeep Wrangler
4xe has this, which is kind of cool. You go to advanced package, and now you're talking safety type things.
:
And what's cool about this is you don't need an owner's manual to figure out what's going on here. Any one of these buttons that you hit, or just hit info, it'll take you into what is the pre-collision braking system, we can turn it on or off, lane departure warning, in car settings, various things, the eyesight alerts, so that is eyesight assist monitor, so things that you can see, and then you can kind of dig through these a little bit more. Reverse automatic braking, temporarily disable or enable it, blind spot detection, rear cross traffic alert, high beam assist, front view monitor, which we'll show you in a second here. But all those safety features are here in the dash, so even if you don't read the owner's manual, you just kind of click into what those things are. And if we just like... Let's just choose one here. Does it give us a little bit more information? No, it takes us back to where we were. But very good system there. And it also tells you some of your maintenance stuff right here on the dash, which is kind of nice to have. So I like that. I like that quite a bit.
: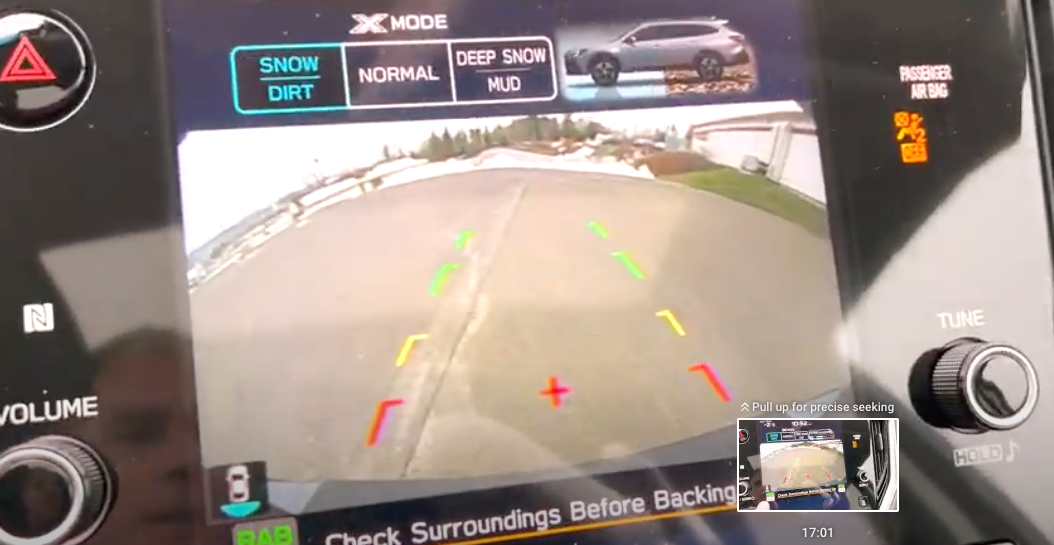 The other thing I kind of like is,
Subaru
recognizes how you're going to be driving in this. So normal mode, that's great. Snow and dirt, that's also great. So snow and dirt really is just about driving in a normal environment with snow on the roads. What they recognize is that deep snow and mud is different. So I like how they... A lot of vehicles have mud mode, but they don't have deep snow. Deep snow can be different. And you see this graphic over here, when you switch back and forth, you also have an identical graphic in the dash. So the color screens here are very good, very simple, and again, just simple to adjust.
:
Now, one thing that I don't like, I've been sitting here for a while in my cold leather seats, and let's just go to the home screen here. If you go into here, you want your seat heater on, that would tell me I should turn my seat heater on, right? Now, maybe I'm missing something, but the only way to turn the seat heater on is to do this, and if I want to turn it down a little bit, that, and that. What I don't like, is you shouldn't have to touch the screen four times, because when you touch the screen, you have to take your eyes off the road. There's no tactile button. So if there was a seat heater button down here, I could find it without looking. But even to glance down to find it, I could then press it one, two or three times and it would work well. I don't like that I have to click into the screen to now turn my seat heater back to the full position, and I have to sort of see exactly where I am. It works well, it's fine, but I don't like that I have to dig for it on the screen.
:
Speaking of this screen, let's just talk stereo system here. AM, FM and satellite radio coming in here, which works pretty well. We're going to throw it into reverse for a second, we're going to check out our backup camera, which is right there. It does not take over the whole screen. Some people have wondered if that does, and it doesn't, and that's okay. It also tells you which safety features are on in reverse. So rear automatic braking, the parking beepers are on, so if you're towing a trailer, you might want to turn those off, but you need those features when you're in reverse so it brings them up for you. Very good, smart stuff by Subaru here.
:
Now when I go forward and drive, I can choose a camera as well. That is looking out the front here, so if you take this vehicle and you're parking it in a parking lot, and you don't want to hit the curb, or you're parking it off road somewhere in a campground area and you know there's that stump somewhere, you've got a front camera here as well. So it doesn't give you that 360 camera, but it does give you a camera in front, and a camera in back and I got to give them credit, I think that's a decent idea. The only other thing I don't absolutely love is this seems a little bit cramped to me, so I can't even fit my skinny little knuckles on my skinny little fingers down to the bottom there. I'm not sure how I'm going to clean that out. It is slanted there, that's where I put my phone, in and out of there. It does have wireless charging, you got to give them credit for that, and there's some USB ports in there. I'd just like a little bit more space here, but no big deal.
:
Now, they do give you extra space over on this side here for your passenger to put their phone, so that's kind of a nice little designed in style there. And you got to give them credit again with wireless charging. You also have Android Auto and Apple CarPlay on this vehicle, so you've got navigation through that, at least. I didn't see navigation through this menu here. To be fair, I should probably continue to look, but we'll do that some other time. Other little things that are super convenient, you have up here your three little buttons to open your garage door, you have Subaru's version of their online telematics and that kind of thing, so you can call for help and get information. You still have a sunglasses holder, which to be honest, feels a little cheaper than the class of car, but it's just going to serve a purpose and that's fine. And there's one more thing I want to show you right above me.
: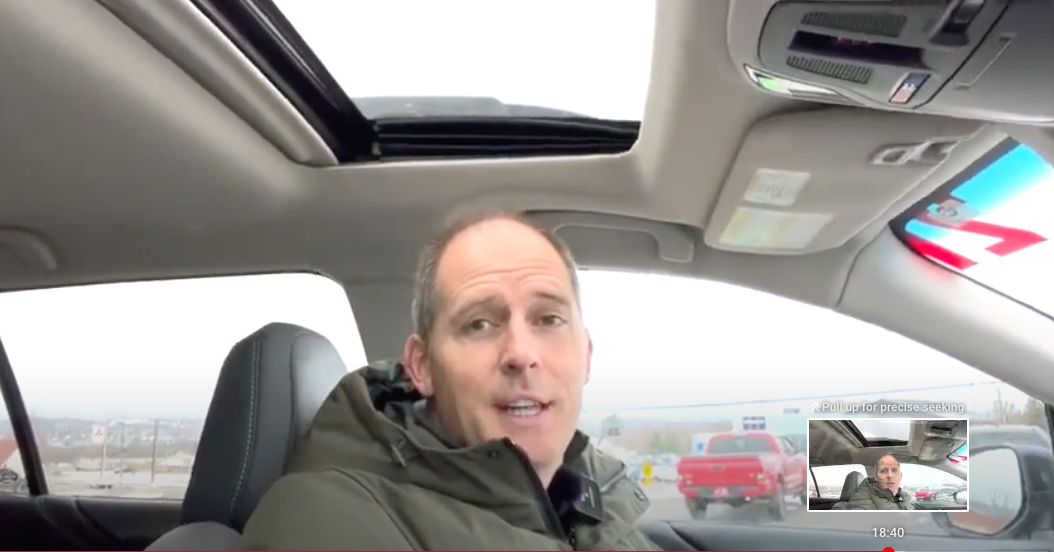 Subaru has a nice sunroof above me. And if you've ever been in a
Subaru Forester
, it's an oversized sunroof, and I quite like that. This one's not oversized, I'm cool with it. But Subaru seems to not tint their sunroofs as much as other manufacturers, which gives you more natural light. It's very nice and bright in here, you can see my bald head quite nicely. If you want to eliminate that, of course you still have the sunshade there, but I like that even with the sunroof closed, you get a lot of light in this car. It feels very roomy and airy, but also has a lot of light. Good job, Subaru, right there.
:
So I usually wrap up my reviews talking about who is this car for? But let's step back just a split second here and say, is this a car for me, an outdoorsy type person? Is there a reason that this car appeals to me more than just their marketing message? And I think that answer is yes. Subaru does a really good job of not just saying they're for outdoors, but doing things like smart roof racks, like body cladding along the side that saves you from getting those rocks when you're driving down gravel roads from scratching the edge of the paint here, in common contact areas underneath the car here. Those are all practical things. The roof rails we talked about, the trunk space is pretty good, some plasticky feeling parts, but a lot of practicality to tie things down, secure things do all that kind of stuff. Rear seats are excellent. If I take my two kids with me, they can charge their iPads, they can put stuff away in the seats, they've got heated seats, which I think matters when you start putting leather in cars, you need those heated seats.
:
Overall, the front, great safety. You've got basically class leading safety in this vehicle. There's nothing really that this car doesn't have, because safety nowadays isn't just about how they crunch, it's how they can avoid collisions. And this car does a great job with that. Good technology, the screen works mostly well, couple little irritations with turning on the seat heater, but other than that, this thing's really impressive.
: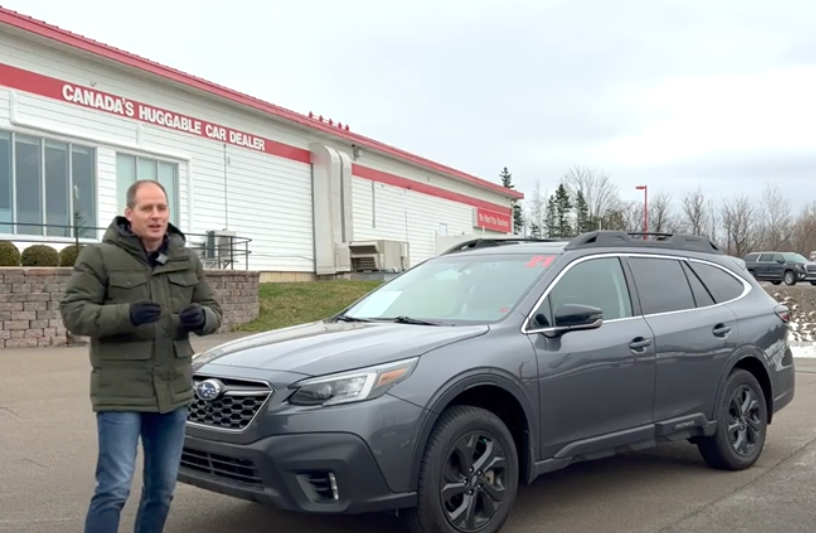 So who is this for? Well, first of all, if you don't care about outdoorsy kinds of things, this doesn't eliminate this vehicle for you. It's got a lot of space, it's a fairly long vehicle, a lot of space in the rear seats, a lot of space behind the rear seats, and that's a very good thing to have in a crossover vehicle. It also has that good ground clearance. I would recommend putting winter tires on in the winter, but if you do that, that the drive modes on this car, they're very good.
:
Some vehicles are better than others, many of them have now probably matched Subaru as far as the ability to get traction in the snow, but again, Subaru's the leader, right? They've matched
Subaru
, I don't think they've surpassed
Subaru
. So overall, a very practical crossover, five passenger crossover. It's very comfortable, good technology, good safety, this vehicle's very impressive. So if you want to come see this in person, you can swing by
Jim Gilbert's Wheels and Deals, they are Canada's huggable car dealer
, and they're amazing because not everybody likes to go to a dealership, me included, I've worked in them.
:
I don't love going to dealerships, but coming here, they treat you really, really, really well. And if you want to compare this to other vehicles that are just like it, we've got basically the entire class of this vehicle sitting just over there. And you can compare it not only amongst other Subarus, but amongst other vehicles in the class. And when you go get your numbers, you're comparing apples to apples with the same salesperson who doesn't care if you buy the
Subaru or the Honda or the Toyota
or whatever else it is that you want to buy. So it's a really great place here,
Jim Gilbert's Wheels and Deals
. I want to thank everybody for watching. If you have questions about this vehicle or the class, let me know in the comments below, and I'll make sure I answer those questions and come back to you in a future video. Thanks everybody for watching.
Full Helpful Financing available... and our specialty