:
So the
Hyundai Kona
has always been a really good seller in its class. Hyundai's done well with it. It's one of their volume models, and the N Line steps it up. But one thing the N Line is not is just the N. There's a little confusing in that naming there. So the N Line has a 1.6 liter turbo engine that makes 195 horsepower, and 195 foot pounds of torque. There is an N model. So not the N Line, but an N model. And that is basically a race car for the street. It's another video, it's another time. It's very cool, but it's really not a mainstream vehicle. This one does step up the power from the regular model, and it's probably the more-power version that most people are going to prefer. Now what's cool about this one is they've taken away some of the Kona's things that sometimes people complain about. You've got full-body color here, where you used to have the matte black plastic.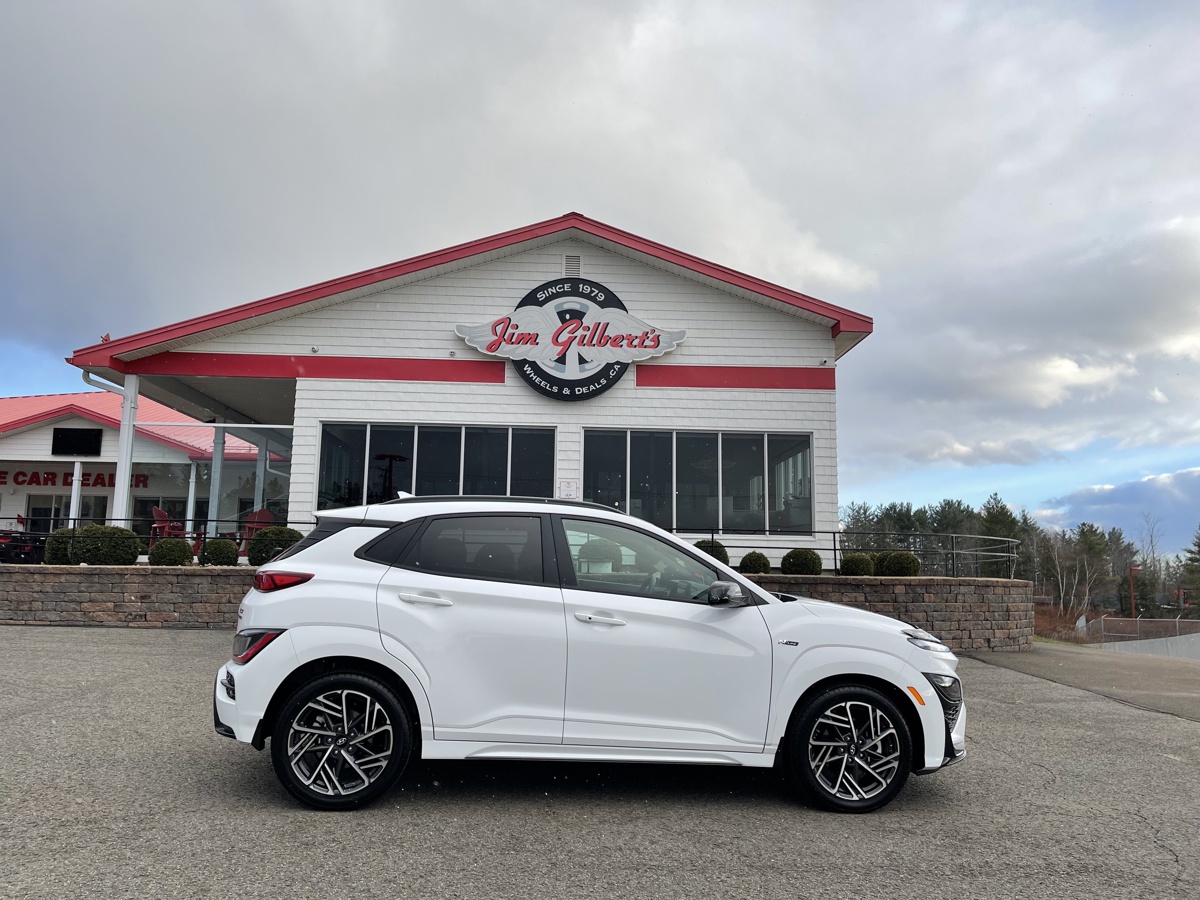 So you have a cleaner look to this vehicle. Less Subaru-like, more advanced, more luxurious vehicle. And the other thing is this one has a $5,600 Ultimate package on it. That Ultimate package really takes this into a separate class that the Kona has never competed with before, and it's got more technology and more safety features. And we're going to go over some of those in this video. Now, one thing I've always liked about the Kona is it's a do-everything vehicle. So this one here, again, less off-roading. Not that any of them have been off-roading, but you've got more street-oriented tires. These are 18" tires here, and wheels, with unique wheels on this N Line. And then you've still got a sunroof up here, which is part of that Ultimate package. And then you've got your roof rack here, which I really appreciate. It's not a massive roof rack, but it does spread from the front of the car to the back of the car, which allows you to take things like your winter cargo. So you could take skis, those kind of things. You can take bikes, kayaks, all those kind of things. And extends the cargo area, because for a crossover, the Kona is not a massively huge crossover.
: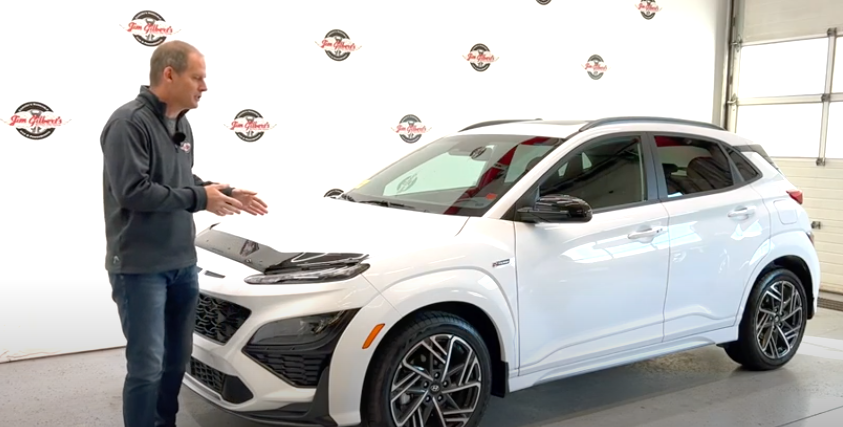 It's got a normal small trunk for a small crossover, which is perfectly fine, to give you that easy-to-drive sort of size point that a lot of people really love about this car. So let's talk about some of the features on the front of the car, and then we're going to work our way into the car as well. Taking a look at the front of the car, you do have a refresh look, which came in around 2022, and it cleans up the car. That, in addition with its N spec model, makes for a pretty unique front end here. Over here, you can see on the white paint that you have a black grille marker. Those are actually just styling. There's nothing in there, no venting in there. There is venting in here. There's an N Line badge there. Down low, it's a little hard to see on your screen right now, but there is a radar plate down here that gives you things like more advanced forward collision avoidance system. It gives you smart cruise control, those kinds of things.
And then down here, you have an LED light package here. And these ones appear to be flickering on your screen, but they're not flickering in real life. These are your daytime running lights. A lot of the other trim lines have these LED daytime running lights and then a halogen light down here, but you have a full white LED package down here, which gives you a nice sharp cutoff. And that white color allows your eyes to more easily identify what they're seeing at night because it's closer to daylight color, which can help for safety as well. The other thing you have, we talked about that radar plate, is you have a camera in the front here. So that camera in the front on this model gives you things like forward collision avoidance, those kinds of things. But it also is your lane-keeping and lane-follow assist.
: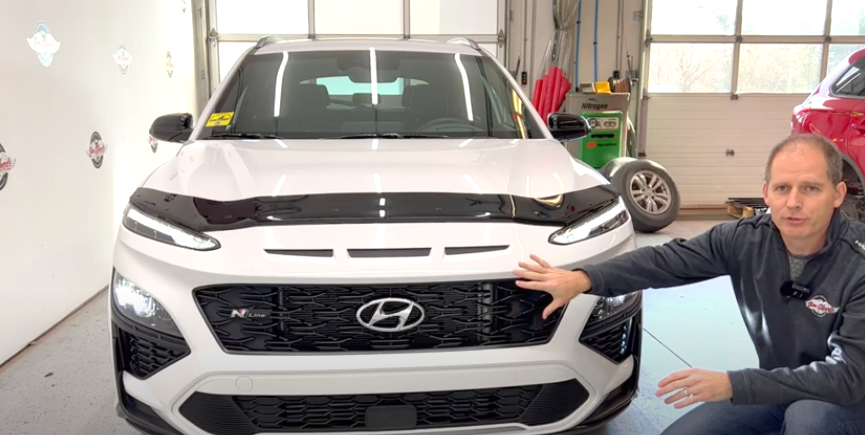 So lane-keeping, it can see the lane markers, it can bounce you within the lane. But lane-follow assist is a button on the steering wheel, which we'll show you in a little bit, where you can press that button and it can actively steer this car to keep it centered in the lane. And that makes long drives much safer and, frankly, easier to do. Over here on the back of the car, you've got some N Line-specific things like this diffuser area down here. You've also got more white paint down here, instead of the matte black plastic. You do have a back-up camera that's required by law nowadays. You also have the back-up beepers, which give you a little bit of extra rear collision notification and avoidance type systems. And you have a little bit of a cleaned up light cluster for the 2022 model year, which is the signal lights down there. Your taillights here.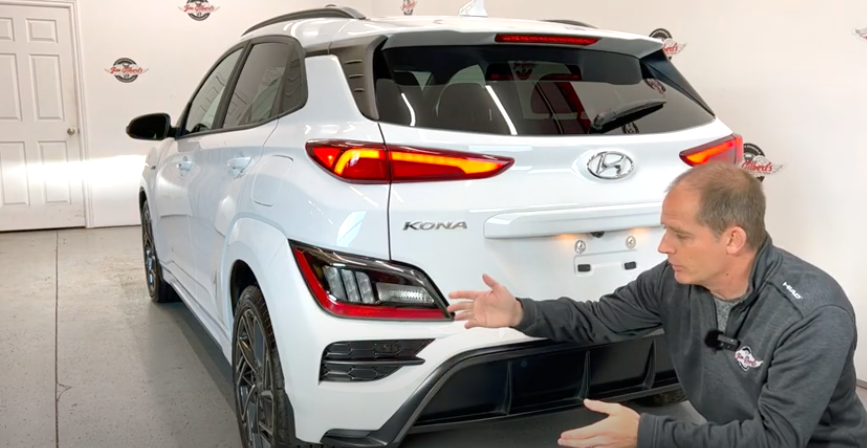 Again, the taillights that appear to be blinking on your camera are not blinking in real life, and your brake lights are up there. So a nice, clean overall look. As we pop the trunk here, you can see a good-sized trunk for what you need. Not a massive trunk, but very good. Underneath here, you do have some storage. This floor can lower down. And you can see right now there is a net right here that is clipped in place, and that is perfect for this N Line model because as you drive a little bit more athletically, you can hold things down just like that. You've also got a little bit of a hook over here for something like a grocery bag, and this panel which can be removed, so you can fold the seats down and stick all kinds of things in there as well.
: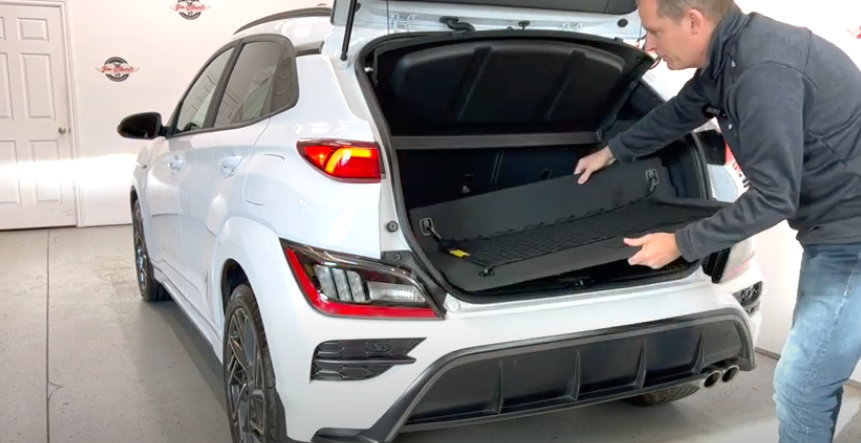 So, a nice trim package, nice options right here in the cargo. But let's go look at the technology in this car, which is really where the differences are. All right, so before we hop in the car, let's take a look at the key fob here. Dealing with some interesting lighting here. Let's see if we can get it in the light here. There we go. So, key fob, lock, unlock hold, and that's just your remote start button, and another hold button for your panic button. Now interestingly, the remote start on this vehicle is available through the key fob, but it's also available through the BlueLink system, which is free to start and it will become a subscription service. Moving on, BlueLink gives you cellphone connectivity to this car to do all kinds of things, but that's another video. Let's jump inside here. As I approach the car, I can touch this button just once and that will unlock just the driver's door. A double-tap will unlock all doors. However, I've already unlocked it, and you can set that up to unlock all the doors on a single tap. Down here, you have a really nice mix. Again, this is a top trim line on the inside. So you have a leather mix here. You've got power seats with power lumbar. Nice red stitching here, with red piping as well, and you have perforations in the seat.
On this car, they will be functional. You have heated and ventilated seats on this model, which is quite nice to have. All right, let's jump in. We're going to shut the door here. It'll be a little darker, but that's okay. Over here, vents, I just want to point them out. They do have that little bit of a red edge there, and you can see there's a line there that allows you to know what the setting is at. Because if I just close it like it is now, the vent is actually closed. Spinning it like this opens it up and, of course, you can aim it any which way you want. Now this model has the upgraded dash, and this is part of that Ultimate package here. So we're going to go down here, we're going to hit the start button. Because we're indoors, we're not going to put my foot on the brake, we're not going to start the car up. And you can see the gauges here. Now these are the same gauges they put in something like the Hyundai Santa Cruz, Hyundai Tucson. It's moving its way through the Hyundai lineup.
:
It's a 10-and-a-quarter-inch screen there, with another 10-and-a-quarter-inch screen right there, and they are very high resolution. So currently, it's set up to be the screen for the sport mode, but let's just touch the drive modes here for a second here to see what we've got. So, smart mode, normal mode, and sport mode. Normally these change with the drive mode. This has been set up to not change. Obviously, whoever had this before likes the red gauges there, but you can set that up. Maybe we can show you a little bit later in the video. Will decide if we want to do that or not. But it can be a white background here, a very classic look. These are more the sport look. Again, you're going to see a little bit of a flicker on the screen here. That's not something that's actually happening in real life. And yeah, I can't quite get rid of it by just switching the camera that way. So there's something to keep in mind here.
A lot of information in here. One of the things that I really like is you have your navigation info in here, tire pressure monitors. This is an all-wheel drive bar gauge or bar graph. So when you're driving in any kind of weather, you will see these bar graphs fill up as you're driving to show you which wheel has how much power. Now the one cool thing about the all-wheel drive system in this car is it helps with both handling and winter traction. So, it has a cornering management control system, but it also, regardless of the drive mode you're in, it allows you to start out with all-wheel drive. And when I drive away in this car, you're going to see all the bar graphs fill up. And as I maintain traction, it'll actually back down and only the front wheels will have traction. So unlike a lot of cars there, the front wheels get traction to start, and if you lose grip, then the rear wheels kick in.
:
You can watch on this car that you always have all-wheel drive traction to start, and as you maintain traction. So that makes the difference between a car that is driving, loses traction, gets squirrely, and then kicks power to the rear. Whereas this one starts an all-wheel drive drive, never gets squirrely, and if you are driving fine with good traction, it'll move the power away. So it's a great system there. Let's take a quick look at some of the navigation system here. We've got all kinds of controls. This screen is really just a decorative screen. There's a map on the right side, but it's a decorative version of the map. If you wanted to go to the map itself, you can have a pretty good view of it over here. We are inside, so I'm not sure if this will film great. Again, it's nighttime view right here. It could be daytime. You can go full screen if you wanted to right here, if I can just hit that with the right hand there. I'm looking through the camera instead of with my eyes. So you can go full-screen navigation here.
And this is a large, large navigation screen. Very crystal clear. And if you happen to have this side open, again, I got to stop looking through the camera, you could cycle through other options. So you could have navigation there, you could have just a clock there, you can have other information. The outside temperature and weather, radio, all kinds of things out on that screen. This star button allows you to set up a custom button. So if you wanted to get to a certain screen, maybe Apple CarPlay, Android Auto, that's what I like to do with this. You can do that there as well. So, nice features in there. All right, climate control. Let's talk about climate control. One thing I wish this car had was duals on climate control. It does not, but it does have one of the more advanced systems that Kia and Hyundai make. And it has this system right here, with the three auto buttons.
:
And this is a pretty cool system, because I've set it up to hit to 23 degrees on auto and what happens is, I can change the temperature there, but if I don't want it to blast me with the air... Sometimes in the summer or the winter, it really blasts you with air when you get in and out of the car and then it backs down. You can just turn the air down, so that means that the maximum fan speed won't be as much. So it's just a cool multifunction auto system. And of course, if you want to move things around, you can do things manually as well. Lots of controls here to control whatever you need. I like to leave it in the auto setting and then make it simple. Air conditioning you can turn on if you need to. But again, if it's in the auto setting. If I needed air conditioning, it would give that to me. All right, moving down here. One thing to keep in mind with any Hyundai or Kia vehicle, if you see this vented wireless charge port there... Let me just get the gear shift out of the way for a second so we can film that. If you see this vented area here, that has been an upgraded wireless charge system. And that works very well, because modern phones, they need a little bit more charge.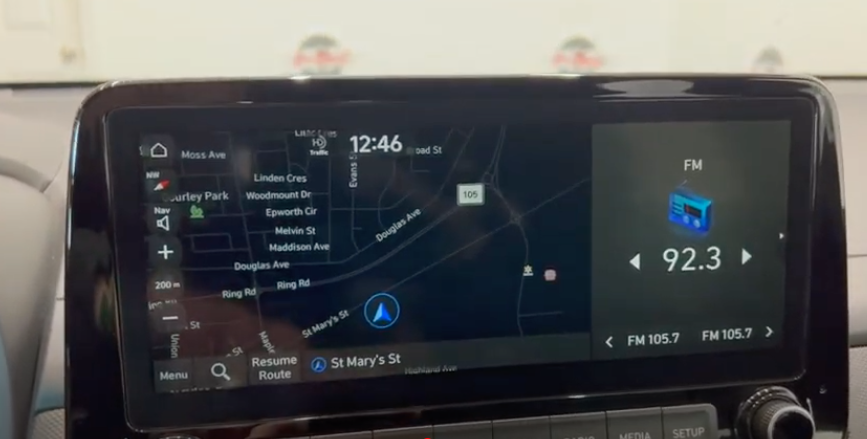 So the vented is actually a higher-speed charging than the previous non-vented versions. And of course, you have the little symbol right there. When that orange light, I believe it's an orange light that's still in this car, comes on, that will mean that it is charging there. And of course, it just allows it to charge a little faster than in the past. You still have a 12-volt port over there, and you have a USB port over here. If you are connecting to Android Auto and Apple CarPlay, you're going to use this USB port right there. Going to put the car back in park. First of all, when you put this in drive, it is a dual-clutch transmission. I believe it is an eight-speed transmission. You can go down here and choose your own gears like that. You have this N model here, which is the same gear shift you would have in the N, but this is an N Line. Again, there is a difference there.
:
Drive modes we talked about briefly. They're right there. You just spin it like this and spin it like that to get to different drive modes. We're going to leave it in the smart mode. Smart mode is really your economy mode. Works best. Then you have what I like to call rump roasters. Three levels of seat heating, and three levels of seat ventilation there. I don't know if you can see, but that's blue row of lights there. See if I can get it to film correctly. White balance is a little off inside the car. But you have very good ventilated seats here, which is nice with the leather as well. Heated steering wheel there. Auto-start/stop, so it can turn the car off at stoplights if you wanted to, and then same thing on the passenger side. We've talked about those passenger beepers in the past. You've got those here. You can turn them on or off. If you've got a bike rack or something on the back or something, a reason you don't want them to beep, you can turn it off.
And then this is your four-wheel drive lock button. So one thing people assume is that's your four-wheel drive button, but that's not the case. A typical all-wheel drive vehicle, the front wheels and rear wheels and left side and right side will need to take different arcs around a corner because they take different lines, right? So that four-wheel drive lock button is something you can use if you're stuck in the snow. It locks the axles together, allows the wheels to spin at the same speed. At slower speeds, anyways, it will turn itself off. But that is something you use if you're stuck in snow. It's something to have there. You do have the electronic parking brake here, so you can just pull that up like a hand brake, and it's electronic. Auto-hold allows you to release your foot from the brake, the brake lights turn off, but the cart does not creep forward. So it's a nice function to have.
: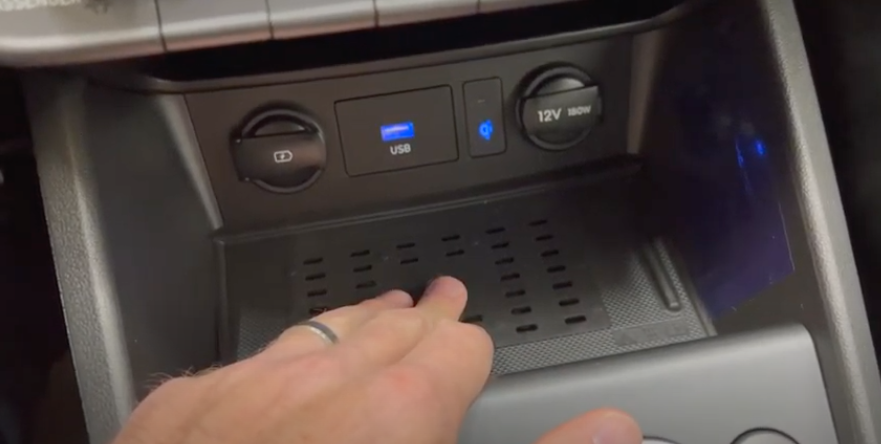 All right, really quickly I want to touch on a couple more little features before we move on. We've got our smart cruise control. We talked about that. That can keep the distance between you and the vehicle in front of you, which is really nice to have. And then we also have our lane-follow assist, which is different than our lane-keeping assist. Lane-follow assist really actively steers your car to keep it centered in the lane. I love this feature. I drove from Ontario to New Brunswick on my Hyundai that had this feature, and I literally, basically didn't have to steer. Now it's not designed to self-steer for you. You have to keep your hand on the wheel. If it senses that your hand's not on the wheel, it will tell you that, "Hey, put your hand on the wheel." But it's very, very good on well-marked roads to actually steer the car to keep it centered in the lane.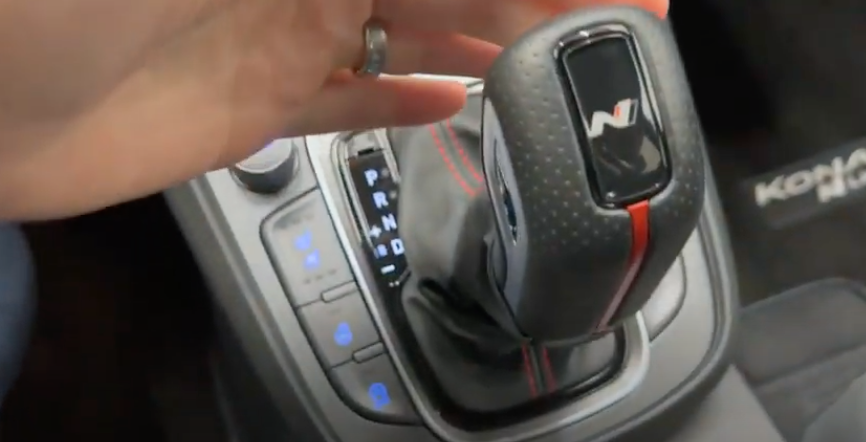 Another nice little feature on the newer models, Kona's that you have here, that you didn't have on previous models, is this little star button as well. We talked about that star button down here, allowing you to set up that preset. I like to set it up for Android Auto or Apple CarPlay in there. You have a separate button here, which can be a favorites button that you can program in there as well. So, lots of options to customize this car the way you like it. Overall, down here, one thing that's nice is some of the Kona's are a little plasticy, you've got a nice soft touch armrest over here. The seats are fairly supportive, so they're nice sporty seats. The steering wheels tilt, and telescopic, which is nice. The headlights are automatic, if you wanted them on automatically, which is, again, nice. And there is a heads-up display, which we haven't even talked about. Let's see if we can film it. Sometimes it's very difficult to film this piece. Let's turn those lights back off again.
: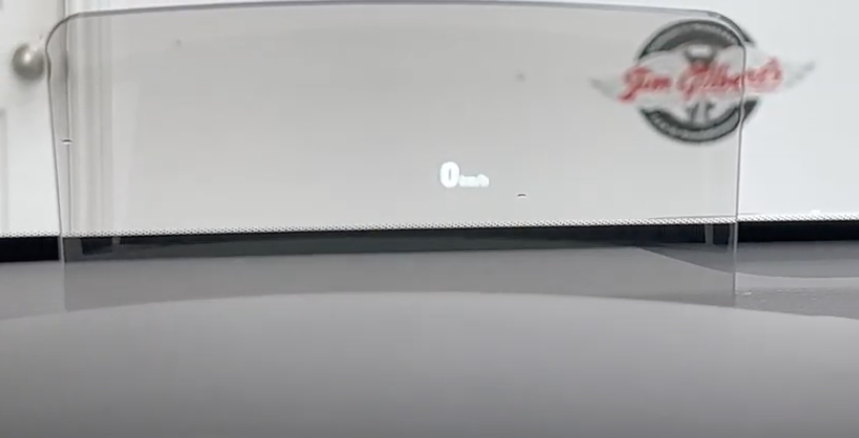 Oh boy, let's see if I can get it right. Oh, there you go. You can see it there. So I can't get the camera to focus correctly on it, but the heads-up display is nice because it gives you all kinds of things. Your blind spot detection can be in there, your cruise control information can be in there. And I didn't finish showing you this display here. Let me just quickly show you some of the other things you can do. This is a really nice view here. So when you're in cruise control, you can see cars in front of you and that kind of thing. And it can warn you there, but you also have some information up there as well. One of the things I like about the heads-up display is you can have your digital speedometer up there on the heads-up display, which allows you to have more information like this down here. You can use this for a digital speedometer as well, in various areas here. Let's go digital speedometer right there. So you can get rid of this digital speedometer, and have other information that you may want in the... Oops, let's go back over here.
Something like this in this display. So that's really nice with the heads-up display, to just give you a variety of views. And again, you don't really have to change your focus. I haven't got it quite set up right. I can aim it differently, but you don't have to change your focus from where you are. So, a really nice feature in there. Really quickly you have your... What do you call it? BlueLink, which is what we talked about earlier. Cellphone connectivity. This also gives you some towing ability, navigation, SOS if you have an issue, and it also gives you your garage door openers. Some of the Kia Hyundai lineup, they've got BlueLink on here. They got rid of those garage door openers. Not the problem here. Something like a Kia Seltos does not have the sunglasses holder up here. You do get that in Hyundai's Kona right here as well, which Seltos and this are a competitive car. And if we flip the camera around in one second, we'll show you that you do have a very nice sunroof above you.
: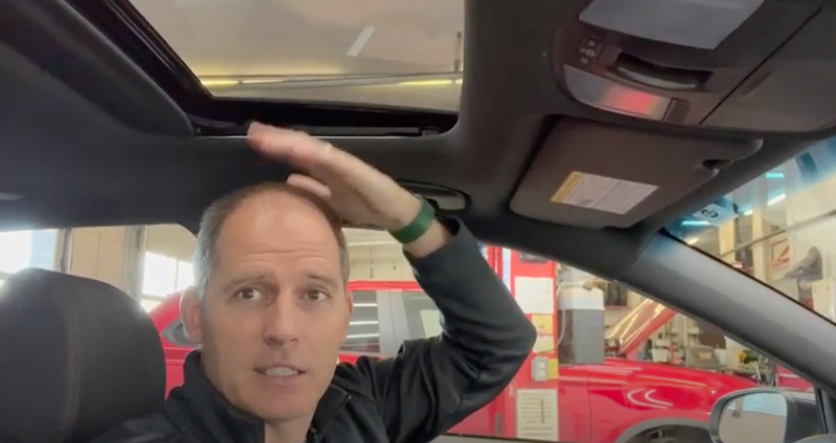 And what's nice about this is it's placed above you. Just the style of the car, you can really place above you. Head room's excellent in here. I have the seat fairly low, actually, but it can go lower still and I can bring it a long ways up. So if you are a shorter person, you can go a long, long, long ways up, and you can just watch my bald head get up into the sunroof area here. So now I'm only... A little bit of sunroof space. If you're short, you can get comfortable with this car. If you're tall, you can get comfortable with this car as well. So, very, very good. And we actually have two N Lines in stock here at Jim Gilbert's Wheels and Deals. We have one with the Ultimate package and one without that $5,600 Ultimate package as well. So you can really compare, "Hey, I like the feel and look of this car, but I don't need all of the tech." Well, we have that in stock as well, and that one's in black.
Let's talk a little bit more about this car as we finish up. So I always like to wrap up by talking about who this car is for. And this particular model is for people who want a lot of luxury features and a lot of technology features in a easy-to-drive, compact car. The N Line gives you that sporty look with an upgraded engine, that 1.6 liter turbo, 195 foot pounds of torque, 195 horsepower. And the nice thing about this turbo engine is, all of that torque comes very low in the rev range, which means you don't have to rev it way out to get all of that power. It feels punchy in your regular, everyday driving. Now again, this is not the N model. There is a difference. That N model is really racetrack, a very firm ride, totally different seats. It's a different model. A lot of fun, but probably not as much mainstream. So then, again, this is a car that you can drive anywhere, anytime, in all weather. It's easy to park, easy to drive, and it sits a little lower than some of the other tall crossovers while still giving you that all-wheel drive. So you've got the capability, but still that sporty, more of a sedan, wagon kind of feel.
:
It's a car that really appeals to me, especially in this trim line with that Ultimate package. It's a really good mix. But like I said, here at Jim Gilbert's Wheels and Deals right now, as I'm filming this, they have this one and a black one without the Ultimate package. So it gives you the same look and just a few less of those technology features, which puts it at a better price point. It's a fun car, it's a great car, and maybe it's right for you. And here's the great thing about here at
Jim Gilbert's Wheels and Deals
. You can compare this car to all the other cars in its class right here at the same dealership, with the same salesperson. This is known as
Canada's huggable car dealer
for a reason. They really, really take care of their customers. It's an amazing place to shop, and that's why I like partnering with them. Because they treat you well, and that's my hope. If you have questions that I didn't answer about this car, let me know in the comments below. And make sure you hit subscribe, because I'm going to come back to this car if you need me to. And I'm also going to come back to your questions, and compare all sorts of vehicles in this class. Thanks, everybody, for watching.
Full Helpful Financing available... and our specialty