:
This is a 2022 model and you've got a lot of nice things. This one has the aftermarket Hyundai wheels, or at least they look like Hyundai Wheels to me. So they are blacked out and I think it gives it a pretty cool look. You've got a little bit of chrome trim up along here that kind of stylized goes into here. This one has a panoramic sunroof. We're going to show you that in a little bit. This is the preferred package. And if you're looking for a Tucson, the preferred package is kind of that nice package. When you go higher up in the lineup, you get extra power, but you also get a hybrid. So it's extra power and a little bit better fuel efficiency, but you pay a little bit more to get those features when you add on. This Tucson with the preferred package is still the non-hybrid version just to gasoline vehicle.
Peter:
But that preferred package, the big option it that gives you is that panoramic sunroof, and you're going to like that. And a lot of vehicles with panoramic sunroofs are afraid to put roof rails up here. You've still got the roof rails here, which we'll talk about. And just one thing to keep in mind with the roof rails, if you have items, you can still absolutely use this. You just obviously don't want to tilt that roof up. And if you are going to tilt it up, just get a little bit higher components so that you can screw all those pieces on. That's really the only thing you have to worry about with a panoramic roof and roof rail type things. \We're going to talk about the practicality. We're going to talk about the features. We're going to talk about safety features all in this video. Let's get going.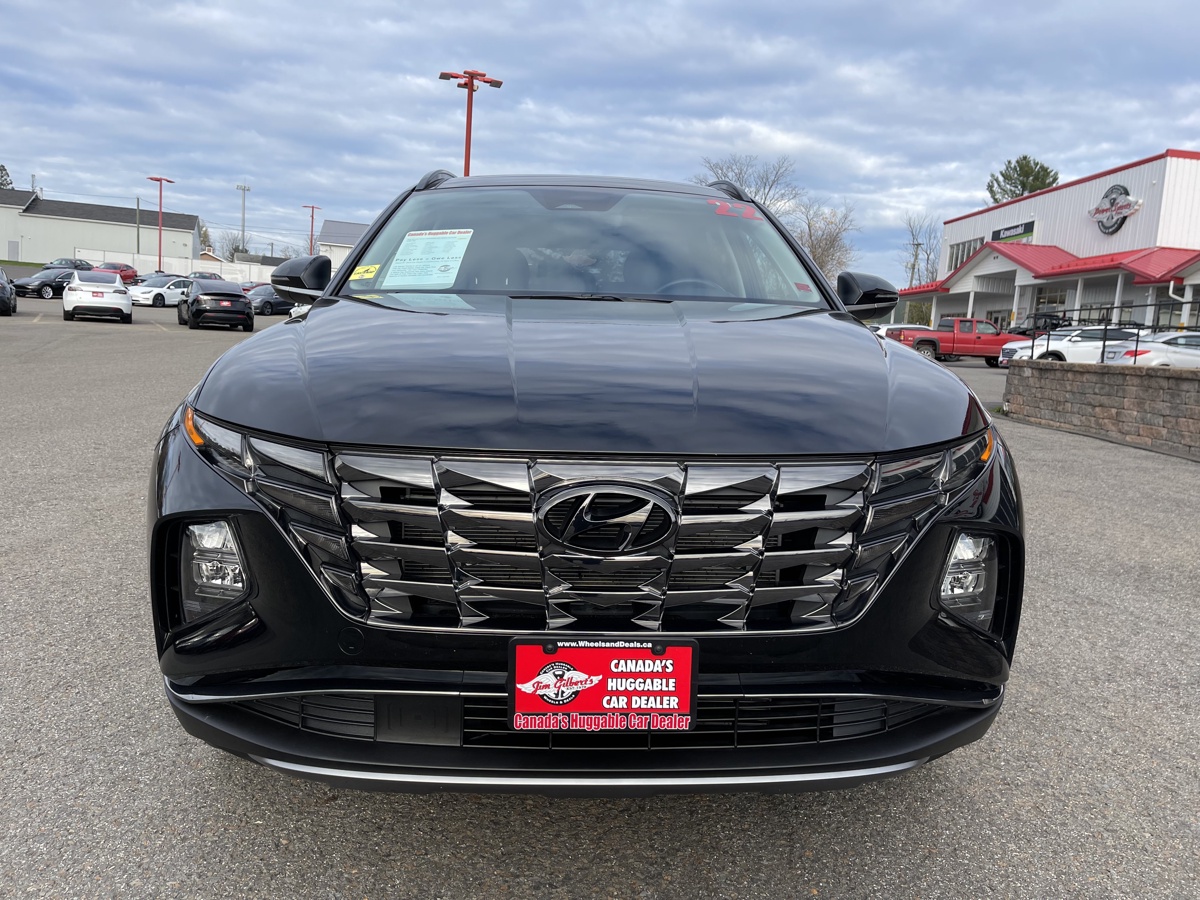 All right, let's just start with some style items here. First of all, this is the grill for this car. On this particular trim line, this is kind of like a tinted color, and this is also tinted. On lower trim levels, this isn't tinted. They are just kind of clear and you can sort of see that they are lights. When you have this car turned off, you can't really see the lights here. Now let's talk about those lights just for a second. Let's turn the car fully on. We have to actually start the car to activate them. So hop in, push button start. There we go. All right, let's talk about these lights. So what you have here is daytime running lights. Car's beeping at me because I took the key with me. These are just your daytime running lights. They don't always film perfect, but they are quite bright and they're a real signature item of this car.
When you're driving this vehicle down the road, you can really see this. Now those of you who are wondering about the Santa Cruz, the Santa Cruz actually only has three deep and is a little bit different than this. This one has four deep here, so they are actually different than the Santa Cruz. But these lights, essentially what they do is they're just marker lights to let people know you're coming. They're style lights, but they actually light up the highway lights or the highway signs up top. So the road signs that you have above the road, those are being lit up by these. Your headlights are down low and these are sharp LED headlights on this model, which is what you want, really good LED lights, really bright. Now the benefit of these is by mounting them low, they can be extremely bright with a sharp cutoff.If you have bright lights mounted up here, you're shining right in the back end of someone. So you have to kind of aim them down. There's all kinds of things. By mounting them low, they can be crazy bright, have that sharp cutoff, and even though with that sharp cutoff, they won't light up the road signs above, these lights do that. So these are practical as well as style. And again, sharp cutoff lights mean they can be crazy bright and really widespread. They give you fog light widespread and good headlights down low. So really nice feature to have right there.
:
The other thing you're going to notice is there's a little panel down here. Now, a lot of those cars that have this that try to put that in the center, that is a radar panel. The radar panel does a whole bunch of things. There's a camera in the front of the windshield here. That along with the radar panel, gives you safety items, things like autonomous emergency braking, the ability to stop the vehicle and avoid a collision.
Peter:
Now, don't test it. Don't try to drive into another vehicle, but if you're not paying attention, this car has the capability of stopping to avoid a collision. It also has the capability of at least minimizing a collision. So it keeps you very safe. That radar plate is also used for smart cruise control, which on this vehicle works very, very well. And I know that because I drove out here in a Santa Cruz with the exact same system. I drove from Ontario to New Brunswick towing a utility trailer, and I almost didn't have to hit the gas or brake. And to be fair, I barely had to steer as well. We're going to talk about those items coming up in a second, but first, let's go around the back of the vehicle.
: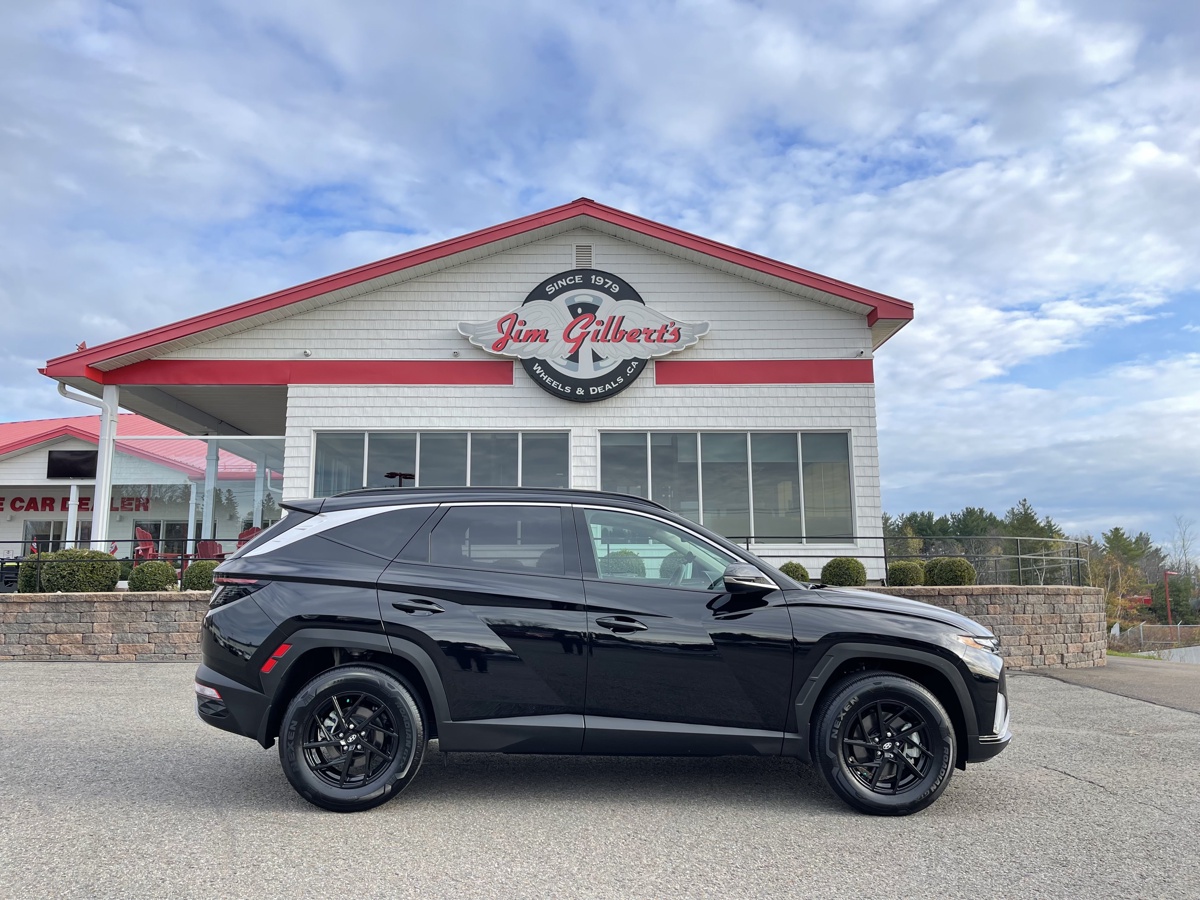 All right, heading to the back of the vehicle. There's a couple little secrets here. This vehicle and the Kia Sportage are based on the same platform. However, for 2022, if you put a hitch on this one, it tows significantly more weight than the Kia Sportage. If you look at the owner's manuals, this one can tow more, which means you can take things like your jet ski along, which you could also buy here at Jim Gilbert's Powersports. Or an ATB, something like the Brute Force 750 or something like that.
Peter:
So you can do that. You can tow a little bit extra with this one than you can with Kia. Why? We're not sure, but you can. All right, up here is another cool feature. Hyundai used to put their windshield wipers down here. That's what pretty much everybody did. And when it snows and rains and you use your rear to frost, all of that snow turns to ice and then you park your car and it freezes right here on the windshield wiper.
:
The windshield wiper is now buried up here underneath the spoiler, which means none of that happens, which means it's going to work in the winter. It keeps it clean. Not only is it cleaner for styling, but it keeps it clean there. And then just for cleaning the car, this Hyundai logo is actually buried in the glass, which means this is nice and flat. I don't know why they do that either, but it does make a clean, nice surface down here. This one you do have nice sort of LED lighting up here. Your signal lights are actually down low in there. So these are just brake lights up here, but it's a nice sharp looking vehicle. HTRAC all wheel drive, we're going to talk about that all wheel drive second. In a second we head inside. But first let's just show you the trunk. The Tucson has a very large trunk for its class and it does a lot of things right.
Peter:
It's got the cargo cover right here. It's got 12 volt port. You can pull these levers to fold down the seats. It's a 60/40 split. But it's a very deep floor that can actually be made deeper. If you pull this out, you bring it in like that, if I can do it right. And there we go. I have gained about an inch. It's not a whole lot, but the point is even at its highest position, it's a very deep floor. And the nice thing is you can put this, when this is in the higher position, underneath the floor there so that you don't have to store this in your garage when you have extra cargo to take, which is really kind of nice to have.
:
Before we take a look at the driver's environment, let's just check the back seats here. Now you just saw I folded the seat down in there. When I put it back up, it's very upright. That's not comfortable, right? Well, no problem. You can pull this lever here and recline way, way back, way, way back. So I'm completely out of sight. So the one thing that Tucson does really well for 2022 that they didn't do as well in the past is they have great passenger space here. And when you compare something like the Santa Cruz to this, even though they share platforms, the Santa Cruz, they steal that backseat space for some of the bed space. Whereas here, you have a ton of space. This is set for me as a six footer and I have tons of space as a six footer sitting behind myself. I also have my legs flat on the seats here, which is really, really nice. And then I have extra vents here. So I've got two vents in the center.
We've got nice bungee pockets on both sides, two USB ports down there. You've got everything you need. And one thing you don't get in the Santa Cruz that you do get here is an armrest in the middle with two extra cup holders, which is quite nice.
:
All right, now you're inside with me in the backseat. And like I said, there's those vents there, the pockets there on. I'm on a bit of a wide angled view to give you a more accurate view of what your eyes see. But wow, this is impressive. So here's the thing, the wide angle view skews the camera, but you have a massive panel back here right above the head of the passengers. And then it's also extends to a massive panel over the front passengers. One thing about this larger panoramic roof is it is really class leading.
It is very big, it's very impressive back here. And when you're sitting in the back here, you have this kind of view, and this is actually overplayed. It looks larger in person. But you have this massive panoramic. Roof. It really makes a bright interior even on a cloudy day, even with this black interior. But let's take a look at what we've got up front by jumping in the front seat now.
:
All right, to jump in the front seat, you're going to need the key. This is what it looks, looks like. So you've got lock, unlock. You've got the horn button there, the panic button, and hold. That's a remote start button. Some versions of the higher trims will have a few more buttons on here, but this one has this. Like I said, this is sort of a midline model with that panoramic roof.
So you've got the remote start built in the key fob. You also have it through Hyundai's blue link system. The key fob of course will never have a subscription fee. If you want to unlock the door, you just tap that right there. That's a little bit of over spray of the wax there. So don't worry about that. That's not on the paint. All right, take a look at the seats here. You've got powered seats with a good lumbar support. So you've got comfortable seats in here. Let's jump right in. We're going to go wide angle. So we're going to skew things a little bit. I want to keep you the view that I have as the driver. So let's go wide angle for a second. We're going to hit the start button right here, which is up top on the dash. There's a couple cool features in here.
Now, first of all, if you get a higher trim, you're going to go full digital dash. This doesn't have the digital dash, but you can see as we take a look at it, you do have the green outlines here. I'm just going to turn the climate system off for a second so it's nice and quiet in here. The green outline tells us about the drive mode that we're in right now. So drive mode right now, we can go driver terrain. Drive mode is eco, normal. You see it goes blue. Sport, it goes red. And then smart, it goes back to blue. I feel like they should have done a different color there. So let's just talk really quickly about what those are. Eco, just if you are driving economically anyways, this is going to work with you. You're probably going to like it. The problem with eco is if you start getting aggressive, it's going to resist downshifting.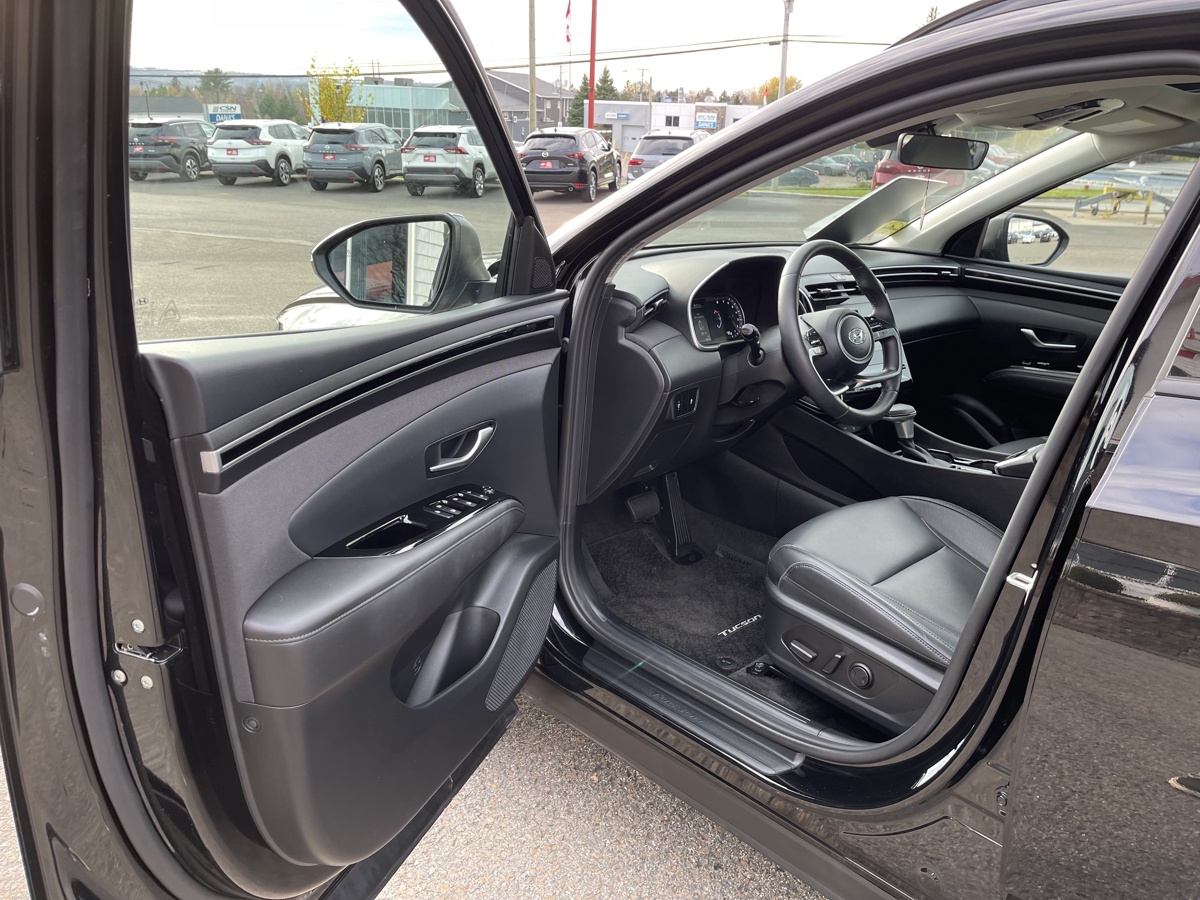 So you don't always want to go in eco. If you go in smart mode, it's still going to give you that eco type feeling. But if you get aggressive with a throttle, it can move it out of the eco into a normal or even a sport mode. So it really senses what you're doing with your throttle. And to me, that's what I would use to get great fuel efficiency. Normal is just a normal drive mode, doesn't feel sluggish. It also doesn't feel super sporty. And the sporty punches things up a little bit. It allows you to hold revs a little longer, keeps it in the power band a little bit longer. It's probably going to use a little bit more fuel as well. Now you'll notice where I am right now, I'm going to put it back in the smart mode. You'll notice the screen that I'm on right now, we're going to get to train mode in a second.
:
But let's talk about the all-wheel drive system. Hyundai's all-wheel drive system, you don't have to wait for the front wheels to slip in order for it to grip. When I start out here in drive like, I am right now, I'm going to let off the brake here. Oops, let's see if I can give it some gas while on the brake. No, I can't really show you without driving along and I don't want to leave where I am right now. But what happens is all four wheels receive power regardless of what mode you're in, regardless of what terrain mode you're in, which we're going to show you in a second. So in other vehicles where the front wheels have to slip and you have to lose traction and then the rear wheels kick, in a vehicle like this, you don't have to wait until you lose traction. It's going to do everything it can to help you maintain traction.
And what that does is makes a difference in the winter. So instead of having your front wheels slip and the car getting kind of all squirrely on you and then having the rear wheels kick in, you're going to feel really confident driving this in the winter. And speaking of driving the winter, we've got terrain modes. So let's just zoom in even closer still. Terrain mode's there. We've got snow, right? Oops, let's go back to terrain mode, excuse me, snow, mud and sand. Now let's be very clear. When we're in sand mode, first of all, you're not going to be driving this car in sand on purpose. You're also probably not going to be driving it. Oops, let's put it on smart mode. Let's go back to terrain mode. You're also not going to be driving it in mud on purpose. But if you go camping and you put it yourselves in these situations, it allows you to have a system of traction control, transmission engine. Everything is geared. And all wheel drive system is all set up to handle that mode.
:
So it's a really good system here that I think is underrated. We hear about Subaru, they've done a great job marketing their stuff. But one thing I will say is they've done a good job with Kia and Hyundai in creating this all-wheel drive system that really makes sense for the way people use their vehicles. All right, let's go wider angle again. Over here you've got... Let's turn on the climate control system again. Pretty simple thing. Now some of the larger, higher trims have a little bit larger screen here, but you have kind of everything you need here. Although this doesn't have navigation. You do have wireless Android, auto wireless Apple CarPlay. Now you'll see some glare here. That's really just the one eye of the camera interacting with a screen. As I have two eyes on this, it's really not a bad thing for glare.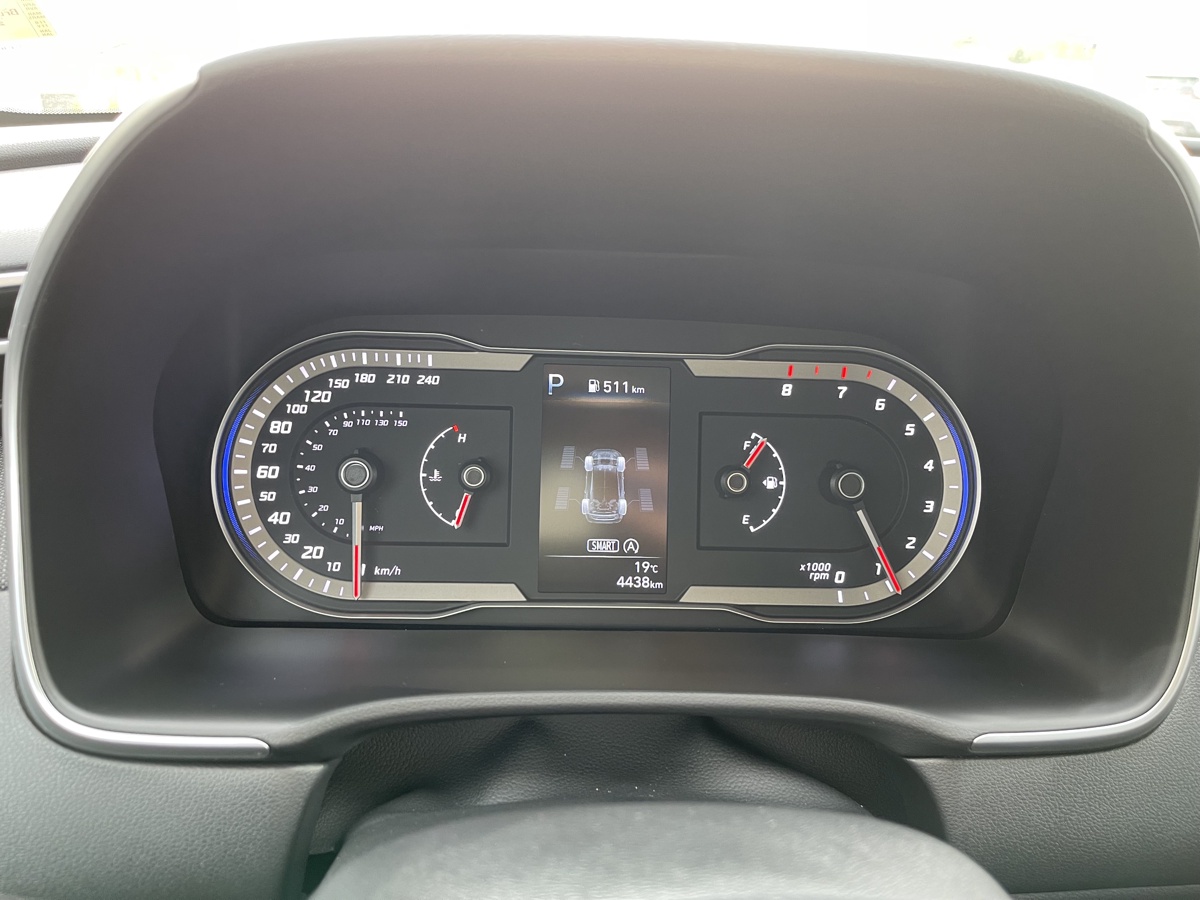 Very easy to clean. I keep a little microfiber cloth in here when I had a dash like this. And that just helped me to just give it a quick wipe down, kept everything really clean and sharp. Down here, dual zone, automatic climate control. So if I want to sit there and adjust the temperature different from my passenger than I want for myself, I can do that or I can just sync them together nice and easily here. The auto mode is kind of cool because right now the fans a little bit loud for me. So let's say I just want to keep it a little bit quieter in here. It's still going to go to 22 and a half degrees in here. It's still going to direct the air where it sees fit as it sees fit. However, it's not going to blow the fan as loudly. Keeps it a little bit quieter in here.
:
Just allows me to sort of take time to bring the temperature up or down. It's really nice in the summer when you get out, and it's a really hot day and you have this passenger jump back in or something like that, the car's running. Instead of cranking the air, freezing you because it's blowing the air at you, and then it's bringing down to temperature as quick as it can or up to temperature as quick as it can, it just kind of gradually brings that temperature so you don't get blasted with the air from the vents. Speaking of the vents, there's one more feature I want to show you. There is a diffuse function here, which is super, super cool. What that does is it doesn't just blow air through the vents. There's little holes over here and it's easier to see. Let's see if I can film one over here.
Peter:
The little holes in there, I don't know if you can see them there, but it blows air across the entire dash and literally just does that. It diffuses the air. So instead of having the rush of air from the vents, you've got that in there as well. Let's talk more safety features. We talked about that smart cruise control. You can activate it here. This is also your lane follow assist. What that does is it can actively steer the car. It can see the lane markers and it can keep your car centered in the lane.
:
When I drove from Ontario to New Brunswick, it did most of the steering for me. Now you have to keep your hand on the wheel because it senses when your hands off the wheel, but you can certainly spend some time with it off. Combine that with something like a highway drive assist type thing. And this car can really almost self drive. It's not meant to do that. Automatic headlights. But yeah, it's a really good feature right there. Steering wheel controls, again, if you don't like using the volume switch here, because it's not a knob, it's just of a dial type thing, don't worry about it. You can mute it from here, you can use all that kind of stuff. Talk to everything in there. So good safety features. Let's come right down to the dash here.
Eight speed automatic transmission. So eight speed, if you want to shift it yourself, you could do that up and down there. And a lot of Hyundais, they don't have this gear shift. You do have that in this level of Tucson. Higher trim levels, you don't have that downhill sort of brake assist there. Auto hold on the electronic parking brake can turn the car on and off. There's a backup camera. We'll show you that in a second. Heated seats and heated steering wheel. Again, this preferred package, heated seats, heated steering wheel. Kind of nice to have both of those, especially in the winter. And then that panoramic roof as well. What were we going to show you? There was something else I was going to show. Oh, I know what I was going to show you. Get this gear shift out of my way.
:
This is the wireless charge pad for a cell phone. Now you'll notice that Hyundai's upgraded this anytime you see a little bit of vent... Yeah, see that venting in there? That has been upgraded. So it's a faster charging, it's got a little bit of ventilation in there. It keeps your phone a little cooler when it charges. And that's really handy with the wireless Android Auto, Wireless Apple CarPlay, which does give you that navigation that you want. It just does it through your phone. So really good feature set in this vehicle.
So let's talk about who this vehicle is for. First of all, that small crossover segment. It's just the most popular car segment right now. Now small crossovers have grown. So if you are someone who needs a small crossover with a little bit extra rear seat space, maybe you've got kids, even kids in car seats, maybe you're taking full size people. There's always great reasons to have a little bit larger space. It's got a great rear seat, it's got a great trunk for a compact crossover. Still easy to drive, easy to park. If you're taking luggage, going on vacation, having that roof rack is really nice. You can fit stuff up there. But you also have that panoramic roof for when you don't have luggage up there, no ski box, no other stuff up there. That panoramic roof is really nice.
:
I think where the Tucson does really well is if you are safety focused. And there's the little things in this car, things like the headlights, the bright white LEDs. That white color allows your eyes to recognize what you're seeing at night because it's closer to daylight color. When you shine yellow lights on things, it takes a split second longer for your eyes to recognize. And forgetting the color, there's just great spread, great brightness in there, something like that. All wheel drive system, the ability to have the vehicle, if you choose to, allow it to self steer in some ways, to center itself in the lane on longer drive to have the smart cruise control. It takes all the stress out of a long drive. And I can say that with experience. Like I said, coming from Ontario to New Brunswick with the exact same safety features on the exact same platform or very similar platform car, same things.
It was just such an easy drive for 14 or 15 hours, no worries at all. So safety's a big key. Even things like the blind spot detection here, you've got blind spot detection, light lights up in the mirror, just tell people in your blind spot. But when you throw it in reverse, you've got the radar sensor back here that can warn you if people are crossing your path. You're backing out of a parking spot in a shopping mall and you have a minivan blocking your view here. As long as the back corner of the vehicle clears that vehicle beside you, it can see down there. So it can recognize people walking even when you can't see them. It can recognize cars driving towards you even when you can't see them. So safety's a big feature. And then it's just really comfortable. It drives really nice, it's fairly efficient.
:
So it just blends that safety with comfort with a good amount of space. Now, the benefit of being here at
Jim Gilbert's Wheels and Deals
is you want to compare it to a Rogue, you want to compare it to a Santa Fe, you want to compare it to something from Jeep, there's a Toyota RAV4 there,
CX5 there, Volkswagen Tiguan there
. There's all kinds of its competitors and they're all virtually new just like this one. This one's got under 5,000 kilometers on it. You can come to one dealer, you can compare this car to all kinds of other cars in its class to see which one is best for you. And that's one of the most exciting things for me, is I can really compare this now to other vehicles, not just to vehicles within the Hyundai lineup or within the Kia lineup. And it's the benefit of here at Jim Gilbert's.
Jim Gilbert's Wheels and Deals is known as Canada's huggable Car dealer.
There's a massive difference with shopping here. They are so customer focused. It's really awesome to be here. So if you're looking at a car, swing by Jim Gilbert's. And if you want to know more about this, let me know in the comments below. And if you want to see more in-depth reviews like this in small crossovers or other vehicles, do me a favor. I'm trying to build out this channel, hit the subscribe button. Hit some comments, hit the like button. We'll do our best to interact with you. And if you have questions, I'll do my best to answer you both in the comments section and in future videos. Thanks everybody for watching.
Full Helpful Financing available... and our specialty