: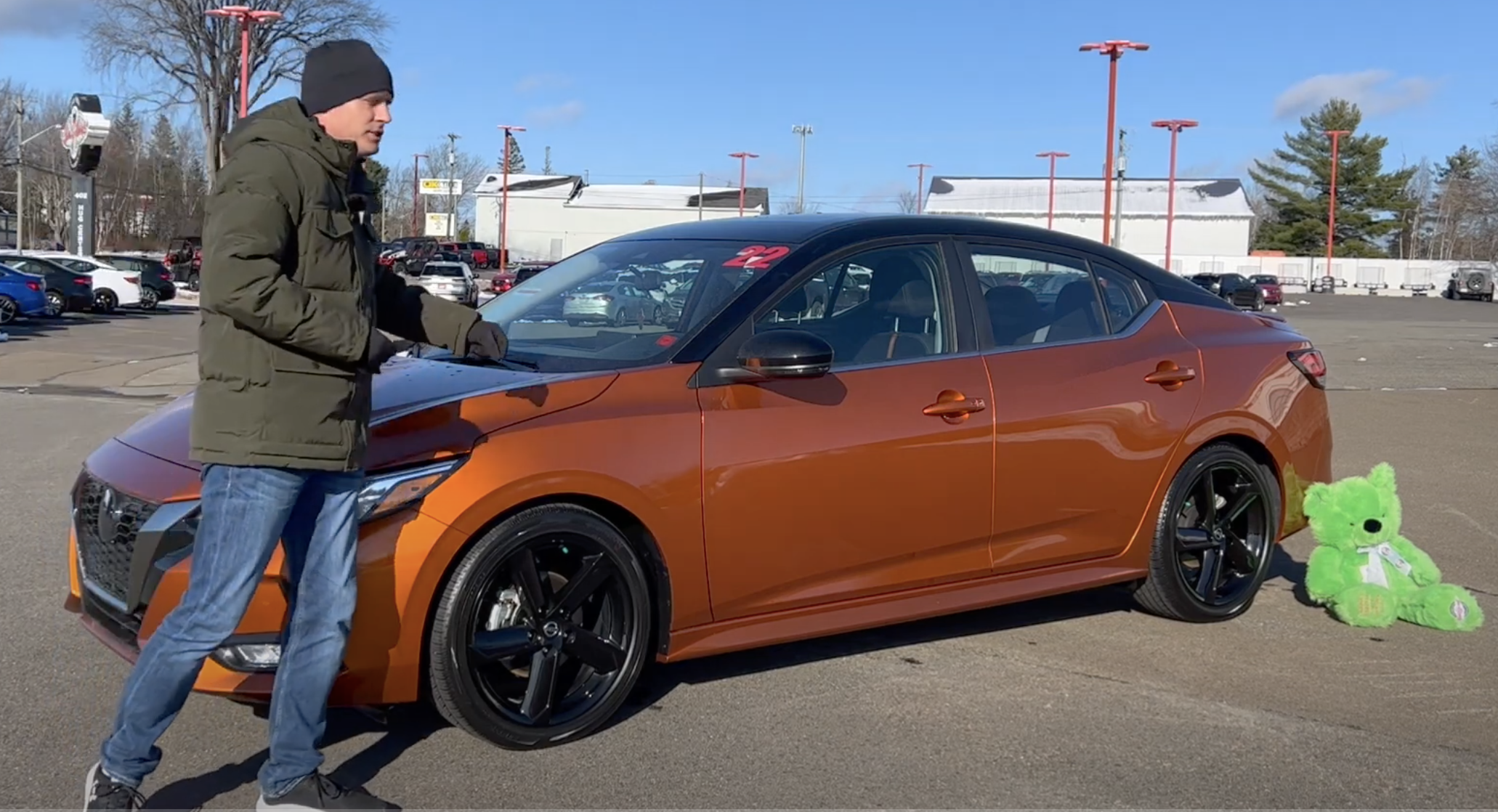 Let me just double check because now that I said it, we got to know for sure. Yes, 18 inch wheels. They've got the dark rims, the two-one sort of exterior, lots of chrome trim here. It looks like a top end version, but in reality it's kind of a midline. And when you choose a midline vehicle, whoever makes those decisions about what needs to go in it, they need to choose which pieces and parts matter to hit that price point and which don't.
:
And I think they kind of did it. They kind of nailed it with this car and got it really well done. So what we're going to do is we're going to show you a little bit of trunk, a little bit of the backseat, and then we're going to go through some of the driver's environment to show you some of those tech items and safety items that they included in this car.
:
And while I'm here, I should point out this car's fun to drive. It's a manual transmission, not many of those left in the world anymore. Let's start with taking a look at the cargo area. The back end of the Sentra is fairly squared off. The rear seats, they're not here, they're way over here. So you do have some good depth here.
:
And one thing to remember with these trunks is in a sedan is your entrance is smaller than in a typical SUV but your floor is often longer. So if you have a lot of items you need to carry in this vehicle, I can't even touch the back end. So nice long floor here. You do have the arms to contend with when they come in to crush your luggage. That's sort of par for the class here.
: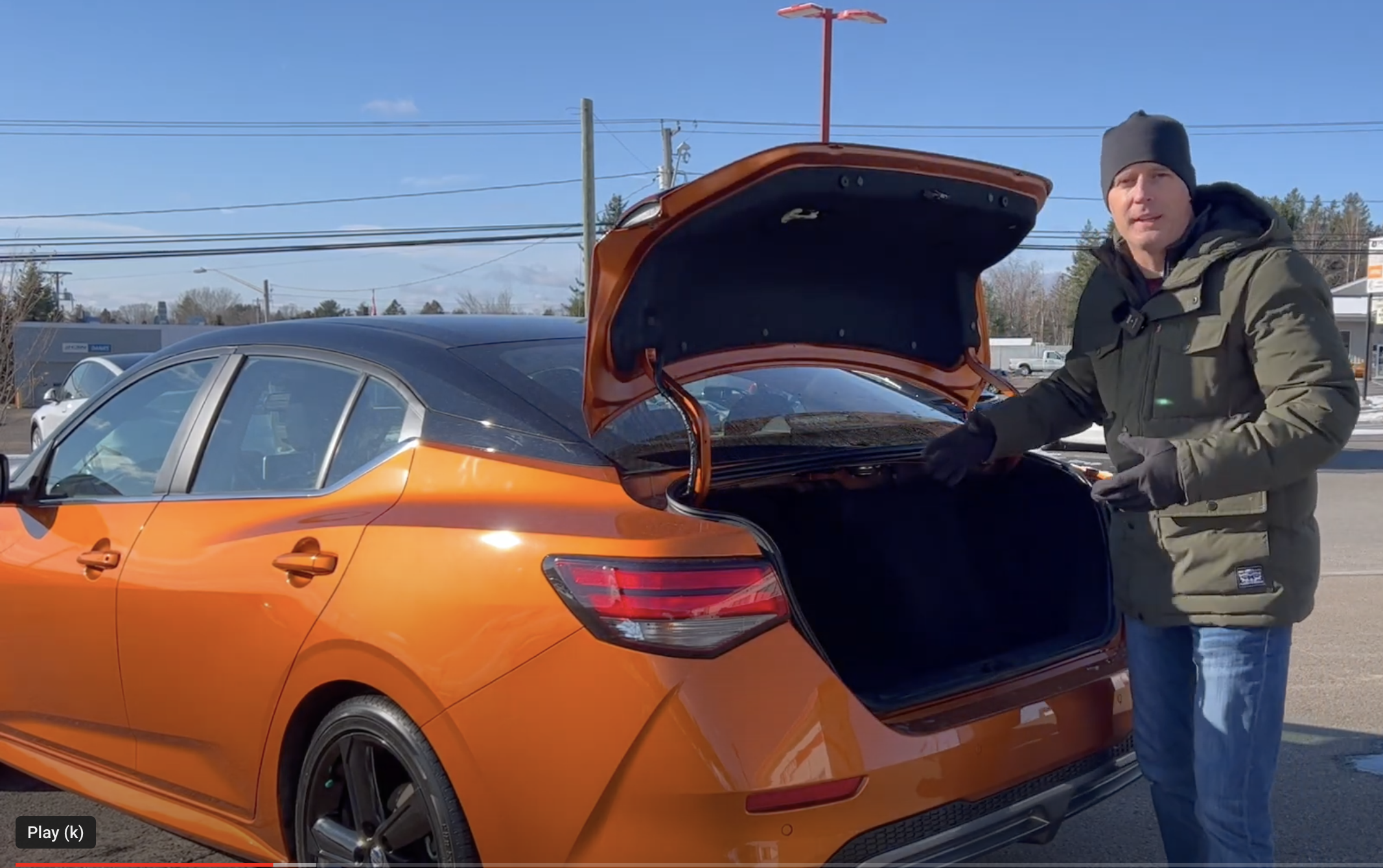 They can come in a little bit. But a very large opening with not a whole lot of intrusions and pretty good. No under floor storage in this vehicle really to speak up. Just a little bit of a spare tire down there. But again, good size and really like I said, when you're comparing to an SUV, a pretty good floor length there to fit your stuff in.
Peter:
When we talk rear seat space, there's a couple things to look for. First of all, is the roof too low for me to get in? Well, I'm about six feet tall and that is not a problem. The second thing we're going to look for is how do my legs fit with a six footer in front of me. So I'm about six feet tall and you can see pretty good space here.
:
The seat is a little lower than in some SUVs. I'd like to have my legs a little bit more on the seat, but it's pretty good and pretty comfortable back here. And to be honest, arm room, everything else around here feels pretty good. Even though this roof line comes in, and from your angle it looks like it's kind of in my head there, I've still got easily a hand width above me here.
: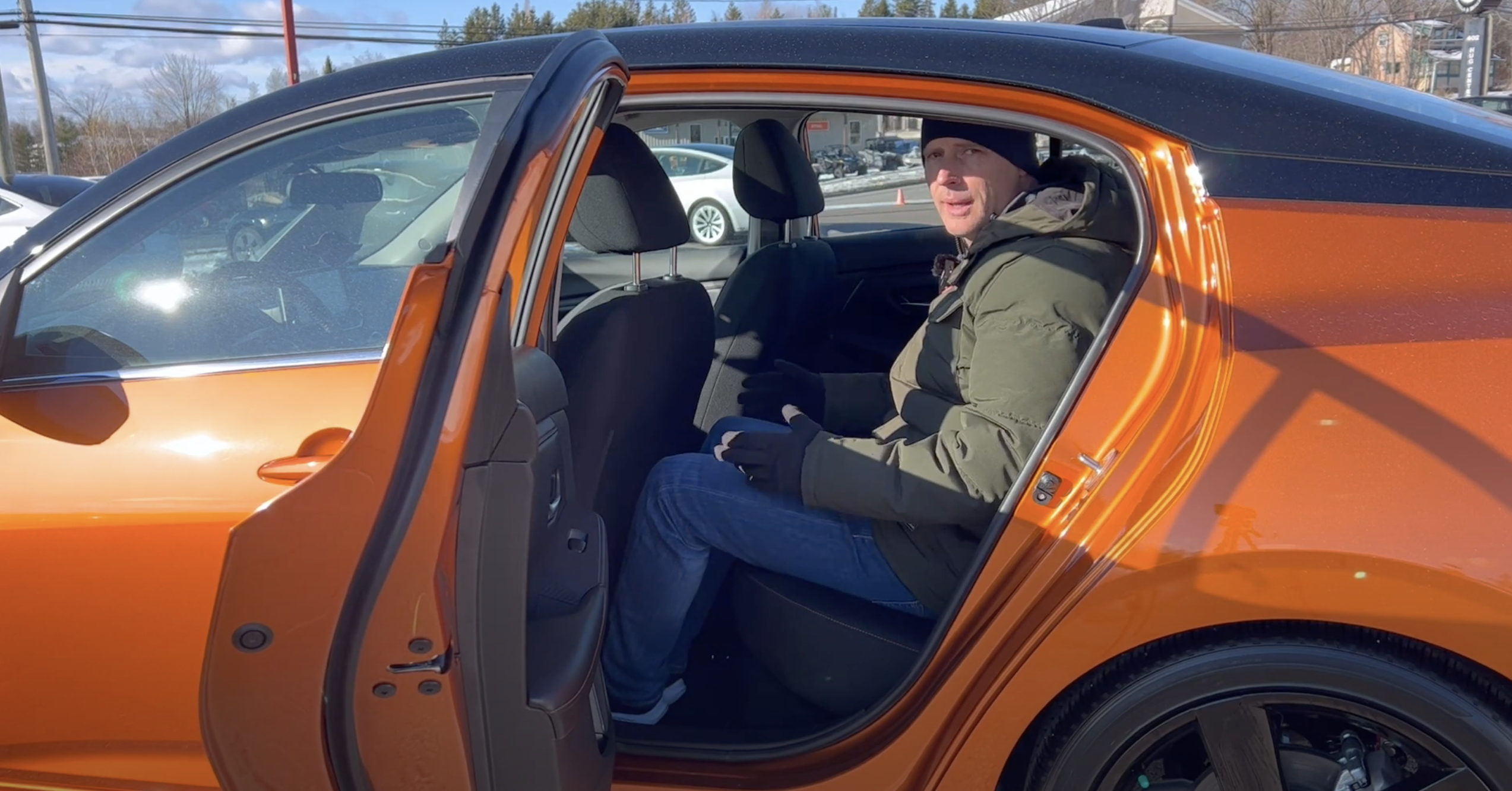 So a gloved hand width above me for headroom. So quite comfortable back here. Works very well. Only a single USB port in the center and a pocket on the right side, but no pocket on this side. But there is nice carve outs for the seats in here. Let's take the camera and show you inside. All right. Full winter coat because still kind of cold in here right now.
:
What you've got here, again, headroom, decent. Not sort of class leading, but certainly comfortable for me. One interesting thing is the map light up here or the regular light, instead of being in the center of the car sort of further up, they have it back here above your passengers and you can turn on just one side or just the other.
:
They're not aimed like map lights so much, but they do have the ability to turn on one side or the other. The other thing, again, we take a look at myself down here again. You've got cup holders in the armrest. Armrest is sort of appropriately placed. And again, the carve outs in the door here are very good for my width. Like I said, like to see a pocket in the back of the driver's seat as well as the passenger.
:
And the only vents back here on this trim level are going to be underneath the seat. So no upper vents that you can sort of aim towards yourself. You're just going to have it through, coming through on the floor, which is plenty for heat because most of the time the heat in vehicle starts down low anyways, especially in this vehicle which has automatic climate control, which we're going to talk about in a second.
:
But very good, very comfortable space back here. And yeah, I could certainly sit here for a long trip. Now let's take a look at the driver's environment, but before we do, let's show you the key. All right. I got to give full credit to Nissan here because their key fobs are not very large, they're just nice and small, compact, nice proper shape to fit in your pocket and I appreciate that.
: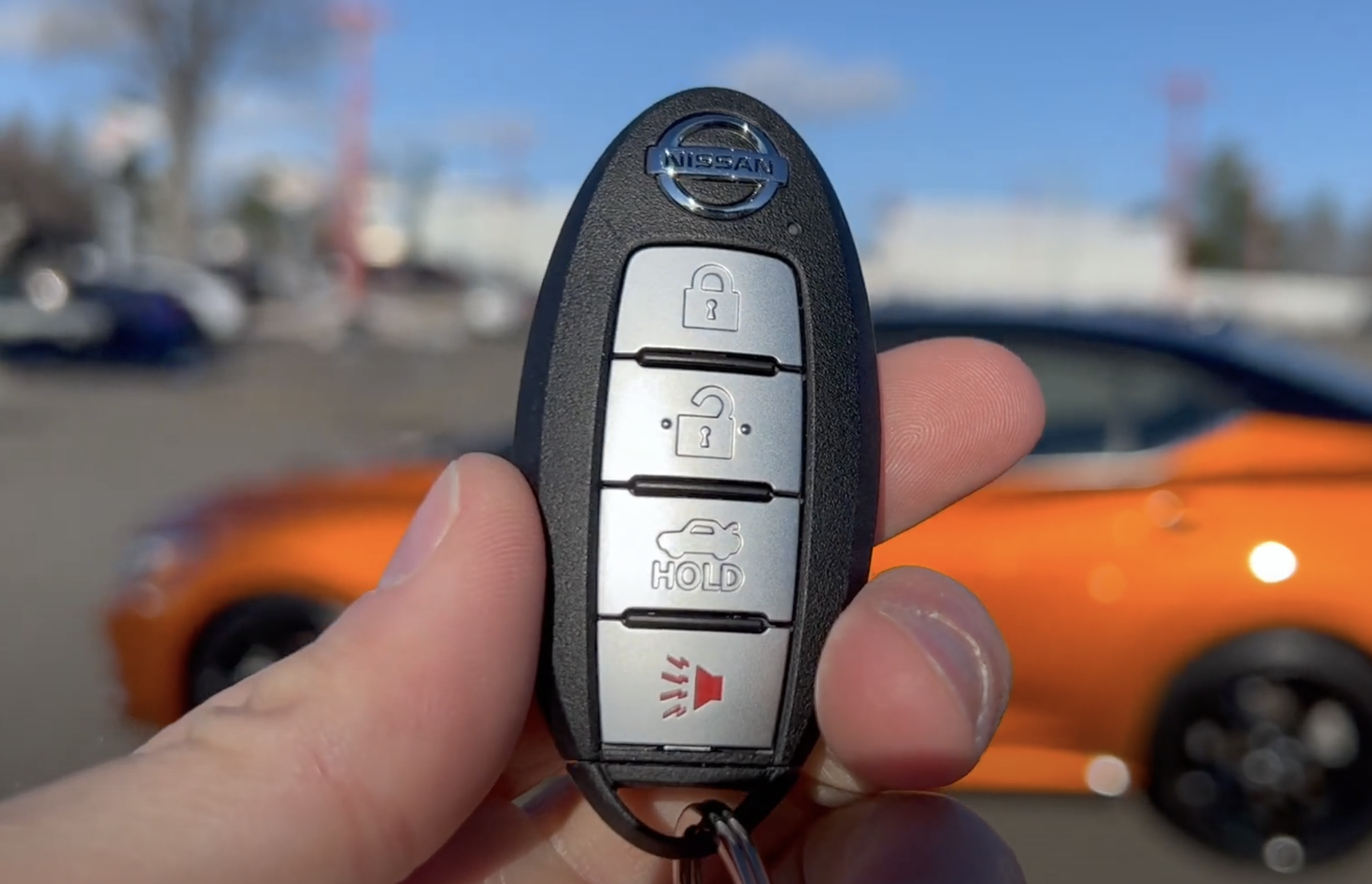 And this one is body color. You can see this paint color here, really nice metallic in the sunshine. It's not showing as well on camera as I'd like it to. But again, you can sort of see a little bit of that metallic. Very nice. Let's hop in here now. All right. First of all, you've got a cloth style seat and it does have the accent stitching there. And I want to talk about these seats as we jump in.
:
So let me do that. The first thing you're going to find with these seats is they are quite comfortable. Now one thing that's a little bit different in the class, and I'm going to show it to you a second when I flip the camera around is there is a softness to the initial feeling of these seats but still a firmness to the seat. So I'll try to explain what that means.
: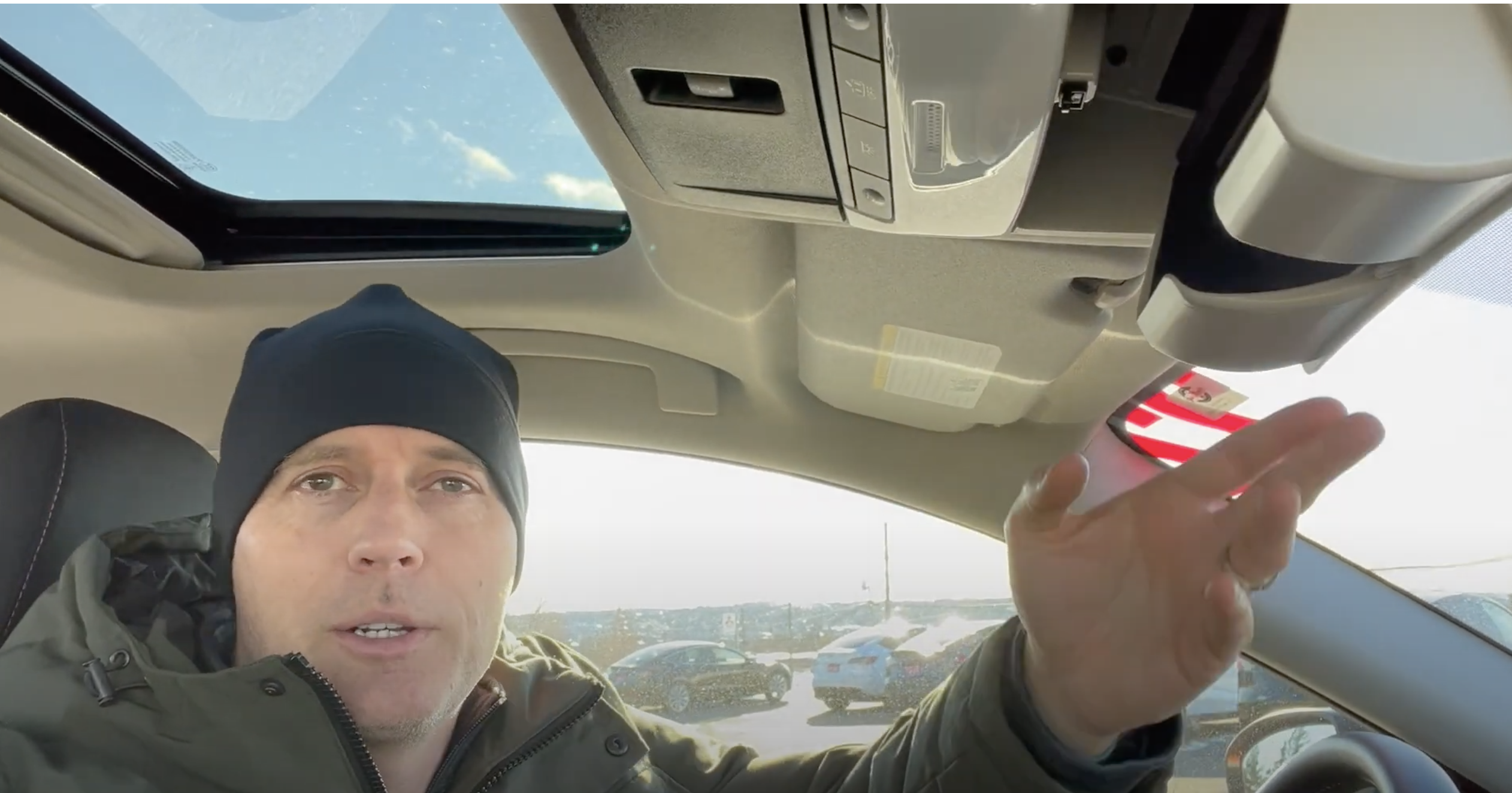 But as a six footer here you can see I've got good headroom. The seat is height adjustable so I can bring it down quite a bit further, I can bring it up quite a bit further. It's quite comfortable sort of where it is. You've got tilt telescopic steering wheel as well so you can really get comfortable whether you're shorter or taller or if you're sharing this car with someone else, it's not a problem.
:
But let me show you what I'm talking about with the seats now. All right, just off camera below here, I've got some extra junk there but that's okay. We're going to show you. This is like a felt style, suede style seat but it is definitely not suede. But you can almost see here there's a cushiness to the initial layer of the seat.
:
So the support is firm but the overall feel is that there's a little more softness on the sort of upper layer of the seats and I think that makes it quite comfortable. It's not going to be for everybody. Some people want that firmness everywhere, but I think it makes it quite comfortable.
:
And again, the texture of the seat, that suede type look there gives you some nice grippiness to the seat when you're driving athletically. It just kind of holds you in the seat. They're bolstered well but they're not over bolstered. It's not a pure performance car, but it does have a sporty feel. Speaking of a sporty feel, check this out.
:
Manual transmission, it is a six speed manual. You can see right there with the reverse up and to the left here. And you can just pull the collar up there. One thing I really appreciate about what they've done here is they have a start stop button.
:
This is your to turn the car on and off down by the gear shifter. And this makes sense rather than burying it behind the wheel where you really can't see it back there. So hop in the car, we're going to start it up like that. Clutch in, it's in neutral already so we're good to go.
Peter:
We're going to leave the parking brake on. We're going to let it run for a little bit here mostly because I'm cold but also because the seated heat, the heated seat, excuse me, the rump roasters as I like to call them, even though the button is not a hold down type button, it was left on by me and it does turn on again. The heated steering wheel does not come on.
:
So what you have here is a button that will stay on in the winter when you turn the car off and it'll turn on. And I'm going to tell you when I start to feel that seat warming up as we go through here because with these cloth style seats, they warm up quicker than leather. We'll talk about the climate control in a second here, but let's take a look at the dash over here. Some nice things here.
: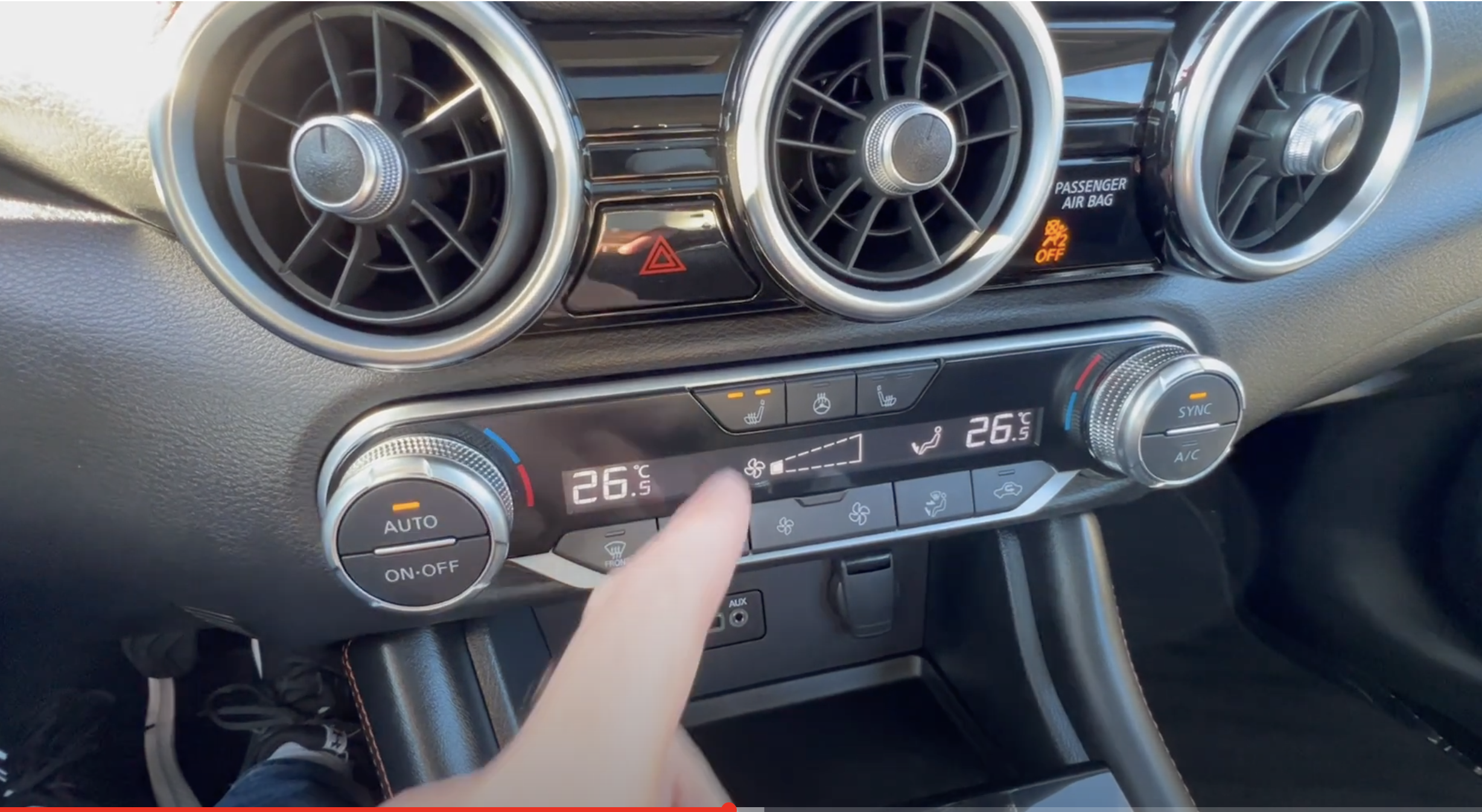 You've got a seven inch display screen over here, color display screen with really good resolution. And again, I'm on a wide angle camera so everything looks further away, a little bit wider. And then you've got an eight inch screen over here. We'll talk about that one in a second. But check on some of the details here. This one here, actually, let's just zoom in for a second.
:
There we go. You've got, so this is your standard control system here, so you've got your speedometer right there with your radio and then you've got your speedometer with your average speed and then you've got a blank screen. So we're going to leave it back on speedometer. Over here, you've got average fuel efficiency. We can talk about that in a future thing.
Peter:
Again, any vehicle sitting in a dealership, average fuel efficiency, don't pay attention to some of those things. They idle a little bit more in a dealership. Tire pressures, we're going to have to drive to get them to display. But you do have tire pressure monitors in this car, which is nice to see. Trip computer there and speed limit sign. Now this car does not have navigation.
:
So generally speaking in this class of vehicle what they do is they have a camera, let me just go wide angle again, up over here and that's used for many different things. We're going to talk about that in a second. But it looks out in front of the car and that is likely what's going to display your speed limit sign. It reads it for you so you can have it set up and sort of know your speed limit for the roads that you're on. So again, just some extra technology in here.
:
Talk about safety. We're going to leave that back up top. Then you go through here, you got your AM FM stereo, all that kind of thing. Blind spot detection is in this car. Forward collision warning, lane warning, all kinds of stuff there. This is sort of a menu that kind of gives you everything. And you can also cycle down here. You also have a smart cruise control. Now some of these safety items have a radar plate in the front.
:
And on this car, it's actually the... The radar plate is actually the logo. So it's a sort of stylized in. And that works in conjunction with this camera up here to give you a number of safety visions, features, things like forward collision avoidance, those kind of things. So the idea is this car is capable of stopping itself in a situation where it may need to. Now never test that because nothing is foolproof and to be honest, it's not always designed to work every time.
:
But the idea is this is capable to prevent or at least minimize a collision going forward. And it has the same thing in reverse if it senses things behind you. And then again, that blind spot detection. So you've got those cameras, you've got the blind spot detection, you've got all those safety type features. The other thing that radar plate gives you is this smart cruise control.
: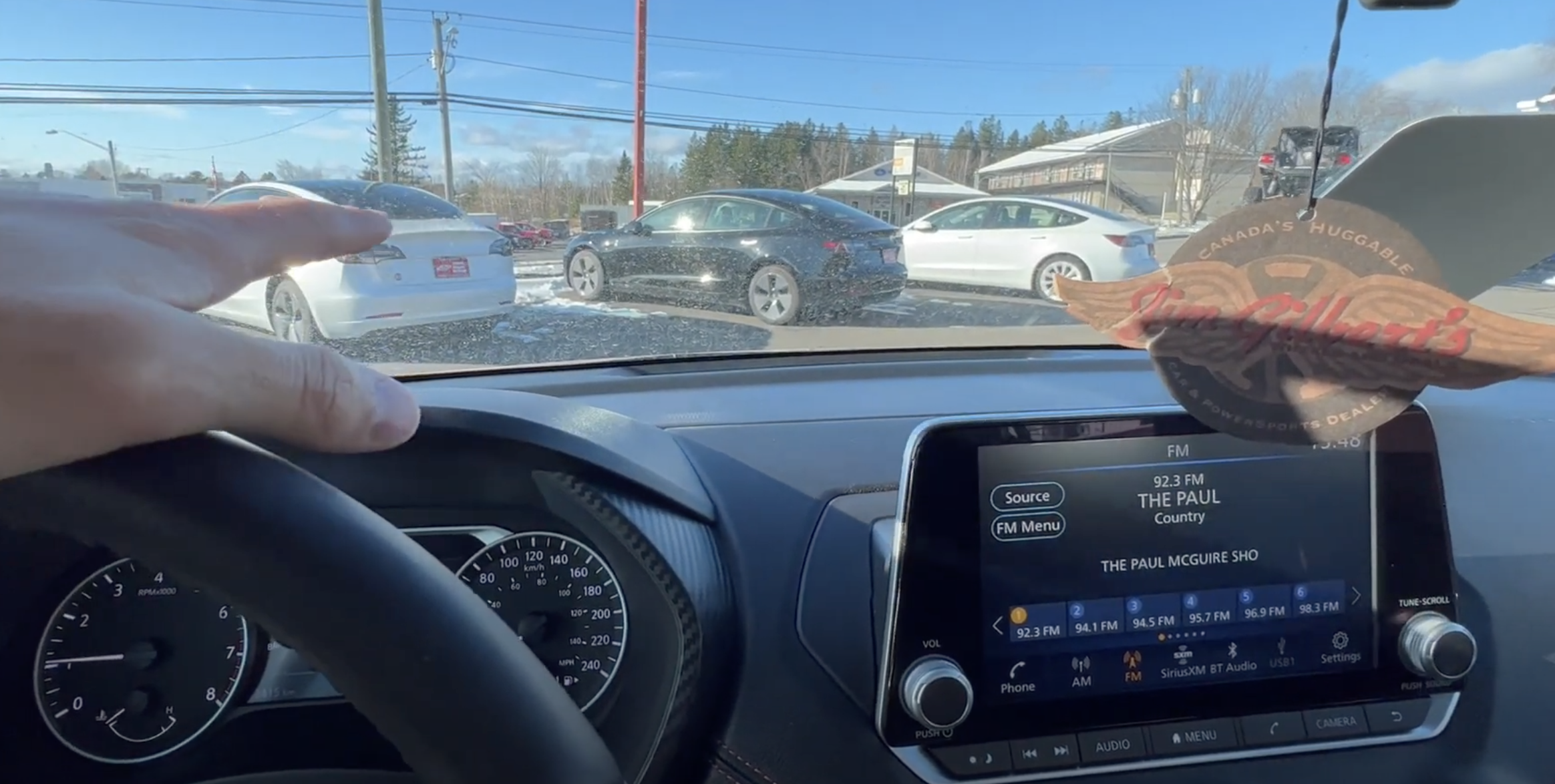 So it gives you, or they call it intelligent cruise control in this one. We don't use smart, we use intelligent. Everything in Nissan is intelligent. The intelligent cruise control allows you to keep its distance between you and the car in front of you. Again, it uses some of those radar type systems. So a lot of the hardware pieces, things like radar systems, cameras, those kind of things are used for multiple type things.And for instance, the blind spot detection in this car, it uses a radar at the back of the car to sense if something's in your blind spot. And you have a little light that lights up over here if somebody's in your blind spot so that's good. But if I throw this car into reverse, it'll also give me what they call rear cross traffic alert. So we'll throw it in reverse for a second. There's nobody going to cross my path.But if I'm looking at the camera, I can't see someone crossing my path, this car could warn me of that. And it actually has the ability to stop itself if someone was going to cross your path and if you were to put yourself in danger. So again, never rely on those. But if you are not paying the attention that you should pay, this car has the capability of getting some of those things out of the way. The overall feel here is of a very high quality car.
:
Oh, I mentioned, I was going to tell you when that seat was warm. Oh, it's hot now. It's very warm. I forgot to tell you when I started to feel it. It is fully, fully warm now. But the overall feel of this car, you've got that stitching through here. You've got the leather seat or leather steering wheel here, which feels really sharp.
:
You also have a dual zone climate control system here. So you can set passenger and driver to different temperatures and just make sure that you're comfortable. Of course, the front heated seats as well. The feel of this car is that you have sort of all the luxuries you need and certainly all the safety features you need and you still don't have it everything. This has got a six speaker stereo, the upper trim levels have more speakers and that kind of thing.
:
But this stereo sounds very, very good. You can look at some of the settings in here. You can change all these things. You can customize the whole menu and change this car around. So you've got good technology here. Android Auto and Apple CarPlay is also included on this big eight inch color display screen. You are seeing some reflection here that I don't see.
:
So when you film something with one eye on the camera as opposed to two eyes that you have, you don't see some of these reflections the way I do. My eyes can focus a little bit better on it than this camera can. But just very good overall quality feel here even though it's not a top line model. And that really talks about value. Coming down here, we talk about Android Auto, Apple CarPlay. I believe on this card is wired and not wireless and that's okay.
:
USB port there USB-C port down here and then the auxiliary port and then the 12 volt port as well. So trying to get some focus in there, having a little trouble there. But you've got enough space to put a phone in there as well. And a small arm rest here where you can put your phone in there as well. You've got the square cup holder so they can hold a little different size things in there. And again, this is not carbon fiber but it's a artificial carbon fiber.
:
And even look at the doors here, quality is absolutely there and the feeling of upper class. So you've got the soft touch there, but you've also got the soft touch on the side here with the leather or leather like panels there. So very good overall quality here that I'm really impressed with. A couple things I didn't point out earlier when I was looking at myself here.
:
Headroom we talked about is fine. And you do have that sunroof above you on this trim and it gave it that black roof, that two-one car with the black roof. That sunroof kind of blends into the overall styling of the car. It's really quite nice. And over here a lot of cars are doing away with some of these sunglasses holders up front because they're putting some safety equipment and some computer bits in there. I don't know they're computer bits.
: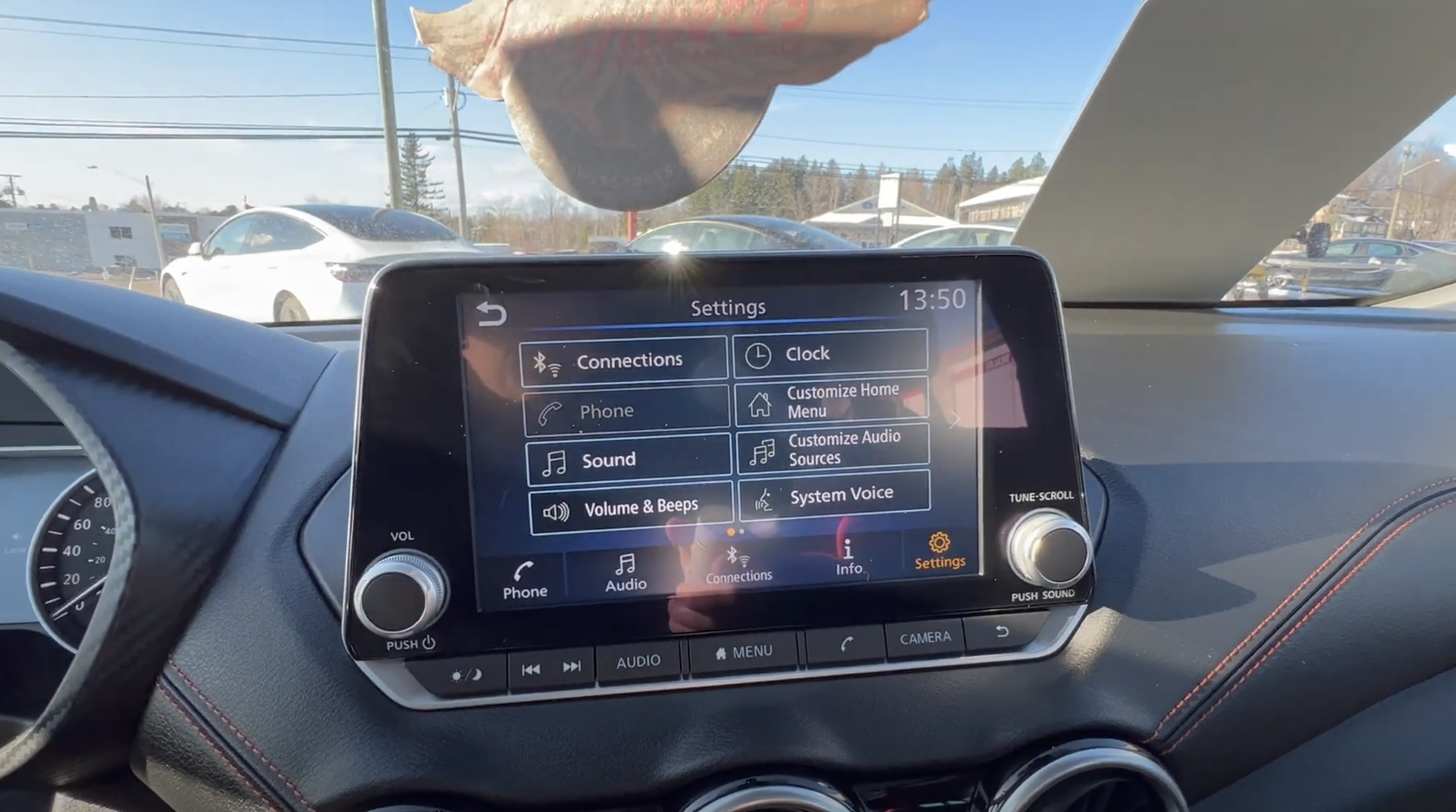 There's stuff up there, technology is up there and you don't always see the, you don't always have this space anymore. So you still got the sunglasses holder there. Again, well thought out, well equipped vehicle, especially for the price point. Couple things I didn't mention earlier in my review. Very good lights up here. Top and bottom. I believe these, they appear to be LED lights top and bottom.
Peter:
So you've got that. And you also have the rear parking beepers, those beepers in addition to your backup camera that allow you to see behind you. So let's talk about who this car is for. Obviously economy car, that's what you're looking for. Now again, with that available manual transmission and this trim package with these wheels and tires, this is a fairly sporty car. Now it hasn't got a whole bunch more horsepower in that 147, just around 150, just under 150 horsepower or so.
:
This car is kind of class competitive as far as the way the power train works. It does have an eco button, which will allow some eco type settings. And you can even customize some of the settings on that eco button, which makes it kind of nice to customize the settings. Usually an eco button adjusts your transmission shift points, but of course you can do that on your own with the manual transmission. So it allows you to sort of choose how you want to do that.
: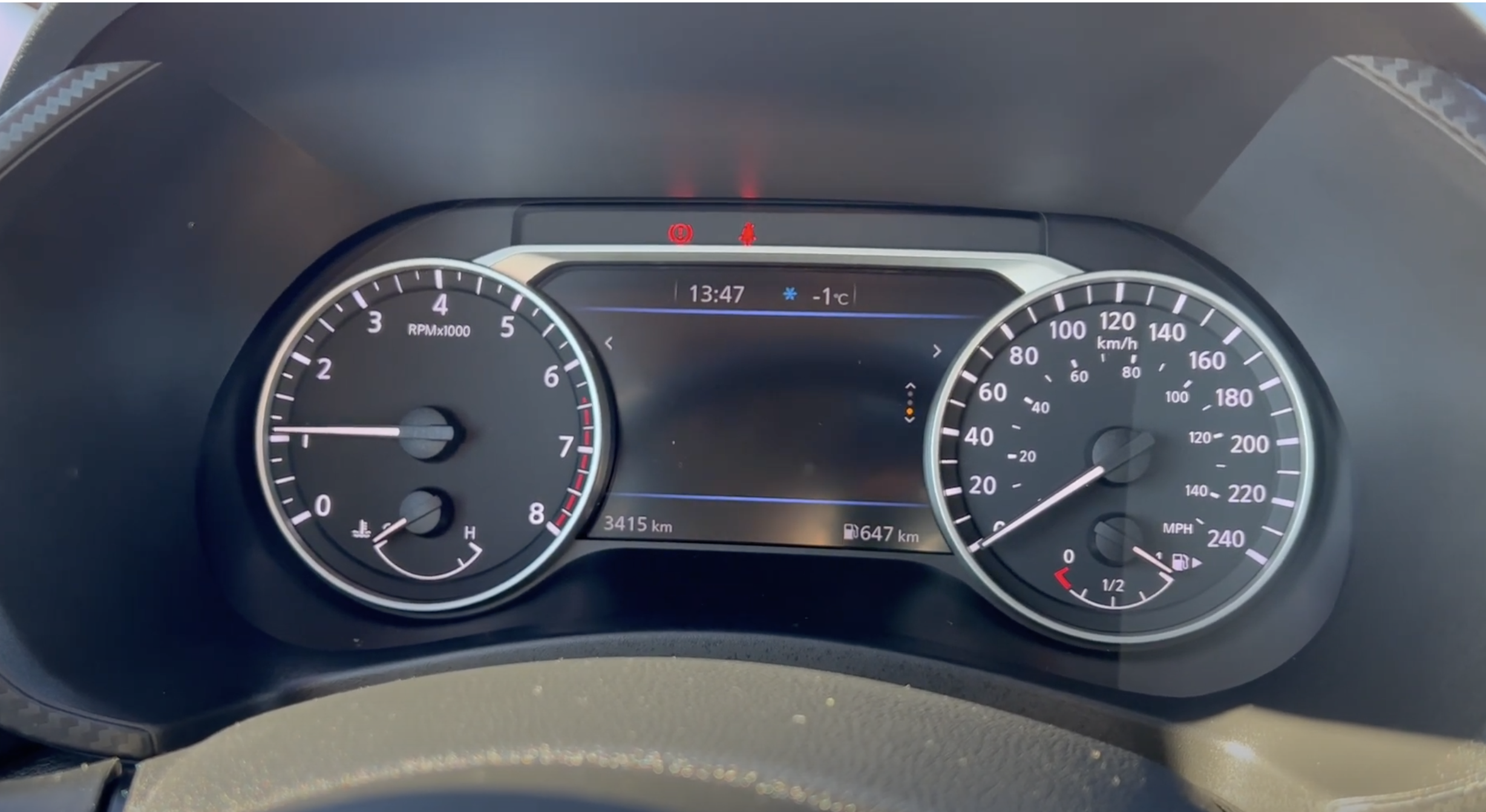 Full Helpful Financing available... and our specialty