:
So let's start with that dated criticism. First of all, body design, although it has been updated, kind of stays the same as it has been for a while. Biggest criticism that people have with this is in a world where SUVs are eight, nine, 10 speed transmissions, this one's got a five speed transmission. In a world where SUVs are full unibody construction, and if you don't know what that means, it doesn't matter.
This one's ladder on frame. That's how they used to build vehicles. That's really what they like to do. If you talk to off-roading people, they like the body on frame off-roading style. Does that matter to you? Well, maybe it does, maybe it doesn't. But this is a very, very capable vehicle off-road.
: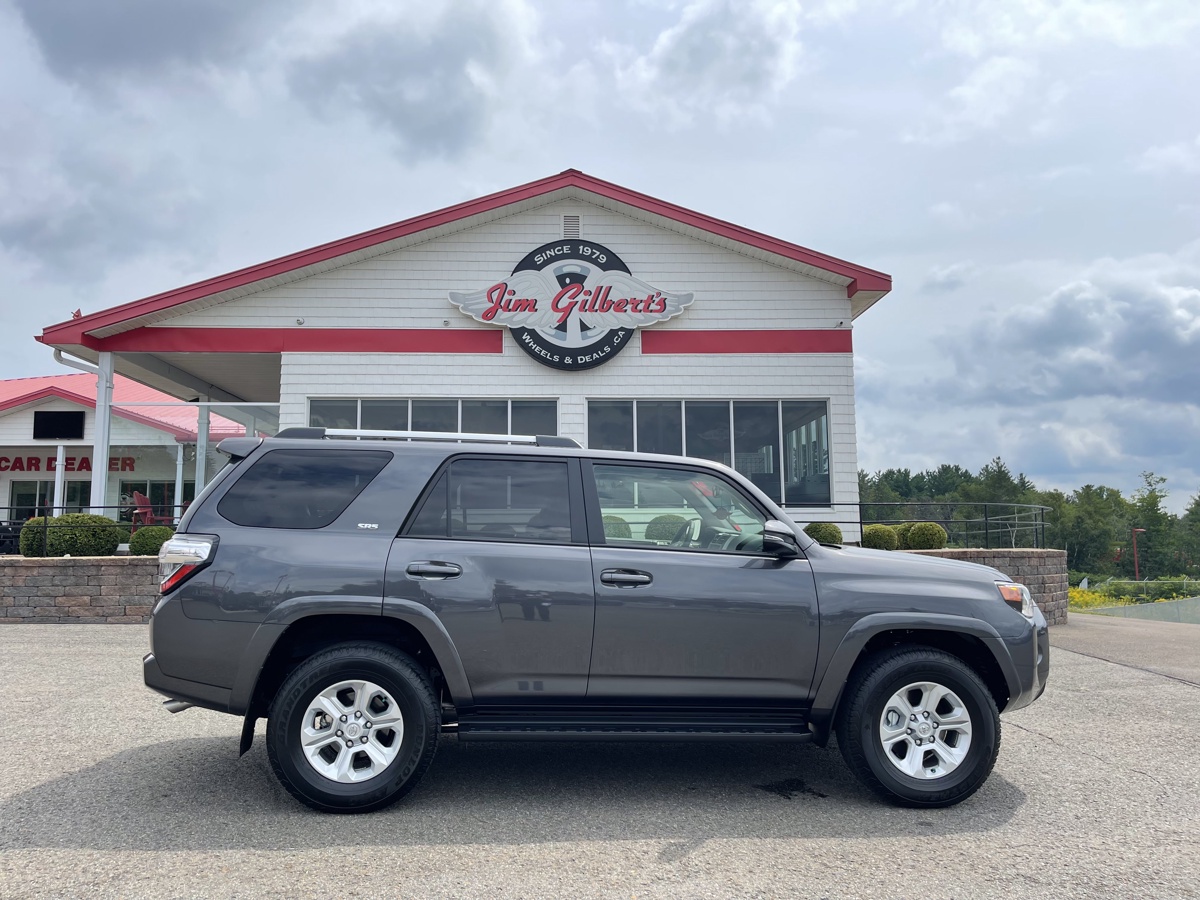 And that's something to keep in mind that you can really go anywhere and almost do anything with this. But while some say it's dated, it also has a lot of modern technology. And that's what we're going to focus on in this review as well, so that you get a full picture of what is dated and maybe dated for a reason and what is fully modern, which might be what you're looking for in an SUV.
All right. Let's address one of the dated features on this. This is an off-road vehicle. It's designed to still be capable of off-road. And while most modern SUVs are designed with fuel efficiency as number one or one A in the design, this one still focuses on capability. And that means you have great approach angles here, which means you can come up to a large hill, something off-road, large bumper rock, and you can get to it.
:
Now this one happens to have the side steps here, which means it does take away from some of the ground clearance, some of what they call the breakover angle, but it still has great departure angles over here. The reality is with this vehicle, with these types of roof or steps down there, you're probably not going to be going as off-road as you might be in something like a Jeep Wrangler, but you're still very capable of tough off-road conditions.
And we're going to talk about some of the technology in this a little bit later as we do that. One other thing you're going to notice is I have the windows open here. We're going to show you the rear window, which opens as well. But one thing that's kind of surprising to me is while modern SUVs tend to go panoramic roofs, this one has very large windows.
:
It has a very large sunroof, which we're going to show you. But this angle here is more of an upright angle. Again, modern SUVs are going for a little bit more fuel efficiency. So they bring this back, they cut this down. And that kind of makes the interior by the driver's environment feel a little bit smaller.
You can see here having this more squared look. And it doesn't look that square from the outside, but it really gives you some room from the inside. Open the windows in this vehicle, you have an open air experience. It's not Jeep Wrangler open air with the top off and with the doors off, but compared to something like a Jeep Wrangler, which has very small windows, you do feel a very airy kind of outdoorsy experience even inside this vehicle.And we're going to show you that when we get in. Overall, everything else, a couple other little things you're looking for on a vehicle like this is very tall sidewalls. So these tires are P265/70R17. That 70 means 70% of the tires width is right here in the sidewall. You want a lot of sidewall compression, a lot of sidewall space when you're doing off-road type things. And that's what's something to look for here. A lot of those modern SUVs, they show the ads going offline, but they don't show what reality is that you can get pinch flats when you have large steel rims and small rubber sidewalls. That's just not a great combination for rougher roads, which means these are great, not just off-road, but potholes, winter conditions, all kinds of things. Let's take a look at the back. I want to show you a couple things there, and then we're going to hop inside. Along the backside of the vehicle, there's a couple cool features, but the biggest one is there's no glass right here. It actually comes down into the tailgate, and I haven't seen that since the eighties.
:
Toyota's been doing it the whole time, but not a lot of other manufacturers have been. So for a third row passenger experience, you could set the third row up here, headrest right there. You could put somebody in the back here, and it's almost an open air experience for them. We're going to talk about that third row in a second here, but we're also going to mention the hitch out back here. This vehicle tows 5,000 pounds. Something like a Jeep Wrangler, even the four doors, they only tow 3,500 pounds. So you're really competing with something like a Grand Cherokee of course, in that. But you have some more capable off-road. Now again, some Grand Cherokees very capable off-road, some are not.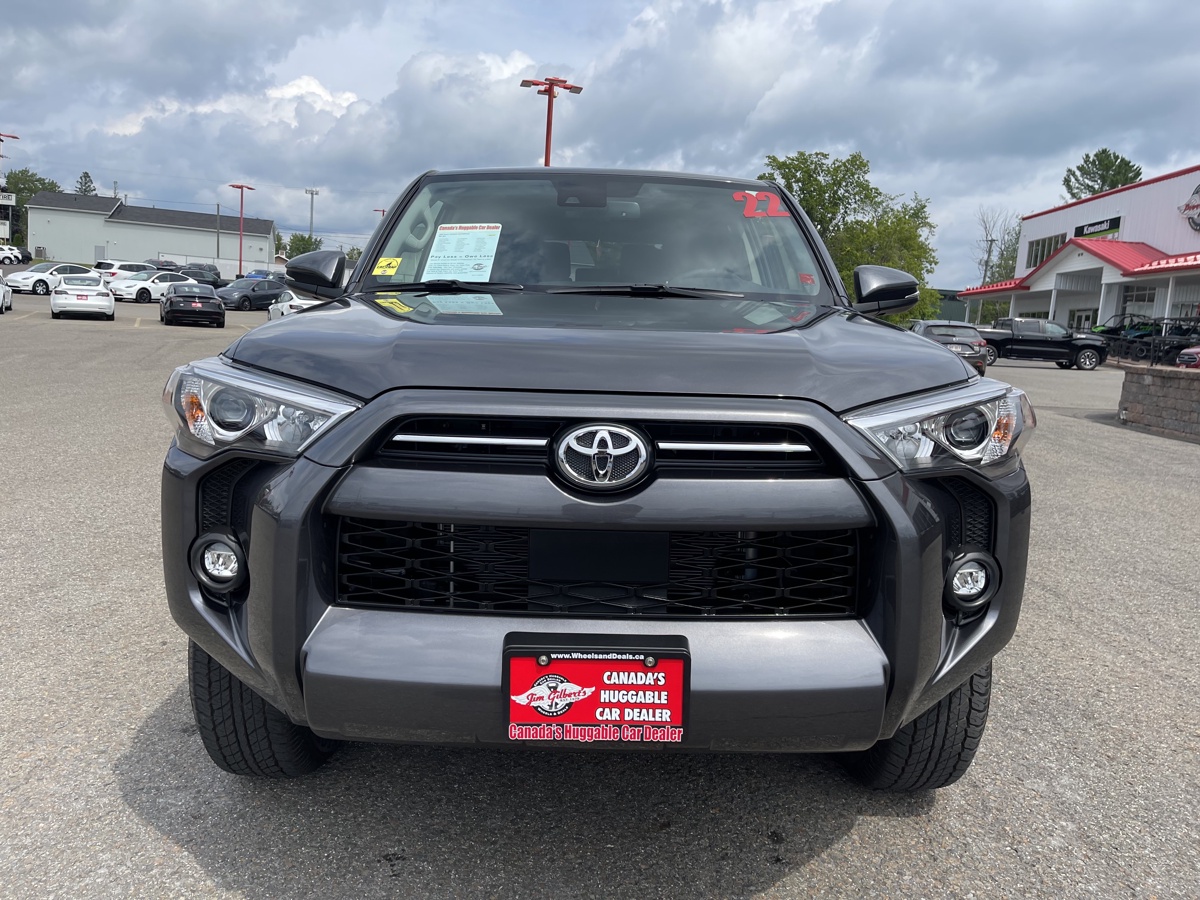 Every 4Runners going to be very capable off-road. When you pop this trunk open. Actually, before we go do that, you're maybe wondering where the windshield wiper is here. And again, it's buried up here. We talked about the Tucson doing that in my last review of the Hyundai Tucson. They're now moving their wiper up here.
:
Well, Toyota's had it up here for a long time. Keeps the back cleaner and allows that window to go down. And what's nice is instead of having your rear to frost on and having the snow and ice melt onto that wiper when you park your car, it melts down, sits on that wiper and melts there, and then refreezes, instead of having that happen, it's all protected from the weather.
It's up here underneath. So it does a sweep down from above instead of up and down. It gives it cleaner style, allows the window go down, keeps you from snow and ice. Super practical. All right. Looking in here, you're going to see a little bit of a disappointing cargo space, and that's because we've got the rear seats up.
:
Now there is a cargo blind, so the top sort of cargo blind cover in the way of me putting these seats down right now, just because this vehicle is for sale and we have everything in the vehicle. You're going to move things around and do things as you need to. But I just still want to point out, you do have third row seats here.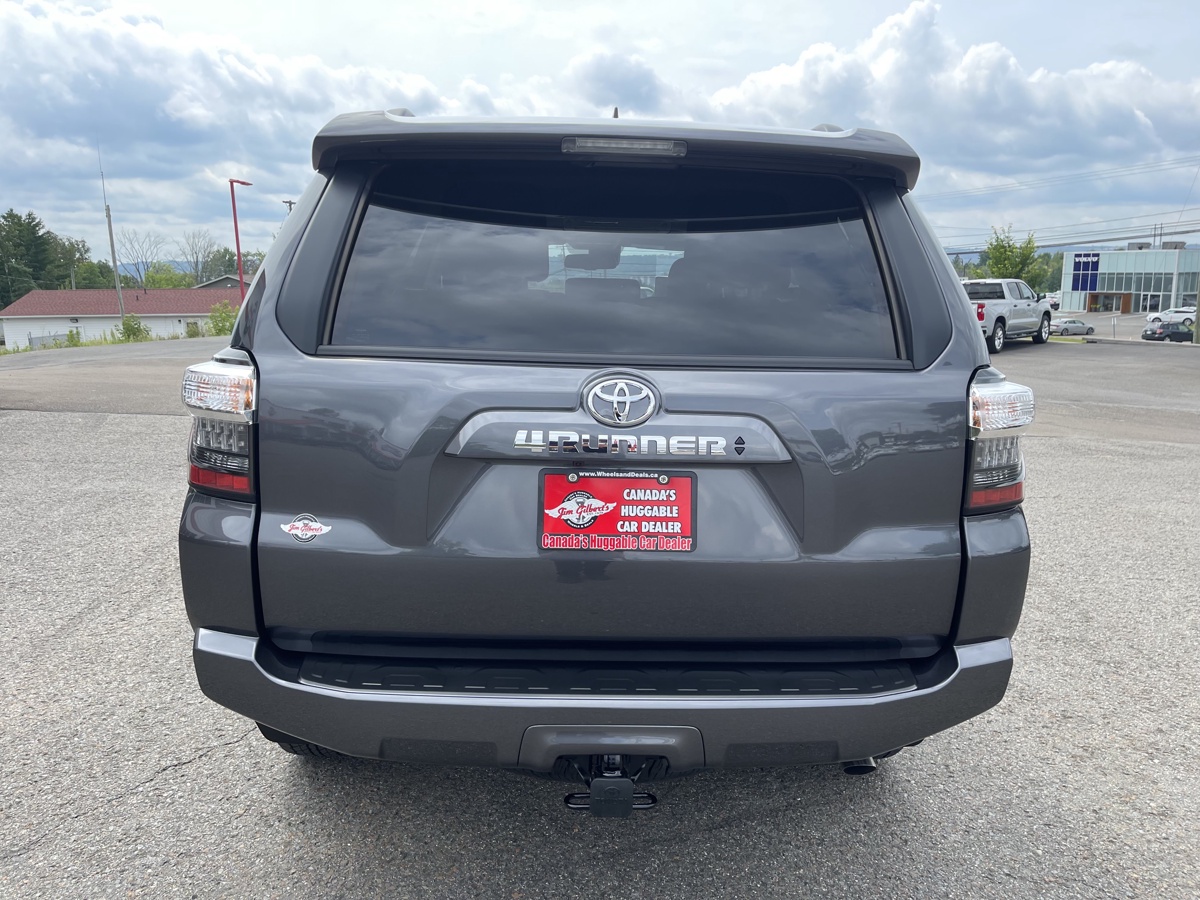 There are two seats here. They're not huge. They're more in what I would call temporary seats, child seats. But you do have the option of taking a couple extra people when you need to back here. And if not, you've got a cargo fold down. This is a 50/50 split. You could just use one of them. You also have a 40, 20, 40 split. What that means is the armrest can fold down.
:
You can have a really long pass through through center of this vehicle all the way to the front. Or if you have a pet back here, you can stick, a family of four could stick four people in this, and the pet could sit there and have a view into the middle there, which is kind of convenient as well. I was just repositioning the camera when I realized something.
There's one thing that I should point out. I am about six feet tall, and you can see this is very tall. A lot of even larger SUVs, they don't have sort of the head clearance that I have. However, there's a problem with that. A lot of vehicles only have the handholds here, so you've got handholds in the outside here to reach down, but if you're shorter than me, that's going to be hard to reach.
: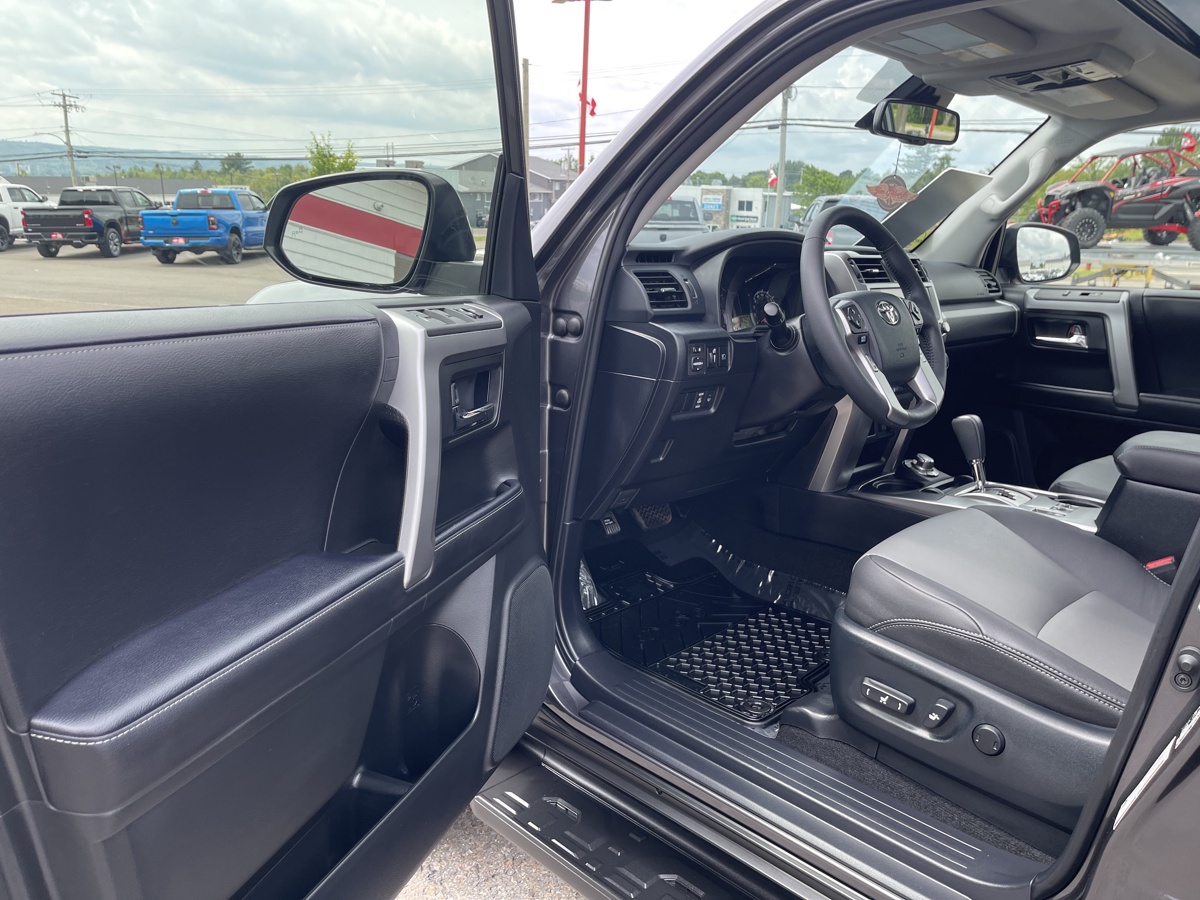 Well, they've solved that problem with this sitting there, right there. And if you were still short on this, you can attach something to this, even a longer string or a longer strap down there so you can make sure you can reach it to close it. So really nice upper trim levels do have the power tailgate.
This one does not, but very easy to close no matter who you are. All right, before we head to the driver's environment, let's hop in the backseat. Now body on frame vehicles, which again, is the construction of this vehicle, can tend to be a little bit taller. So you've got to step right there if you need it. You can jump in here.
:
So if you've got kids getting in, it's pretty good. Now headroom is just okay. I'm six feet tall and it bumps up by my head to give me two, three fingers above me. So that's again, that little bit raised floor. But you've got a very comfortable seat overall here. And you've got, again, the sunroof comes back, which is how you get the rays up here.
So where I'm sitting, I'm fine. If I lean forward and up, then I do have contact with the ceiling. But you're not going to do that in the car, right? So again, compared to some other SUVs, you can have a little bit more rear headroom. But again, I'm a six footer, totally comfortable here. You can see sitting behind myself, this is where a six footer would sit, lots of room.
: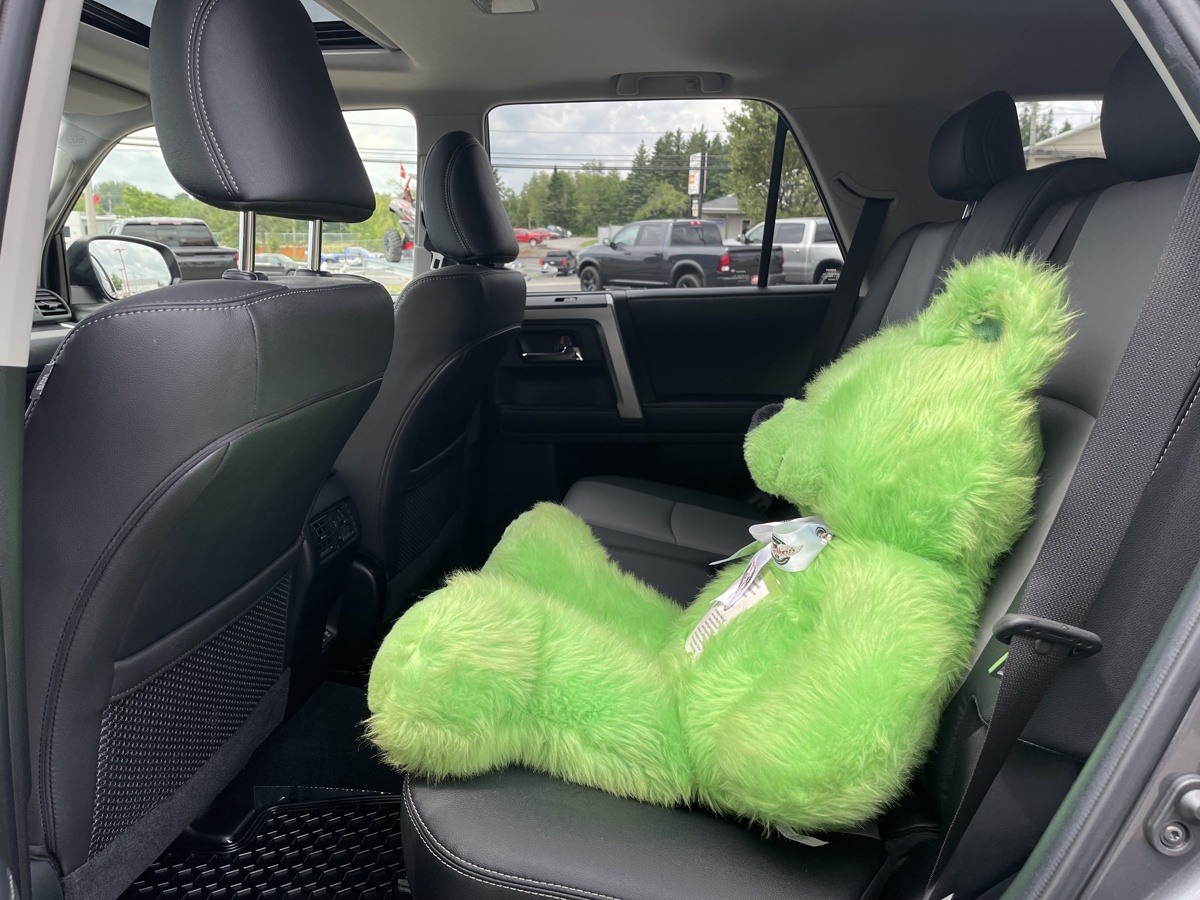 I've got a good sort of meshed cargo area here. I've got vents back here. I've got two USB ports that have doors on them. We'll show you them in a second. But overall, comfort is excellent. My legs are basically on the seat. I've got room to move my feet underneath the seat above. And this seat moves forward and back so you can create some extra room for the third row passengers.
Now again, I'm at the edge of that curve up in the roof here, so I'm kind of comfortable where I am. Six feet, my feet are, my knees are touching here, but you could fit people in those tighter backseats. Even with six foot, six foot, you could still fit a larger person in the backseat for short trips. So I want to take the camera inside here to show you what I'm talking about.
:
Again, a little bit of room here. Actually, it's pretty good room. But if you come a little bit forward, that's the only problem you're going to experience. So again, moving this seat forward does kind of put me underneath that unless I lean back in the seat. So just something to keep in mind.
:
As a third row vehicle, they really are temporary seats. But they do a lot of things well. Let me show you in front. I mentioned the vents here. Again, pretty simple design, but they are there. You can aim them. You can turn the vents on and off. One thing I really appreciate in an off-roadie vehicle where you're going to get things dirty is you've got the USB ports here.
:
They tell you how much amps, 2.1 amps. But they are covered with a door and they flip down. They always will stay shut. A lot of vehicles, they're just staying open. And if you've got kids dropping cheerios and Shreddies and all kinds of dirt and other junk in there, those things can get dirty and then not work. So I think it's really smart to have a door on there.
And again, being an off-road vehicle here, you've got the venting through here, which means that anything wet in here, it can dry. You can see what's there. So having that little bit of a open space there, the venting kind of through there. And again, very tough material. I think it's just really smart for the intent of this vehicle.
:
Over here on the door panel, I should show you another thing. The door, the window switch is up here. It's an auto switch even from the backseat. So every window in this car is auto up, auto down. I don't know, actually know if they're auto up. I haven't checked that in the rear seat. But again, that auto switch there, which is kind of nice to have.
And again, a very airy open air, large window type experience in this vehicle. And actually, let's just go wide angle, kind of give you a little bit better view. So you got that big sunroof open like there and big windows there. It is much more airy than you would expect, and that's great for an off-roadie outdoor kind of vehicle. All right. We're about to head in the driver's seat. I just want to point out the roof rack on here is standard stuff. So not a massive roof rack, but enough to carry your kayaks, enough to carry your bikes, everything else like that. So if you're towing a trailer, you still can take your extra stuff. Before we jump in, let's show you the key. It is a simple key fob. Keep it in your pocket, ignore it kind of thing. Nothing fancy, but that's all you need. So we'll throw that in my pocket right now. And of course, touching the door handles, unlocks them. We're going to do. It's already unlocked as we jump in so we don't have to unlock it there. Powered seats here, you can sort of see every direction they move. They actually put labels on them, which not every vehicle does. You can sort of see very adjustable, including lumbar support. It's a very comfortable vehicle. And what I've noticed is fairly large seats, which is really important to fit a larger variety of people. Large seats fit really well for pretty much everybody.
:
So what we're going to do is we're actually going to drive the vehicle out of the sunshine here. So we just started the vehicle up. We're going to turn out of the sunshine. Try to get that glare gone. All right, there we go. We'll just park it right there. Take a look at the Tesla, which is also for sale here at Jim Gilbert's Wheels and Deals.
All right. Let's put the car back into park. There's a lot to talk about here. So let's just talk about a couple basics here. We've got the vehicle running. This car has been idling for me a bunch today as I have just gone through it to make sure that I understand everything that you need to see. A couple things I really like in here, tire pressure monitors, that kind of thing. You can see here we've got our smart cruise control and our lane departure warning. I forgot the exact branded term that Toyota uses. But you do have some of those things in there. The smart cruise control is a really nice thing as you're following a vehicle in front of you, it can keep that distance at speed.
:
So it's just a really nice feature that, again, when they talk about this being a dated vehicle, I think they're forgetting to point out some of these more modern features. And if you go into the settings over here, you got that lane. Oh, there we go. Lane departure assist, I believe it is. Collision avoidance type system. Blind spot monitoring with rear cross traffic alerts. So you've got all the safety features that you would have in these so-called more modern SUVs right here in the vehicle. And we'll just bring it over to here to let's keep it on the speedometer if we go down there. And again, ignore fuel efficiency because that's not a fair representation of what this vehicle can get.
We've been idling this vehicle a bunch as we do various things with it. All right. Heading over here, you've got Toyota screen. Now it's a little bit of flicker on this camera, right? just the way I'm sitting here. That's just the way it's interacting with my camera. Some people tell me to adjust the exposure of my camera or the speed, doesn't matter.
: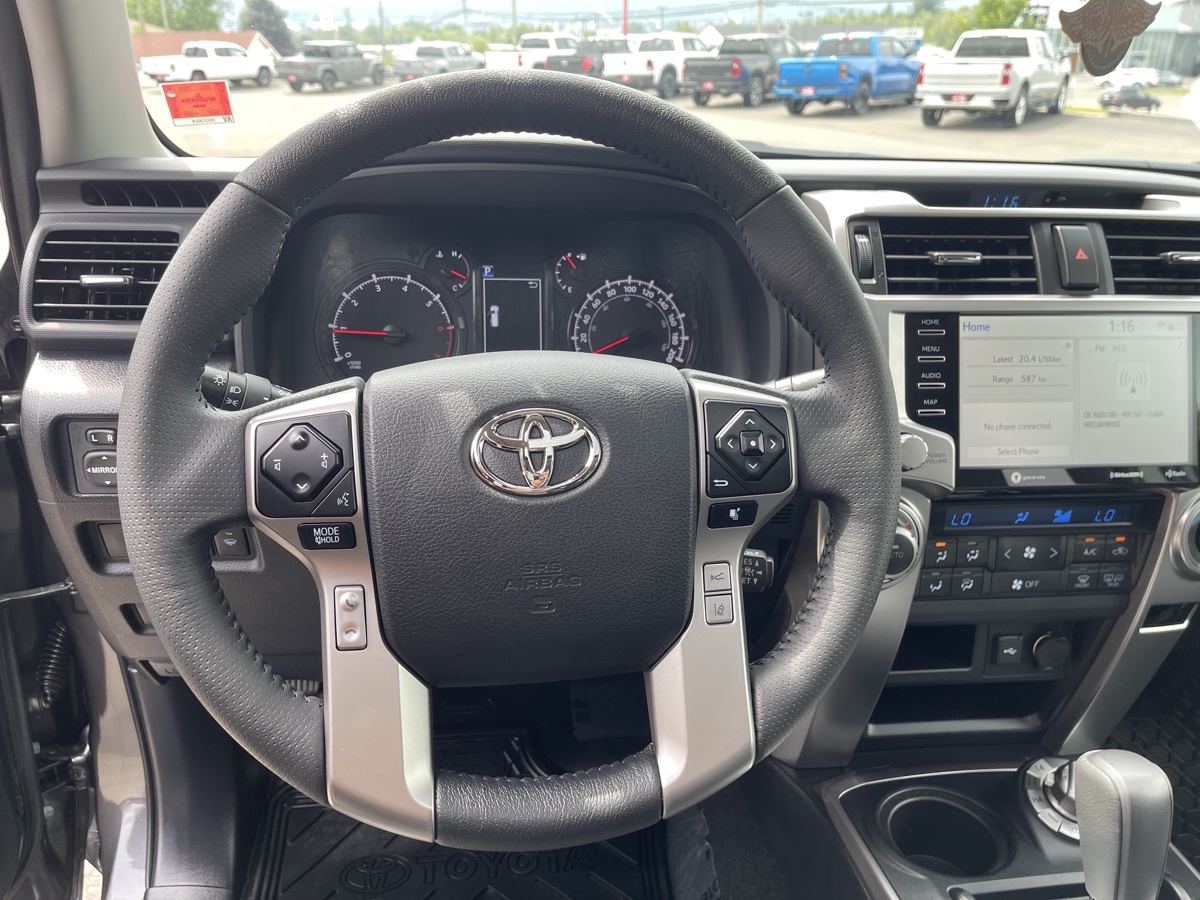 I'm not going to do that. So again, ignore fuel efficiency. You can set this custom screen up with all kinds of different things. Right now I have it set up for three things. If you want the large thing on the right or the left, you can do what you want with it. Boy, that flicker is sure is bad on camera today. Anyways, but this is again, no flicker in real life. What I love about this is Android Auto and Apple CarPlay, you've got that in here. You can just have just your audio information up just like that. You can have just your other menu. One little confusing, it says map even though it doesn't come with that. So that's check with Toyota for various things.
One thing that's interesting to me is this is sort of where the retro, some people will call it dated. Pretty much everything you can do here, you can also do on the buttons here, including sort of the menu here. If you go to the menu here, you'll notice audio phone apps. Oops, we'll go back to the menu. Audio phone apps, projection, a lot of those types of buttons are right there.
:
Phone apps, audio menu, those kind of things. So you've got a lot of those things. Projection of course, is your Android Auto, Apple CarPlay. All right. Well, take it away from the screen because that flickering is probably going to be annoying for you. Again, I don't see that in real life. Backup cameras in there as well. What's nice down here is they don't do this very often.
Very large knobs and very large buttons on your dual zone automatic climate control, which means if you're wearing gloves, that works really well to adjust everything that you need to adjust, which I just quite like. USB port down here again. That's the covered with a door again, 12 volt port. Little spaces for just about everything. Lots of little tiny spaces in there.
:
Cup holder up front here, cup holder out back here, which you can remove this if you have a bigger cup. And then this is a true 4x4 system, not just an all wheel drive system, but an off-roading 4x4 system. And what's cool about this is they have some technology here. So two high, four high, four low. When you go in four low.
Let's go all the way to the ceiling now. You've got some off-roading type things. Now a lot of vehicles have the down hill assist control. That's more of an off-roading thing. But this A track which is active traction control. If you go in four-wheel drive low, this can break individual wheels that are slipping and it really gives you an electronic advantage to just four low.
:
So it really allows you to have an off-road style traction control, which can get you unstuck or prevent you from being stuck in a pretty cool way. So this does come with that up here. Go back a little further, you've got your garage door openers. You can set one, two, or three. That's your home link type system. And again, this sunroof, again, it's looks like a standard size sunroof to me from the outside. But again, having this roof lying design that we talked about, that really far away A pillar here. Let's just go wide angle here so we can show you. That A pillar that's far away here, you're sitting underneath the sunroof. So let me just show you that for a second.
So we moved the vehicle, we've got the glare, but you're sitting underneath this sunroof. Because on a lot of modern vehicles, when that A pillar kind of curls back, the sunroof doesn't start till about here and it goes back. So you don't get that open air experience that you do here in the 4Runner. And it works very, very well. Take a look back at some of the controls here.
:
Again, your gear shift here. You can manually shift your gears here. Again, if you're towing a trailer, you've only got five gears. So being able to manually shift and choose things on your own I think is helpful. One thing that I like about what Toyota does is this is my seat heater. This is driver's side and passenger side. It comes standard in this vehicle here. You can turn it off, you can turn it on. But because it's a actual knob, right? It doesn't reset when you turn off the vehicle, which means in the winter months, you can just leave it on when you park the vehicle. And as soon as you start, the car will come on. That auto window right here, that's that rear window. We're going to bring that up right now. It is auto up.
So that's the rear tailgate window. And again, we mentioned that the auto windows is kind of a nice advantage here. Every one of them is auto windows here. So all of these are auto up and auto down, at least from the front switches there, which again, creates a more open air experience than you would expect.
:
So let's talk about who this vehicle is for. Well, even Toyota knows this is not for people whose number one thing in an SUV is fuel efficiency. Toyota has the Highlander for that and even the Highlander hybrid along with RAV4, RAV4 hybrid, all kinds of plugin hybrids. They've got all kinds of things for fuel efficiency.
Toyota
who known for their hybrids, doesn't offer this in a hybrid because this one is all about capability. So if you need an SUV that has more capability, if you're doing some more off-road, maybe you've got a long dirt gravel driveway, maybe you've got a cottage that you go to that's tough to get to.
:
If you need a great vehicle in the winter, there's features I didn't even point out for the winter. Of course your mirrors are heated, of course your rear window is heated, but you also have the window grid in this window here to give you a little extra clarity. So it's a great winter vehicle, it's a great off-road, rough road, off the beaten track vehicle.
It's a great towing vehicle. And with a seven passenger capability, again, tight seven passenger, but it's capable of taking your family everywhere. Couple of extra friends for the kids, if you've got a dog, those kind of things. Good ground clearance, good overall vehicle.
:
And it's still, although maybe dated in something like its transmission, offers incredible reliability. The one thing about this vehicle is it's been around for a while and it is known for its reliability. There's no point throwing these seven and eight and nine speed transmissions in if you think they might have trouble in the future.
Right? Here are the five speed transmission, it's worked for a long time. And for what this vehicle's intended for, again, Toyota knows their market. If you want fuel efficiency, you're buying the
Highlander, Highlander Hybrid
. If you want capability, you're buying this. And that's what it's all about.
:
A real outdoor capable vehicle. Now I drive a
Jeep Wrangler
, and I have to admit, Jeep Wrangler to me has always been that open air experience, windows down, sunroof back, rear window down. This vehicle gives you a real open air experience that I didn't expect. And it's something worth considering if that's what you're looking into. So I want to thank
Jim Gilbert's Wheels and Deals.
And again, if you have a question about this vehicle that I didn't answer or another vehicle in its class, we can go through all of them here. So I hope to earn your subscription, ask a comment, leave a like. And we'll come back to this vehicle if we need to in videos. And we can also compare all sorts of vehicles in the class. And that's thanks to Jim Gilbert's giving me access to their product line. Thanks everybody for watching.
Full Helpful Financing available... and our specialty