But the first thing they've redesigned in this, and the most obvious thing is the lights. Some people like it, some people don't. I can tell you from having hundreds of thousands of views on our previous channel where we did videos on this car, the one complaint people had when this car came out, and I did videos when it launched in the 2019, actually came up with 2020 model year, was some people liked the thin, narrow lights and some people didn't.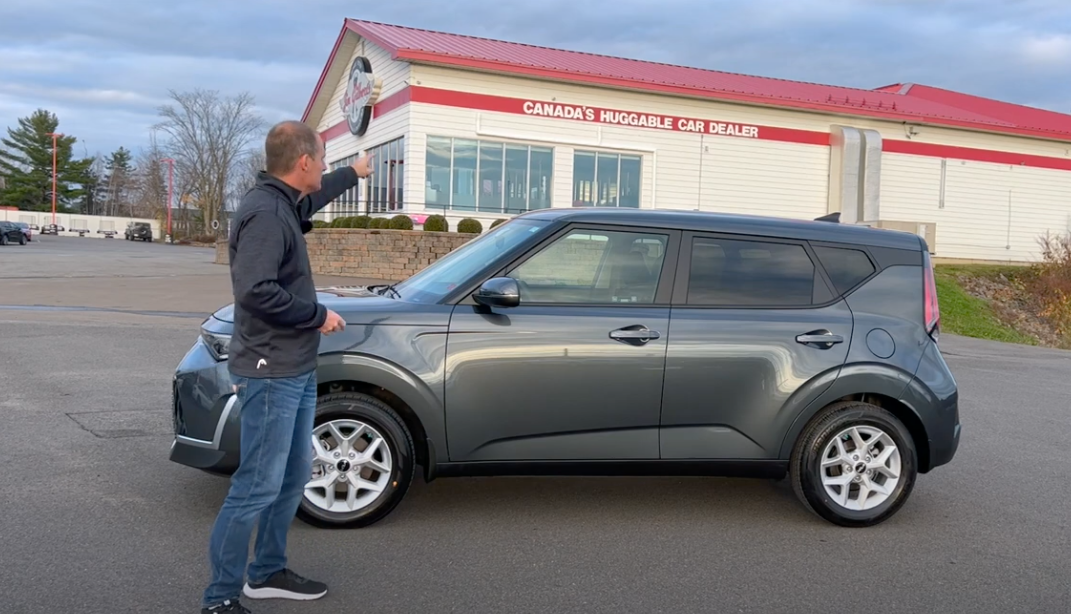 :
Now there are some benefits here. This is an EX model. It's one step up from the base model. You have this nice LED lighting in here, but you used to have on this trim and halogen headlights down here. Now you've got the LED lights in there. LED lights used to be a step-up thing. They're now included on here, and that's the one thing you're going to find with the 2023. So when you see these headlights, you can notice that there are some upgrades primarily in the safety department. So that's what we're talking about here.
The reason I like these white LED lights is they're nice sharp cutoff and that white LED is a closer to daylight color and that allows you to identify at night what you're seeing a little quicker. So not only are they safer because they appear brighter because they're nice looking, but that color can actually help you identify things.
: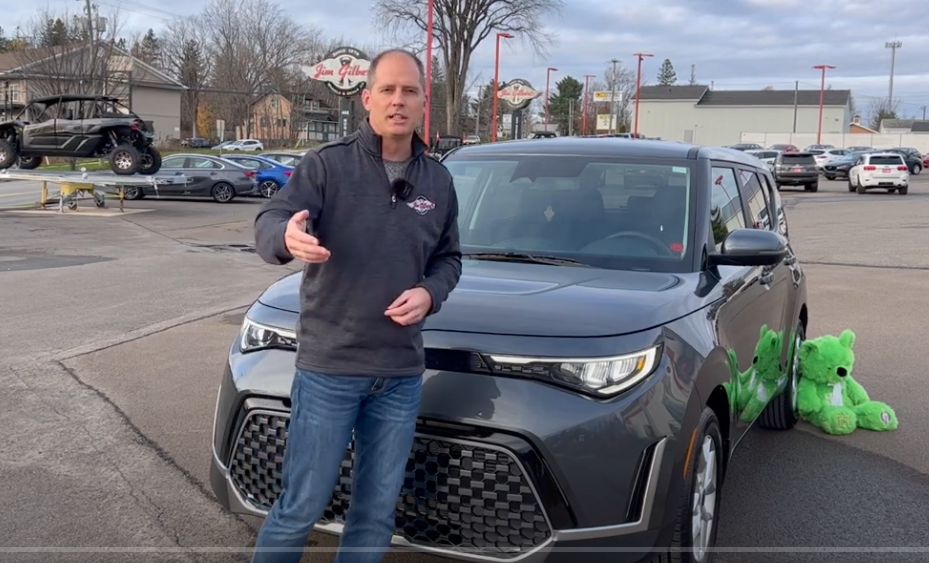 Out front here, used to have sort of a GT line look to the grill. That's what this one is to me. That's what used to get grills like this more on the GT line. Now you get them here on the EX. You also have the new Kia logo embedded behind. It looks like glass, I'm sure it's plastic, so it's a flush front here. No more logo on the front right there. A nice clean look. I quite like it.
Speaker 1:
You guys can tell me. I've had already a comment on Instagram saying that they don't like these lights. Someone else saying that they do. Personally, when I see it in person, I do think it's a nice little upgrade. Especially when you consider that, again, this being EX model, it really jumps up in styling. So let's move from here to the back lights and then we're going to go in through the car and talk about the differences in there.
:
Heading around to the back, you do see a lot of similarities to the previous version. So this is a little different look, but the same style to the upper-end LED lights. This is what I have on my Kia Soul EV, but there is a slight difference. If you're a Kia nerd like me, you'll notice. If not, you won't. It does look nicely upgraded.
Speaker 1:
The one complaint, again, this happened in front of my Instagram account, people are telling me that the signal lights are still not LED and they're not a fan of that, and I agree. That's something that I think Kia should have done. You've got nice front LEDs on this. You should have LED lights right there as well.
:
Overall, you have a little different clip up here, a black color. This used to be more of the red reflector -type look all the way around, so now it's black. It looks to me to be a slightly revised rear center light in there. New logos on the back. Of course that did upgrade on the previous body style. So you can get previous body style with this logo here and without. Again, very similar down here, new font to the Soul over here, and you've lost the emblem over here telling you what model or what trim line it is.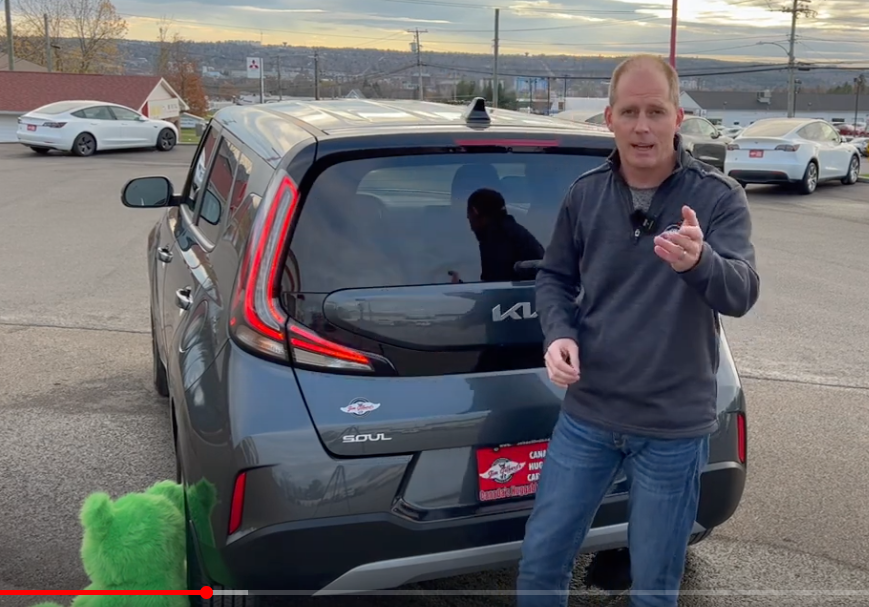 Now let's pop open the trunk. I happen to have a teddy bear here and that's because Jim Gilbert's Wheels and Deals, Canada's huggable car dealer are known for giving a teddy bear away to every single person who buys a car here. But I am also known for my teddy bear test. This is a pretty good size trunk in the
Kia Soul
. It's one of those things where it doesn't look huge on video, and to be fair, it seems smaller than some when you have this floor in this position.
:
But the one thing they did do is, you can sit there a little teddy, they did keep this lowering floor, and this floor lowers a lot. You can see how easy it is, it actually slipped out of my hand there. It drops down a significant amount. So when you put your teddy back in here, you can see that he is basically buried underneath what would've been the floor. So you're adding a 130, 140 or so liters of space. So those of us who are Canadians can think of that in milk bags. If your Americans, just Google Canadian milk bags. Hopefully that is something clean that you can Google. They come in bags.
Anyway, so you have a significant amount of storage down here. The reason you would want to have your floor higher is if you were to fold these seats down, there would be a step up to those seats when you have the floor down. Whereas if you have the floor in the higher position, it's straight across when you fold the seats down, still a 60/40 split. You've got on this model a headrest that moves up and down in the center. These ones here are built into the seat. So just something to keep in mind. You do have a little halogen light over here, lighting up the back and a 12 volt port as well. So pretty good storage.
: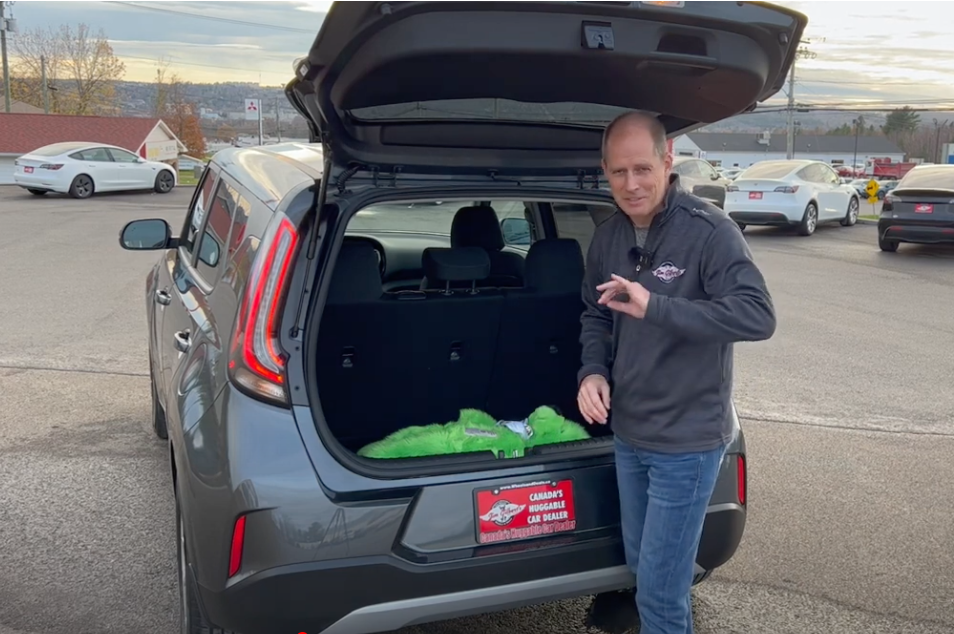 Let's jump in the back seat now before we head to the front seat. The front seat's really what I want to get to show you because that's where some of that safety equipment comes in. But we'll start in the back seat.
Jumping in the back seat. This is one great reason to buy a Kia Soul. When you get in and out of here, it's very easy to do. I am a six-footer and I have a ton of space between a six-foot driver, which is where I have the seat set for me, and myself. My legs are on the seat. The seating position in the Soul is really unique, both front and rear. If you look at any car in the class, it's sits tall but not too tall. It sits square but not too square. It's a very comfortable seat position. There's tons of head room here for myself.
:
We're going to bring the camera in and show you in a second. But the big thing I want you to know is, again, legs are flush on the seat. There's tons of room for my feet. So even if I'm wearing large work boots, large winter boots, I can fit my feet underneath that seat there. There's lots of room to spread out. It's a very, very comfortable rear seat for a fairly compact car. This car is shorter than something like the Kia Forte by a significant margin and it makes it easy to park, easy to drive, but gives you tons and tons of space. Let's pull the camera in here and show you a couple little features and things that I like.
All right, the first thing I like is, like I said, the space. You can see there's just a ton of headroom here. So about six-feet tall is how tall I am, and you've just got tons and tons of space. The other thing that they do well is they've got USB ports back here. There's still no vents on this trim low and they do one thing wrong. I'm going to show you what that is right now.
:
All right, so your USB ports are now USB-C. That's good, that's not what they do wrong. The vents back here, a lot of people like to see that. A lot of people forget though that just because there's no vents here doesn't mean there are no vents underneath the seat. You do have vents underneath the seat back here. What I like is they have a pocket here on the passenger side. That makes total sense.
What the Kia does wrong is if you're going to put a pocket back here. Let's go wide angle for a second here. You need to do it on the driver's side as well. This was all started on the passenger side only because that was where you're going to put your map book when you're a driver. This car doesn't need a map book. It has Android Auto and Apple CarPlay, which we'll talk about in a second. So if you're going to give your rear seat passengers a pocket, why not give both rear seat passengers a pocket?
:
One thing I will say though, they do have this plastic back seating here. I quite like that because if you have kids in car seats or anything else like that, their feet are going to touch your seat and this just wipes clean with a damp cloth. Super, super simple, easy to clean.
Speaker 1:
All right, before we go to the driver's area, I want to talk to you about a couple safety features in this car that I really think are smart. We talked about safety features and I'm going to show you some more inside. But now that we've seen the comfort areas, some of the safety features that make a difference.
:
So you've got blind spot detection, which again is an indicator in the mirror to the driver. What that really does well is it also gives you rear cross-traffic alert. Which means if someone is coming walking across here or driving across here, the car is going to warn you that someone is about to cross your path. And where that makes a difference is let's pretend that my tripod sitting here is another vehicle. So from there forward is a vehicle, which means that driver has no possible way of seeing me.
If that driver can't see me, having that rear cross-traffic alert means a radar system is back here. It'll warn you of traffic crossing your path. So it's not just that you're just paying attention to your backup camera, which is very good on this car. It's if you can't possibly see something, as long as that back corner of the car is visible to the traffic that's crossing, it gives you the ability to warn you that something's coming.
:
But this car steps it up one further. We talked about safety equipment, this car will even is capable of applying the brakes when you don't and then applying the brakes to stop you from moving into traffic. My car, the higher trim level Kia Soul EV did that the other day for me. I let off the brake knowing that the car was going to be passing me soon and it stopped me right in it's track. So it's a really good safety feature to have. It doesn't just warn you, it stops you.
Now some other things, depending on the trim level of the Kia Soul, you still have this camera out front. That used to be used for just the lane keeping assist. Now it's lane follow assist as well. It also gives you forward collision warning, forward collision assist. So in other words, this car is capable of stopping to avoid a collision both going backwards and coming forwards. So that camera's a piece of it. We're going to talk about what lane keeping and lane follow assist is in a second as we jump inside. In fact, let's just do that right now.
:
All right, before we jump inside, here's the key. Looks like it is just a typical Kia key. Again, buttons are on the side, which is a good thing. You want your buttons on the side because they don't actually gently get pressed on this side. This one happens to be not keyless entry, so it's a jack knife-style key. The problem with this key is it's just a hair thicker than the keyless entry one. Not a big deal to most people. Certainly smaller than some brands, but they do have two different widths of keys depending on if it's keyless entry or not.
Speaker 1:
All right, we're going to have the sun here. Let's just see if the camera's going to have trouble with the sun. If it is, we're going to move the car. Yes. So let's go move the car for a second and then we'll talk about what's in the dash here.
:
All right, we've moved the car and I want you to pay attention to a number of things that happened in this dash. It is a revamped dash. And I'm going to turn the car on right now. We're going to fully start the car because we're outdoors. Look at down here. All those lights there. You got the forward collision warning light down there.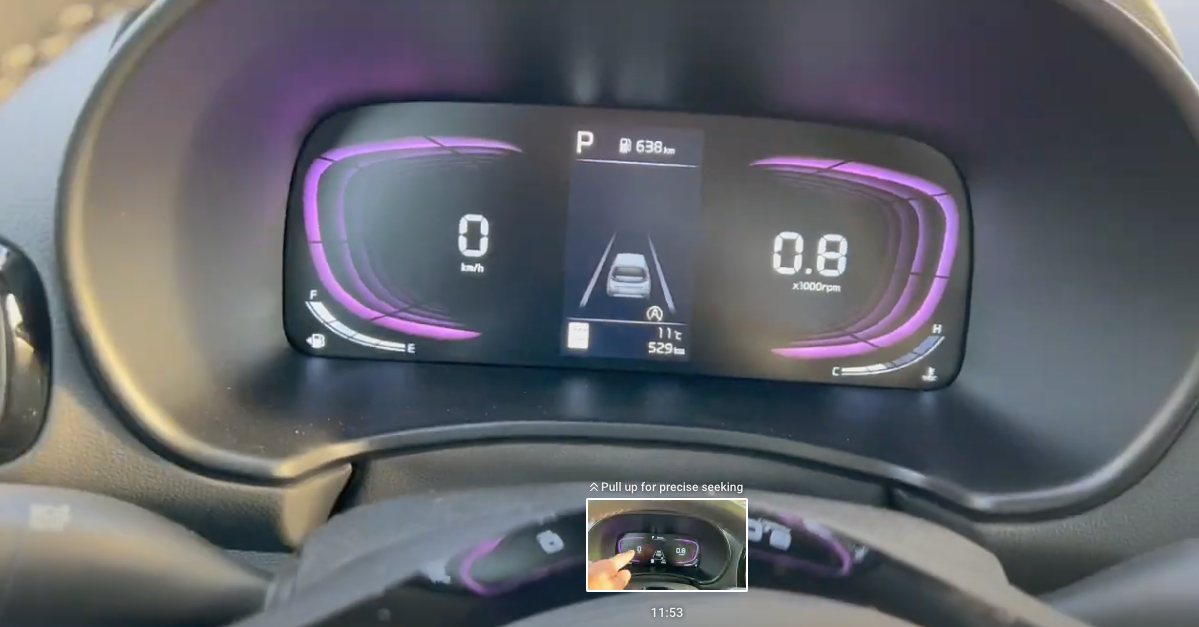 You've got something new. Let's just zoom in for a second. This here is your speed limit sign. So it is capable of seeing what's going on with your speed limits. That is done through that camera that I mentioned. So it can see the speed limit signs and label them for you with what's going on.
:
Now if this car had navigation, it would use both navigation and that, but this car does not come with factory navigation. Yet it still will display the speed limit, and that speed limit is showing again through the camera looking out in front of you. So it's pretty cool to have that down there.
This dash first started in the
Kia Sportage, the new 2023 Kia Sportage
. They've moved it into here. The center piece here, you can kind of see it in your display right now, is the only screen portion of it. The rest of this looks like a fancy screen, but it's really just that and that and a number of warning lights that we showed you of the beginning that came up. Cleaner, more modern, pretty slick looking. Yeah, it's done all of that. It's pretty good.
:
Some people are going to like the digital tachometer, some people are not. It is what it is, and overall I like it. If we switch through drive modes here, you still only got two, but you can see it changes the color. So normal and sport. Most Kias have at least three drive modes and it's usually nowadays smart, then normal, then sport. Sometimes it's eco, then smart and normal and sport. But now there's just ... Or there always has been on this generation of Soul just two, the normal and the sport mode. Sport mode, of course, changes, the way it shifts, changes a whole bunch of parameters to make it a little bit more sporty. So we're going to leave it in the normal for now now.
Let's cycle over to this section right here. You have a nice touch screen display here. Everything's pretty simple here. If we go to the menus. Again, you've got the phone projection. So again, Android Auto, Apple CarPlay. It is wireless now. I'm almost positive. So let's just go to the home screen. Yes, it is a wireless Android Auto and wireless Apple CarPlay, which is an upgrade from the previous model Kia Soul.
:
You have a quiet mode, which is interesting. It turns off the rear speakers, leaves the front speakers as a reduced volume and if someone in the back was listening to their own music on their earphones or wanted to sleep, you can turn down those speakers in there. A nice thing to have. You have a voice memo, but you're never going to use that. You're going to use your Apple CarPlay and Android Auto and use it from your phone. So there's lots of ways to do that.
Radio in here as well. So if we go to the radio for a second. Oh, we just turned it on. There's all your AM, FM, HD radio in here as well. So we're going to turn that down for a second. Upper level cars can get the satellite radio as well. This car does not have it. So pretty typical Kia stuff down here.
:
This one has the manual climate controls, very similar to what was here before. You've got a wireless phone charging pad, which I think makes a lot of sense. If you're going to have Android Auto and Apple CarPlay wireless, you should have a phone charging pad that also allows you to charge your phone without wires.
You do have a standard USB-A port and a USB-C now. So it's interesting they're keeping both. You can still have the 12 volt port there as well. Used to be only USB-A port, so the USB-C is new for this model year. And down here it is a CVT transmission so it can give you up to eight gear ratios if you switch it over to here and switch gears yourself. But that is a CVT transmission, so it's very good for efficiency.
:
Kia and Hyundai's transmissions are actually very, very good. Not everyone loves CVT transmissions, but I have to give them credit. This is not just me praising it. A lot of people praise it for overall good things with the CVT.
Speaker 1:
Down here, rump roasters, heated seats on the driver's side and the passenger side. Now what's interesting is that the Kia Soul has always only had on this trim level or on this model here, 2020 and newer, this general body style, they've only had two. So a lot of the vehicles that are in the key lineup have three levels of seat heating. These ones work very well, especially on these cloth seats. They warm up very quickly. You saw when I turned it on there, I already feel a good amount of warmth in my seat. So cloth seats with the seat heaters, the rump roasters work very well.
:
There's your drive mode, we can switch between that normal and the sport. You do have a heated steering wheel here in the EX as well, which is quite nice. We've got the newer logo here. We're going to talk about these controls right here. But you've got the leather steering wheel. When you have a heated steering wheel on the Kia, you do have a leather steering wheel.
So what's interesting to me is the
Kia Soul
, the previous generation, a lot of the interior details, when you looked around and you saw the door panels, it was a lot of roundness inside and squareness on the outside. They got rid of a lot of that roundness on the inside in that 2020 redesign, and then the refresh here keeps basically the exact same interior. But you do have some roundness here in the steering wheel to hearken back to the previous Kia Souls.What is interesting though is this is the only Kia with this set of controls that look like this. Every other Kia, many of them have parts that you could almost swap the entire steering wheel and it'd be the same thing. But the Soul has these rounded areas.
:
So let's just talk about what we have over here. We've got one new button. That's a favorites button. So you can set that favorites up button up to do a number of different things. You've got your phone control here. You can activate Siri or something like that by holding this down, or if you just tap it, you can activate some car information. Volume switch there. Pressing in on that volume switch will mute the radio. That's kind of nice and you can switch up and down through your modes, through your settings in there.
You do have the auto headlights here. And if I switch into my high beams, you'll see here it is an auto high beam as well. So you can see the auto right there. That means that if it's in that setting, your high beams won't come on when there's city lights. It won't come on when there's cars approaching you or cars in front of you and they will turn on and off by my myself ... or by themselves.
:
I quite like this feature, especially living in an area now where I have a lot less city lights than I used to when I lived in Ontario because sometimes you forget to turn them on, your high beams on immediately. And when a car passes you waiting 10, 15 seconds and realizing, oh I haven't got my high beams on, that can be the difference between meeting up with a moose or a deer and not meeting up with a moose or a deer. So auto high beams work very, very well. This car has them on there, so that's kind of nice to have.
Coming over to this side of the steering wheel, let's look at some of the controls here. Typical stuff, this swaps through the menus in this menu control here. So we can talk about them in a future video if we wanted to, but that is some controls there. You have your regular cruise control here. Some of these vehicles are going to be equipped with a smart cruise control.
:
This is the new button and this button is the lane follow assist. So lane keeping assist used to see the lane markers in front of you and keep you generally centered in there, but you had to be going over 60 kilometers an hour. Lane keeping assist has gone through a few inner interactions.
But lane follow assist, when you press this button, you're going to see a little steering wheel come on. Let me see if I can zoom in there. A little steering wheel come on in the dash there. That will go green when this is actively steering your car, and I mean actively steering your car. This is a car that you could throw on cruise control and as long as you keep your hand on the wheel, it will do a really good job where there's well-painted lines to keep yourself centered in the lane. It takes all of the stress out of a long trip. It's really nice to have. It's a good safety feature. And again, let's face it, cars are distracting now.
:
If I glance down over here and I don't have that system activated, I'm going to kind of drift a little bit. When you time to turn where you look ... Oh, I still get this heat stream on. It's very warm now. But this allows you to keep that car centered in the lane even if you glance away for a second. So obviously it's your job to pay attention, but it's going to be a good job of keeping you safer, and this was the real feature that I felt was missing from the previous Kia Soul. The lane keeping was good with the lane follow is much better.
So let's talk seating here.
The Kia Soul
, like I mentioned, a really unique seating position. Now again, I'm about six-feet tall and I've got tons and tons of space here. I can crank this seat up significantly. It is a manual seat but I can crank it way up. So if you're a shorter person saying, "Wow, a six-footer got that much headroom. It's just going to be too low for me." You can crank the seat way up. My head could basically be on the ceiling, and I can actually lower it a little tiny bit as well so that I can lower myself down.
:
So it doesn't matter how tall or short you are. Between the raising and lowering seat, between the tilt and telescopic steering wheels, the steering wheel can come in and out and come up and down, pretty much anybody can fit in this car and be comfortable. The seats are fairly large for a small car so they're very supportive but they're very comfortable. And you sit a little bit more square so your legs are out and then square down there. I don't know if I can show that to you. Probably not very well. But let me keep it in park there.
On a regular small car, your leg would be out straighter, and this one's more square. So having that more square seating position to me is a really comfortable position. It's a little more SUV style position. And this car, again, very small and easy to park but feels substantial on the road and you're very comfortable in the seating position.
:
Again, the Kia Soul is a car that I chose for myself. Mine happens to be the EV. Don't look for an EV going too much further with the Soul. The Soul EV is going to be faded out. The Niro EV is going to be your EV way. So these gas cars are the way you're going. I can tell you with the car running right now, very quiet engine, still the same carryover engine.
So a refresh is really just changing the plastics and lights. So the bumpers and lights are different front and rear. I didn't show you the rear styling differences of the bumper, they're fairly minor, but they are there. The front, some styling differences in the bumper and the lights, and then it gives them the opportunity to reevaluate a lot of safety and technology equipment and include it in this car. So they've done a good job of that and that's what you have here.
:
So that's my quick first look overview of the
2023 Kia Soul
. But don't let that be the end because I'm going to come back to this car. Again,
Canada's huggable car dealer.
This is
Jim Gilbert's Wheels and Deals Fredericton
. I can compare this car not just within the Kia lineup, but I can now compare it to everything in its class. Where the Soul does really, really well is giving you a lot of comfort and passenger space for the size.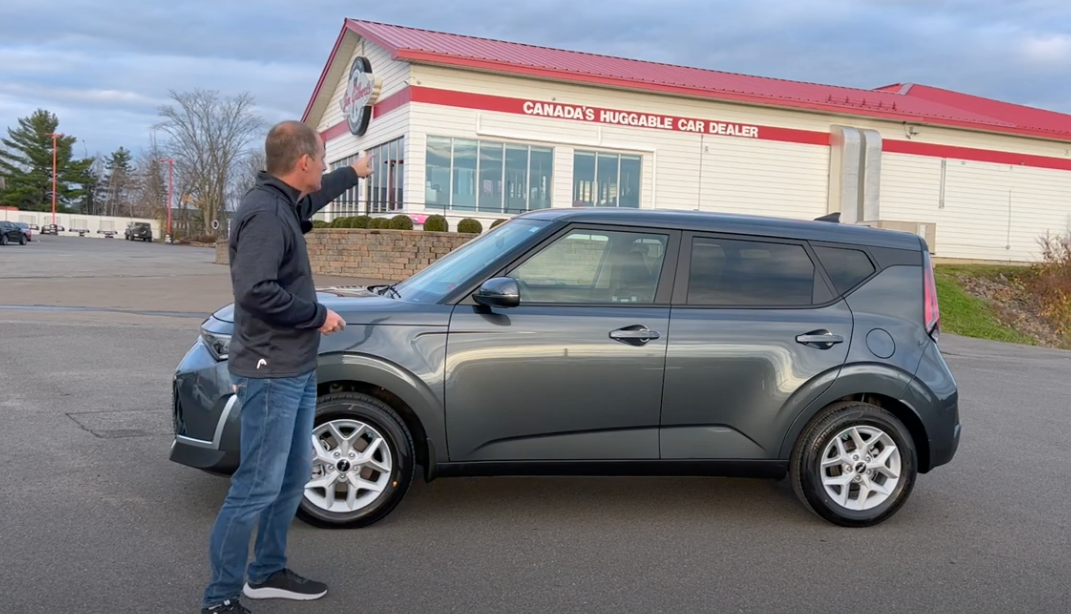 Where I think it lets us down is it still front wheel drive only. It's not an all wheel drive car. They had the chance to do that in the redesign for 2020. They chose not to. They chose to keep the Seltos as their all wheel drive smaller car. The Soul is not. A lot of people wonder about that. Again, front wheel drive only.
:
If you have questions about this car and I didn't answer them in this video, make sure you let me know in the comments below. Because if I don't know the answer, I'm back at
Kia Canada
this month. I'll be doing some work with them and I can ask the top people exactly the questions that you have and I'd be happy to answer the comments below. Make sure you subscribe to my channel if you're not subscribed already and we'll go over cars like this again. I want to thank everybody for watching. It's been fun to review a Kia again. We'll talk to you in the next one.
Full Helpful Financing available... and our specialty