One of the standout features of the
2023 Chevrolet Bolt
is its impressive range. The Bolt can travel up to 259 miles/400 km on a single charge, making it a reliable option for daily use and longer journeys. Its 200-horsepower electric motor provides plenty of power, allowing for quick acceleration and a smooth driving experience.
Inside the vehicle, the Bolt is spacious and comfortable, with plenty of legroom and headroom for both front and rear passengers. The infotainment system is user-friendly and intuitive, featuring a 10.2-inch touchscreen display with Apple CarPlay and Android Auto compatibility. Plus, the Bolt boasts a respectable amount of storage space, with 16.6 cubic feet of trunk space and 56.6 cubic feet of cargo space with the rear seats folded down.
As for safety features, the 2023 Chevrolet Bolt comes standard with a suite of advanced safety technologies, including forward collision warning, automatic emergency braking, lane departure warning, and a rearview camera. Optional features include blind-spot monitoring and rear cross-traffic alert.
While the
2023 Chevrolet Bolt
is not the most luxurious electric car on the market, it provides high-quality performance and features at a considerably lower price point than some of its competitors. The Bolt is an attractive option for those looking to purchase an electric vehicle at a more affordable price.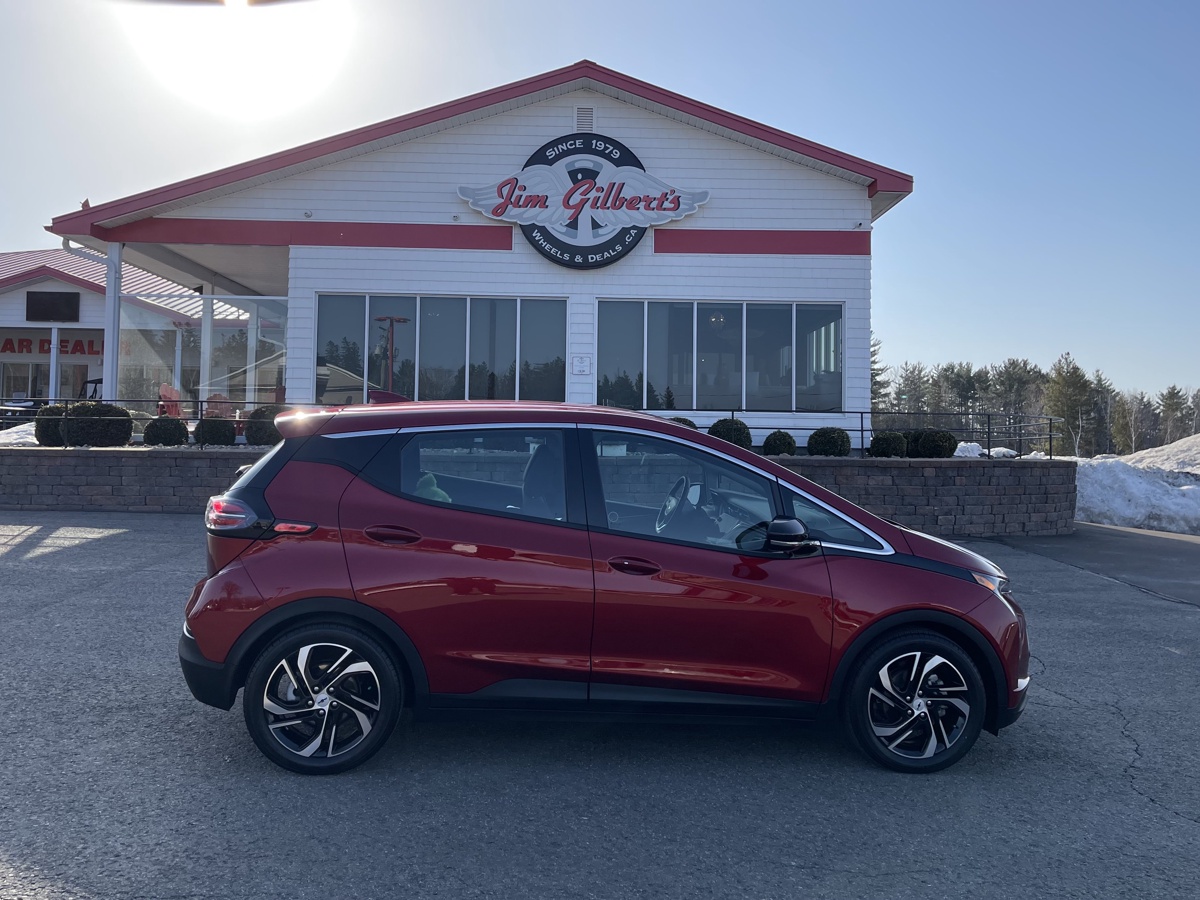 The 2023 Chevrolet Bolt is a well-rounded electric vehicle that offers impressive range, performance, and features at an affordable price. It's clear that Chevrolet has worked hard to create a solid option for those looking to transition to an electric car without breaking the bank. With its comfortable interior, advanced safety features, and user-friendly infotainment system, the Bolt is definitely worth considering for anyone in the market for a reliable and affordable electric vehicle.
Looking for a reliable caring dealer for your next pre-owned vehicle in Fredericton? Jim Gilberts Wheels and Deals has got you covered! Our vast inventory of low-kilometer used cars, trucks, mini-vans, and SUVs of all makes and models will fulfill your requirements. We are dedicated to providing superior customer service and satisfaction. At Jim Gilberts, we strive to make your shopping experience unique and unforgettable. So, when it comes to quality and savings, check out Jim Gilbert's Wheels and Deals!Full Helpful Financing, 0 Down