2015 AUDI A3 at Jim Gilberts Wheels and Deals Get your #Nused and save...
COMPARE AT NEW MSRP $45,490.00 "Pay Less-Owe Less" our Price only $24,950
Like that is a $20,000.00 dollar savings. #Nused' (saving money by having someone else take the big depreciation hit for you)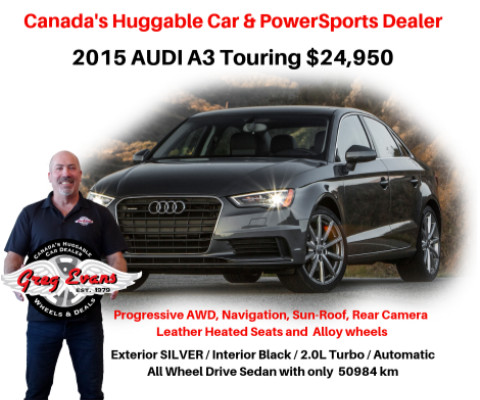 The Audi A3 dominating the premium small-sedan class, the A3 is more than half a foot shorter than its prime competitor but within about an inch of its bigger brother in height and width. Like other Audis, the front wheels have been moved forward from the platform baseline, by about 1.5 inches in this case, to give the car better dash-to-axle proportions. Given how Audi's impressive, Bauhaus-inspired design hasn't changed radically in the years.
The Wheels and Deals Audi A3 looks instantly familiar. Indeed, only the keenest observers will be able to tell the difference between the A3 and the A-4cat 20 meters. Two of the A3's most noteworthy elements are the beautifully integrated ducktail shape of the short deck lid, no tacked on spoiler! and the wedge line that rises from the front axle to the rear bumper. The latter catches a broad swath of light near the rear fender arch, imparting a sense of forward lean. The Audi A3 has its own LED light signatures with enough Luxury, more than enough Technology. The zero-gap panel fits and excellent materials give its streamlined interior a true luxury brand ambience. Nicely grained surfaces and the requisite soft-touch surfaces grace the dash and doors.
Fire up the turbocharged and intercooled DOHC 16-valve 2.0-liter inline-4, 220 hp, 258 lb-ft, speed shift the 6-speed dual-clutch automatic with manual shifting in to gear and move this 3200 lb mass of luxury from 0 to 60 in 5.9 seconds. But do not let your lead foot get you in trouble because with a top speed of over 200 kph you can make telephone poles look like a picket fence. Get your #nused 2015 Audi A3 at Jim Gilbert's Wheels and Deals.