The Crestliner Advantage
Experience the strongest, most durable pontoon boats on the water today... For over seven decades, Crestliner has pushed the limits of possibility with every new model. Through each passing year our craftsmen have shaped more than the toughest all-welded aluminum pontoons on the water—they've shaped your time on the water.
Crestliner Rally pontoons features the style and craftsmanship of a typical Crestliner with all the benefits of a pontoon boat. Rally is purpose-built using top-of-the-line materials and advanced construction methods. Reinforced tubes welded together create a bond, torsion control riser brackets absorb impact, and the crossmember system gives the Rally support from the deck up.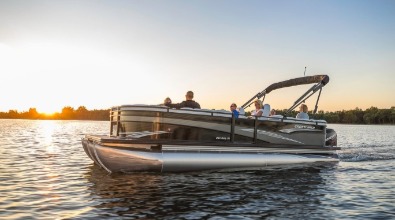 "The Rally and Rally DX represent a return to glory for Crestliner," And when this line up was introduced in 2017 there was only one thing mandatory – that the all new Rally line-up pontoons be unmistakably Crestliner. Durable, stylish and can accommodate your passion."
One of the best things about pontoon boats like the new Crestliner 24 Rally DX is that you can have a huge crew of friends and family aboard, and there's a comfortable spot for everyone.....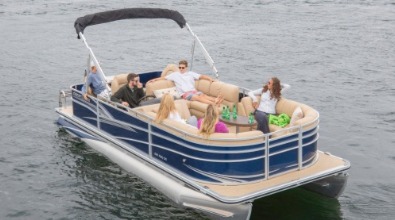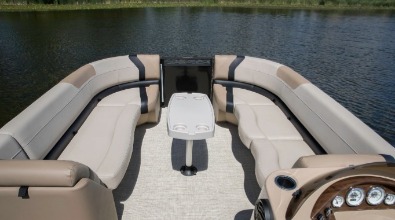 The CS (Cruise) provides deck seating thanks to an intuitive layout that makes the most of its deck space;
And everyone can kick back in a puffy, luxurious "pillow-top" seat or a bucket-style armchair seat. Now add in a pontoon boat's natural stability, copious stowage, a big standard Bimini top, and a changing room with a head.
200 Rally CS featuring chaise lounge furniture (CS) – a three-seater on each side at the bow plus an L-shaped with table on the port stern side complete with sunpad, storage and space for an optional change room. Centre bow, port and starboard side entry gates are provided plus a stern entry gate aft of the helm station. Lots of Pontoons ... Lots of options.. for prices click www.wheelsanddeals.ca